For society's leading women, Taoray Wang became New York's label to watch after the designer dressed first daughter Tiffany Trump for her father's inauguration.
CROSSOVER, an ironic title as politics seem to be seeping into fashion, is the latest collection from Chinese designer Wang Tao. It explores the harmony between masculinity and femininity through the deconstruction of traditional suiting and the insertion of delicate lace negligees, fuchsia linings, and rich, velvet textures to evoke a womanly edge.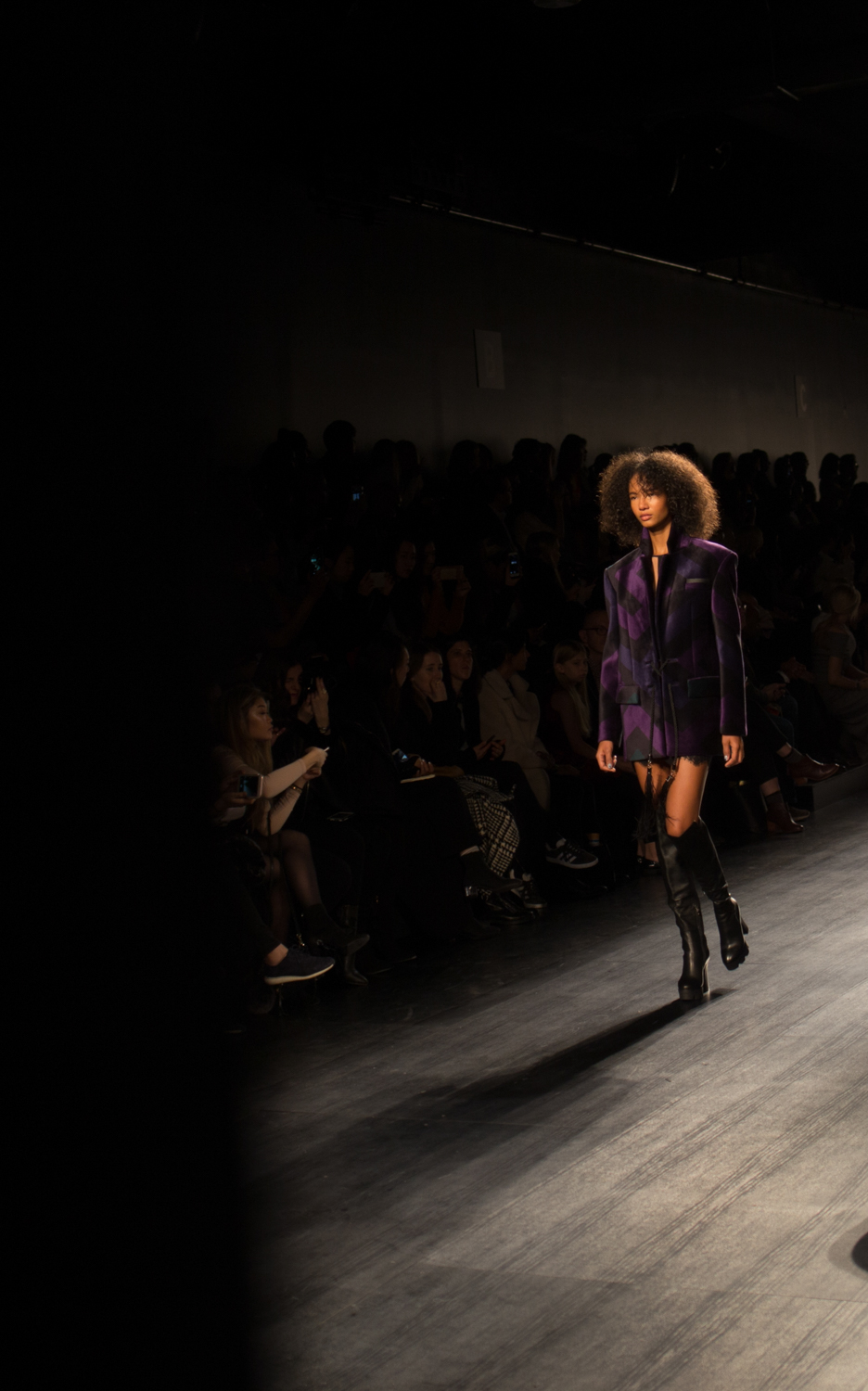 In the press release, the designer wrote that, "The merging of these elements gives birth to distinct, iconic silhouettes, which redefine the suit's history starting with – and running parallel to – the Qing Dynasty, and evolving along the way."
As attendees scurried to their seats before the show began, little did we know that Trump would make her first post-inauguration appearance at the show with her mother, Marla Maples, and an entourage of Secret Service.
Approximately seven minutes after Trump's arrival, the room got silent and the show opened with reinterpreted black blazers and leather knee-high boots — the staples for today's power woman.
Seamlessly transitioning from a stark black color palette to herringbone, the outerwear progressively became more interesting. One blazer was held together by a safety pin, it's sleeves rolled up, which exposed a striking fuchsia interior.
After a blazer with black piped shoulders cut the corner, the pièces de résistance arrived. A deep navy velvet power suit and coat, alongside a similar Byzantium purple coat and blazer, immediately had all of us with our phones out, Boomerang-ing and snapping away. Their stern, padded shoulders emulated the likes of the male form, evoking a sense of strength, counterbalanced by a relaxed trouser.
The most noticeable reference to the Qing Dynasty was the purple coats. This color choice emulated the privilege of nobility within Imperial China.
The collection was cohesive in the sense that it truly captured the essence of executive professionalism, pragmatism and power.
To view the atmosphere of the Taoray Wang show, click here.
Written by Anthony O'Baner
Photography by Neilson Barnard/Getty Images