Laurence & Chicos's Fall/Winter '17 collection from Lawrence Li and Chico Wang consists of the kind of clothing you'd wear to explore inside of a nighttime dreamscape. Glamorous, enveloped, and psychedelic, the models looked as if they had just rolled out of bed at a high class hotel and carried the comforters with them.
Oversized pearls graced necks, shoes, and even created delicate patterns on the vibrant textiles that swaddled each model. The color story, full of gentle pinks, lime green, black, and a blue you'd find in the Microsoft Word logo, was fresh and comfortable in a way that made the clothing appear lived-in.
Bold mixes of doodles by Li himself and psychedelic prints enhanced the imaginative world that they created for the presentation. The doodles complimented the swollen coats that could only be a commentary on our culture's obsession with comfort.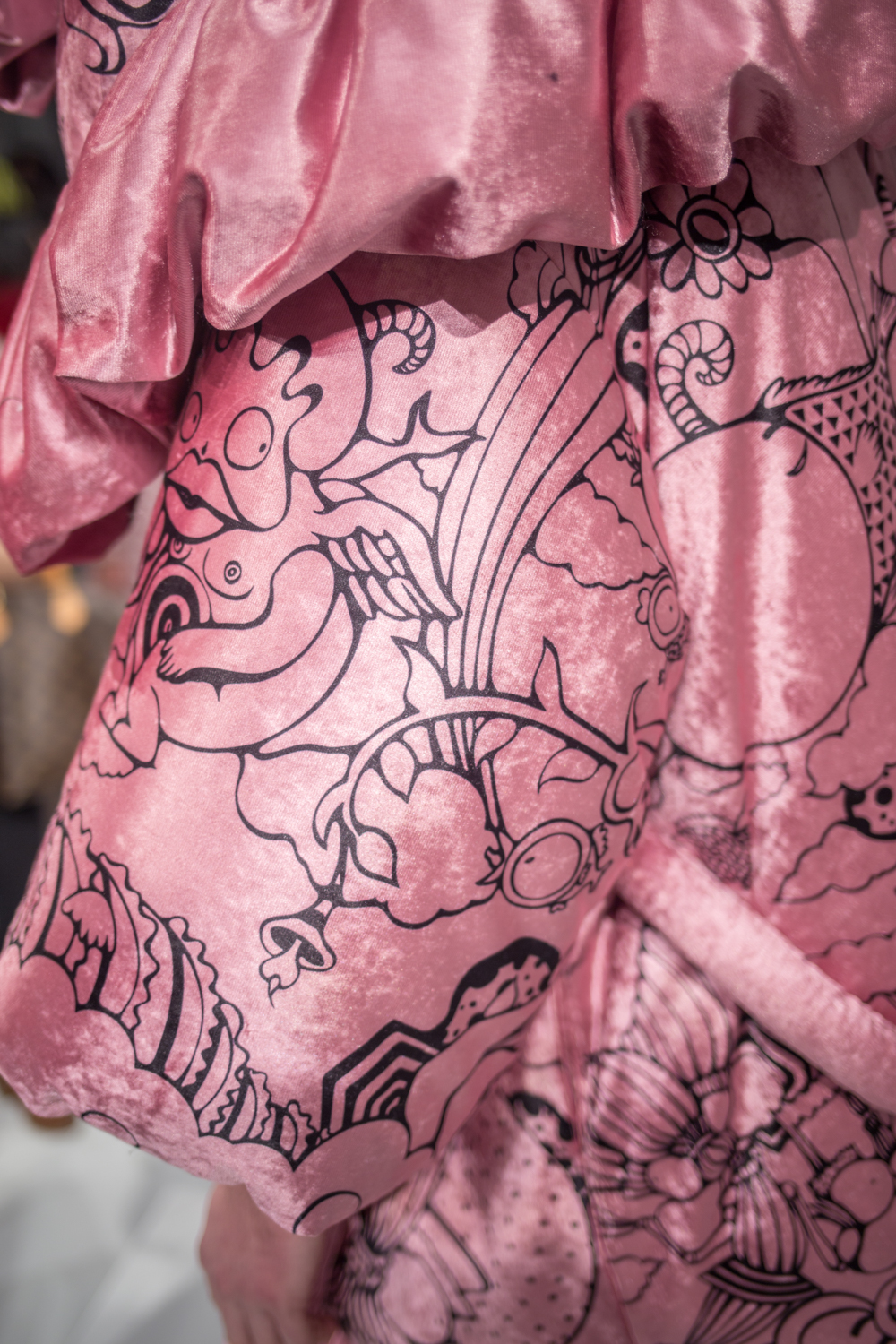 Corsets, slip dresses, and funky pajama sets further encouraged this theme, backed by black turtlenecks and mid-calf socks. Laurence & Chico transformed off-the-shoulder tops by placing puffy eye masks where sleeves should've been, and replacing bows with pillows that may soon have erupted all over the presentation floor.
While the collection is overloaded with details, colors, and doodles, not once did it feel heavy or weighed down. There is a lightness and ease to the designs, despite bold silhouettes and delicate pearls. What could have been misread as silly or goofy becomes a serious and focused collection of garments that allow the mind to wander into a dream.
Laurence & Chico demonstrated their strength as designers in their ability to transform and elevate beyond the norms of ready-to-wear, presenting a world where comforters can be jackets and slippers are suitable for more than just lounging around the house. It's collections like this, where the longer you look the more you see, that accelerate our hopes for the return of maximalist fashion.
Written by Sabrina Batiz
Photography by Liam Graham Haehnle