At first glance the venue appeared to be a mere garage, but inside we were acquainted with an intimate space fit for only a small crowd. The back wall was covered objects that hinted at the eclectic show that was to come. I was welcomed with a hug from Tobi's mom- they were so grateful for their all of their guests. Prior to the show the room buzzed with energy as everybody hugged one another and exchanged compliments on their chic, all-black attire.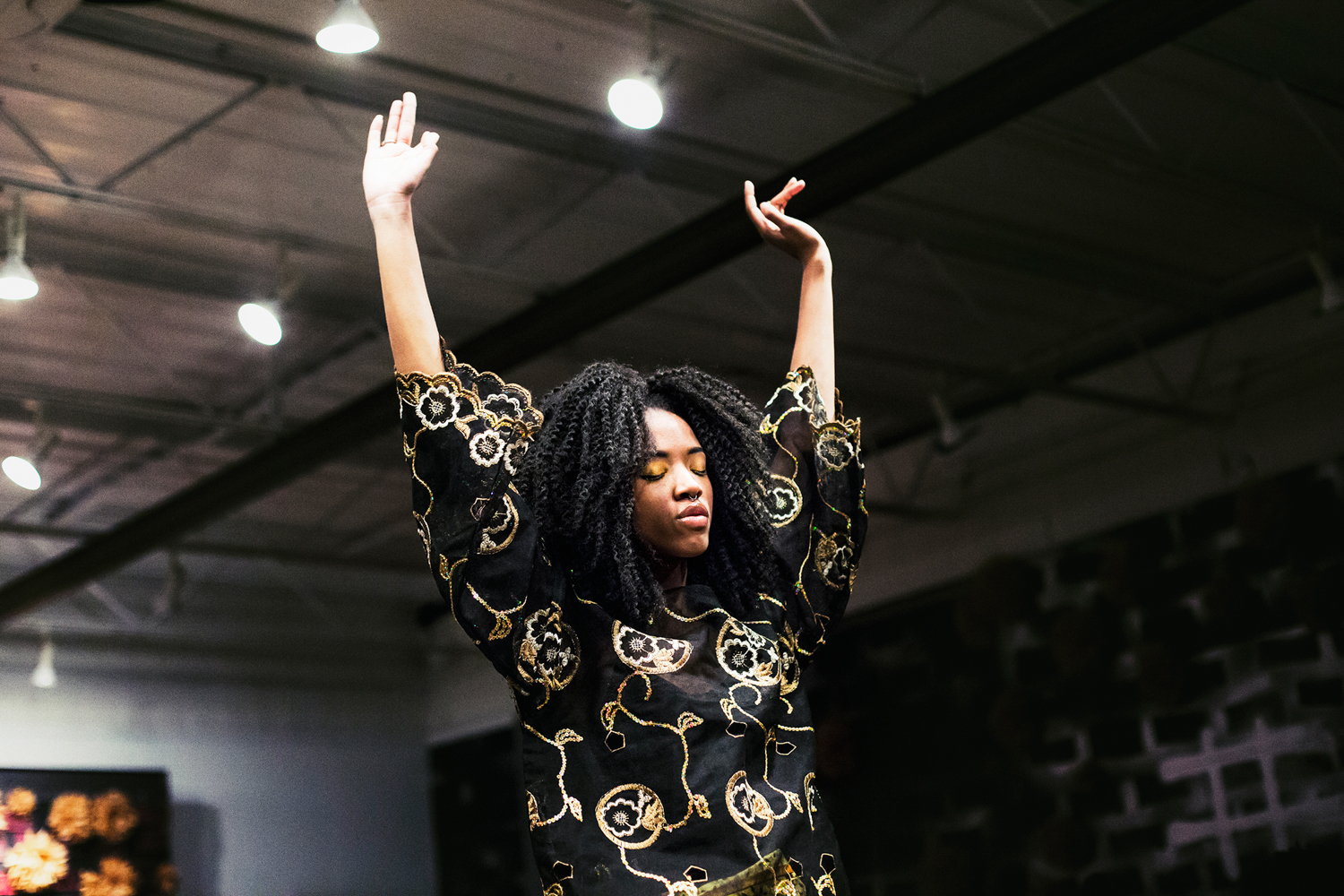 The show was designed to take the viewer on a journey through Savannah, Nigeria and Dubai. Tobi focused on conveying the rich culture of each place through select clothing and accessories. At first we saw familiar silhouettes: short hems, black body cons- all the things we see on the daily in Savannah. As we moved onto Nigeria bold colors, statement jewelry, and innovative designs with textiles from a Nigerian marketplace were introduced. The show concluded with original clothing from Dubai that their family had acquired over the years. Breathtaking, I mean truly breathtaking gowns floated down the runway alongside floor length, black cardigans. Everything was beaded and embroidered with gold threads and beads- we wanted all of it for our own closets.
After the show finished, I got a chance to talk to Tobi about where this idea stemmed from. Her passion was contagious- I had goosebumps after hearing what she had to say.
It started with her midterm in speech class: her initial goal with the assignment was to enlighten others so she planned a fashion show. In the classroom, she made a makeshift runway lined with high heels, turned the lights off and had her classmates use the flashlights on their phone to set the mood.
As she began planning the final show she focused in on giving the viewer a taste of where she's traveled and where she came from. She says, "My biggest inspiration was my mom. She wears this stuff everyday! I would watch her get dressed and every morning I thought about how beautiful the clothing was. I wanted to show that beauty to my peers."
Somebody told me once that nobody would pay $10 to get in and that I should provide alcohol incase the show was really bad. That was so hurtful, but at that point I knew I had to listen to the voice within and push through. The vision I had was pushed- I feel so blessed."
She confesses, "I go to SCAD, I can't draw, but this is how I'm going to make it."
Tobi is only a sophomore; her dreams and goals have elevated. She plans on hosting more shows in hopes of featuring student work. Like everything Tobi takes on, she's going to push this idea to the extreme level.
This event was so fun. We are so proud of Tobi and we are so excited for the next one.

Written by Ashley Romasko
Photography by Jenny Watts