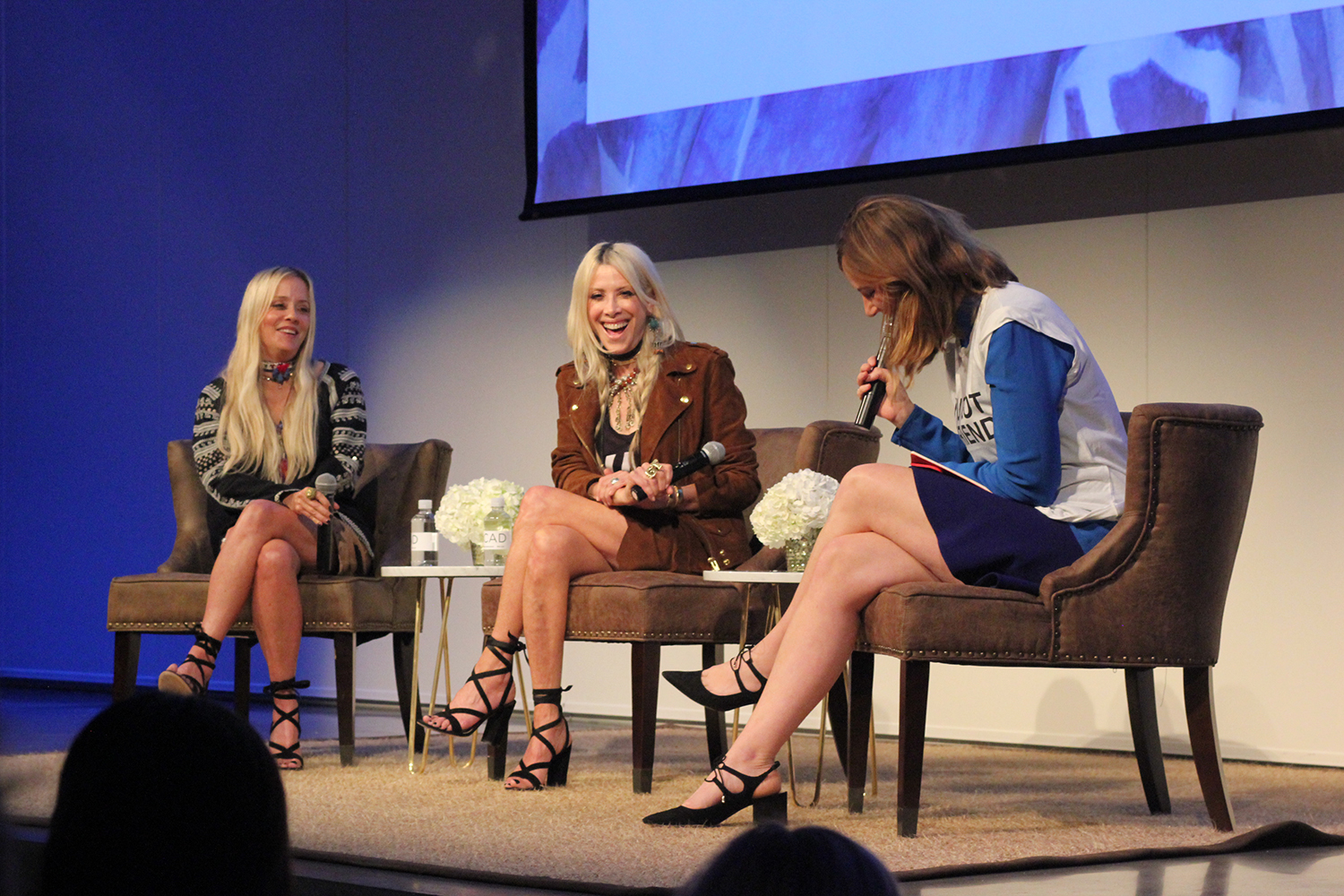 Juicy Talk with Juicy Couture's Pam and Gela
California cool took Savannah, as Juicy Couture founders Pamela Skaist-Levy and Gela Nash-Taylor sat down with The Daily Front Row executive editor Ashley Baker to chat about their newest venture Pam and Gela.
The talk began with a history of the brand, as Gela mentioned she met Pam in a "classic L.A way," filling in for her friend while she was in rehab. From there their friendship blossomed and they embarked on their first journey together, maternity. Entitled Travis Jeans, "we disrupted maternity," said Pam, and boy was that just the beginning.
Enter Juicy Couture, the famed empire that would one day hit a net worth of 1 billion dollars. Juicy came about organically, as Pam and Gela simply started making clothes they were obsessed with. They began with the t-shirt, and when the millennium hit they launched the track suit, starting a cultural phenomenon.
We all remember the famed velour ensemble, and saw it on everyone from Paris Hilton to Madonna. In my opinion, they pioneered what is now known today as "athleisure", with brands like Beyonce's Ivy Park and Yeezy now reigning supreme for the trend.
Following the height of the tracksuit, Pam and Gela sold the brand to Liz Claiborne in order to grow their company in a way they felt they couldn't handle on their own. Under Claiborne the company sky rocketed; bags, children's wear, custom T-Mobile Sidekicks, and fragrances were introduced. In fact, Juicy Couture's first scent is noted as the second best selling scent under Chanel.
Fashion evolved and in 2010, Juicy Couture formally left Liz Claiborne, stating that they couldn't continue without any control. But alas, Pam and Gela would not accept defeat, and in 2013 they launched their new line Pam and Gela.
The line embodies the aesthetic that got them noticed in the first place, comfortable luxury. The girls continue to make pieces they're obsessed with, and have stuck to the mentality that once brought them so much success. They still don't pay celebrities to wear their clothes, yet you will still see Kendall Jenner locking their sweatshirts. As long as Pam and Gela are behind the label, it's bound to be seen.
As successful veterans, the girls were apt to give students advice on how to achieve meaningful success, "do what you love and it'll never feel like work, and always be authentic." The girls are now working on combining e-commerce and retail, an idea that is sure to revolutionize the way we shop forever if executed properly. A TV show for their book The Glitter Plan is in the works to debut next fall, with Mila Kunis already on board.
The talk ended with Pam and Gela throwing out t-shirts from their new line into the crowd like the true rock stars they are. If this was any insight into the future of Pam and Gela, I can say without any trepidation that it will be just as sparkly and dazzling as you'd expect from these gleaming moguls.