Forty-five SCAD senior fashion designers, one graduate student's collection, the ever-fabulous Miss J. Alexander, and a giant mechanical eye walk into a theater– and the runway show was no joke. After nearly three quarters of sleepless nights and a storm-filled week, these student designers showcased their collections in a fashion that no eye has seen before.
Seats filled. Lights down. Music boomed. Four-foot-long plastic eyelashes rose from the white lacquered runway inside Trustees Theater. Talk about a show-stopper. One by one, models made their way through the oversized pupil. There was no doubt that this year's SCAD FASHWKND would be all about structure.
Catalina Robles San Martin, B.F.A fashion design student from Chile, opened the show with three looks, each model clad in heavy black coats and baring their mile-long legs. Bulky zippers and floor-length sleeves needed no introduction.
The immaculate detail and intricate beading of Alexandra Ghalibaf's collection screamed "goddess" and we were all ready to worship. The B.F.A fashion student from Worcester, Massachusetts used black and gold detailing on her pantsuit, dress, and cape to signify that her gal doesn't need a spotlight to shine.
Gone are the days where designers wanted to see their collections on the clothing racks of their favorite stores. Jackson Wrenn McCabe, B.F.A. fashion student from Clemmons, North Carolina, proved that the hottest new way to view your clothing rack is by hanging it on your own body. Lavender blazers and black overcoats embellished with floral cutouts dangled from wire racks attached to the models, inviting the audience to imagine just how badly they wanted his pieces hanging on their own clothing racks.
The power of the color red has never been so powerful thanks to B.F.A. fashion student, Mariana Alvarez Zubillaga. The exaggerated ruching on the pants and jacket turned her classic silhouettes into anything but ordinary.
B.F.A. fashion student and Savannah local, Kianni Hughes, went all-in with pattern play for her tongue-in-cheek collection plastered with political headlines. Black and white graphic prints and polka dots mingled together in the forms of billowing ruffles, simultaneously dancing with dramatic, glittery buttons. Kianni's clown is one we could all know and love.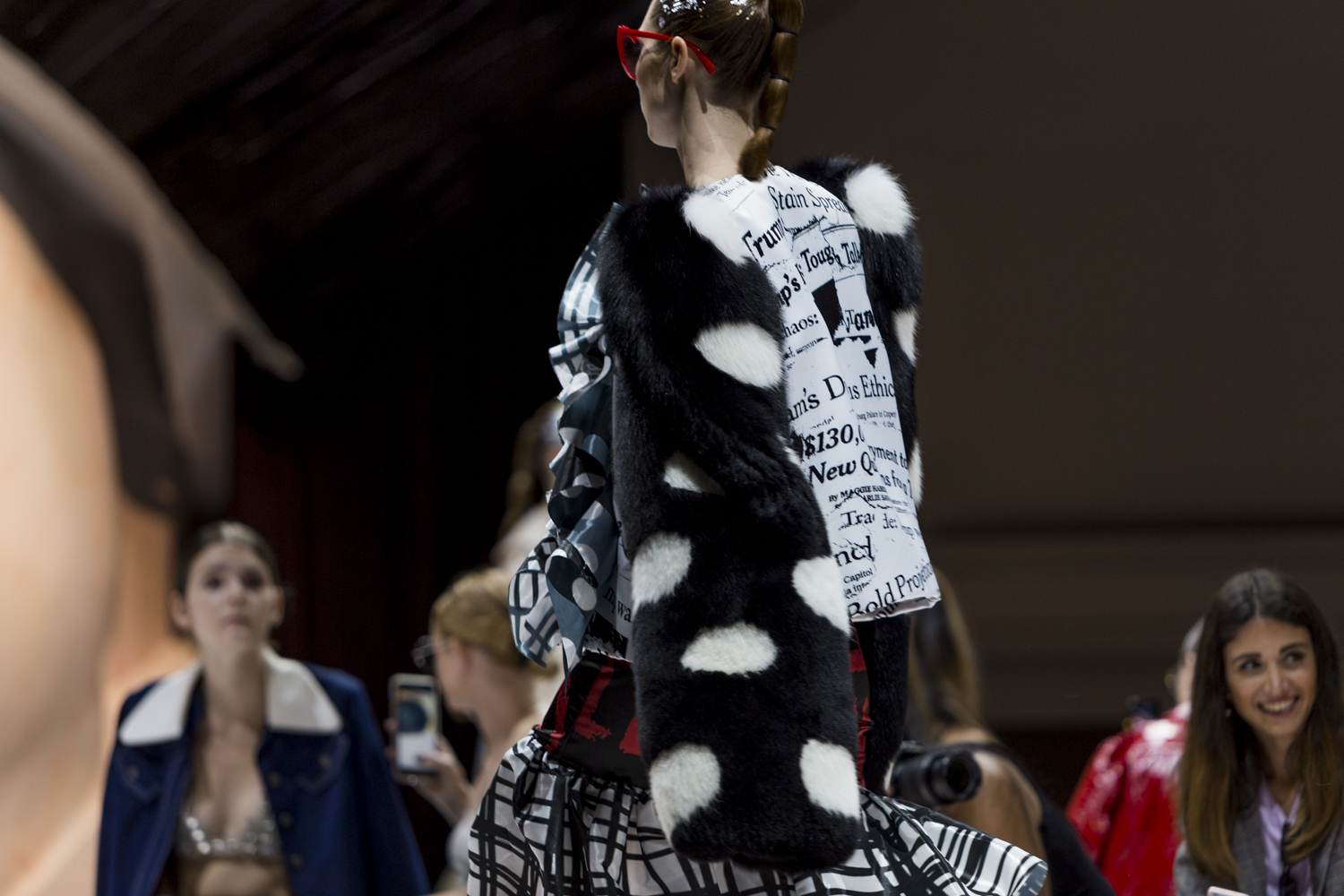 Mathuson "Sam" Anthony served sensual yet innocent looks. The models' faces were shielded with delicate lace and their bodies were draped with varying sheer fabrics. Accessorized with gold rings, the B.F.A. fashion student from Sarasota, Florida created a collection that was nothing short of heavenly. Paige Welch, B.F.A. fashion student from Albany, Georgia, closed the show with a clogged suit and Christian Louboutin's, ensuring that the seniors would go out with a bang.
After making their final walk around the runway, the seniors were followed out by Miss J. Alexander– and another round of applause erupted. SCAD students and members of the audience beat the heat during the best show of the school's history. The success would have happened with or without the rumored goggles to be worn on the models, but we're thrilled they didn't make an appearance anyway. One oversized eyeball was enough.
Check back later for more images from this year's SCAD FASHWKND 2018.
Written by Kelsey Tucker
Photos by Angie Stong