"Are you on? Are we on? All this nonsense, oh God, let's start over," snickers Manolo Blahnik as the documentary starts, giving us an immediate peek into his witty character.
Originally released in September 2017, Manolo: The Boy Who Made Shoes for Lizards has found its home on Netflix this past week and is quickly making its way into our shoe-addicted hearts. Directed by fashion writer and editor Michael Roberts, the documentary follows the life of Blahnik, footwear designer extraordinaire, through photos from growing up in the Canary Islands to his adventures between Paris and London during his 20's and finally, to his modest success as he resides in Bath, surrounded by his masterpieces.
By the end of the documentary, you'll want to become friends with Blahnik—not simply because of his A-list group of friends (Anna Wintour, Naomi Campbell, and Isaac Mizrahi), but because of his warm and vivacious personality.
Manolo: The Boy Who Made Shoes for Lizards reveals intimate moments of his life, both big and small, and invites the viewer in for an open insight on what made Blahnik into the man and maestro he is today. Addressing the detail and expertise of his current brand, one could have never imagined Blahnik found his calling by making miniature shoes for lizards out of Cadbury foil. Through his time interning at the United Nations in Geneva (where he was "bored to tears") and almost destroying his career after debuting his first collection, Blahnik managed to turn those tiny foil shoes into every woman's glass slipper.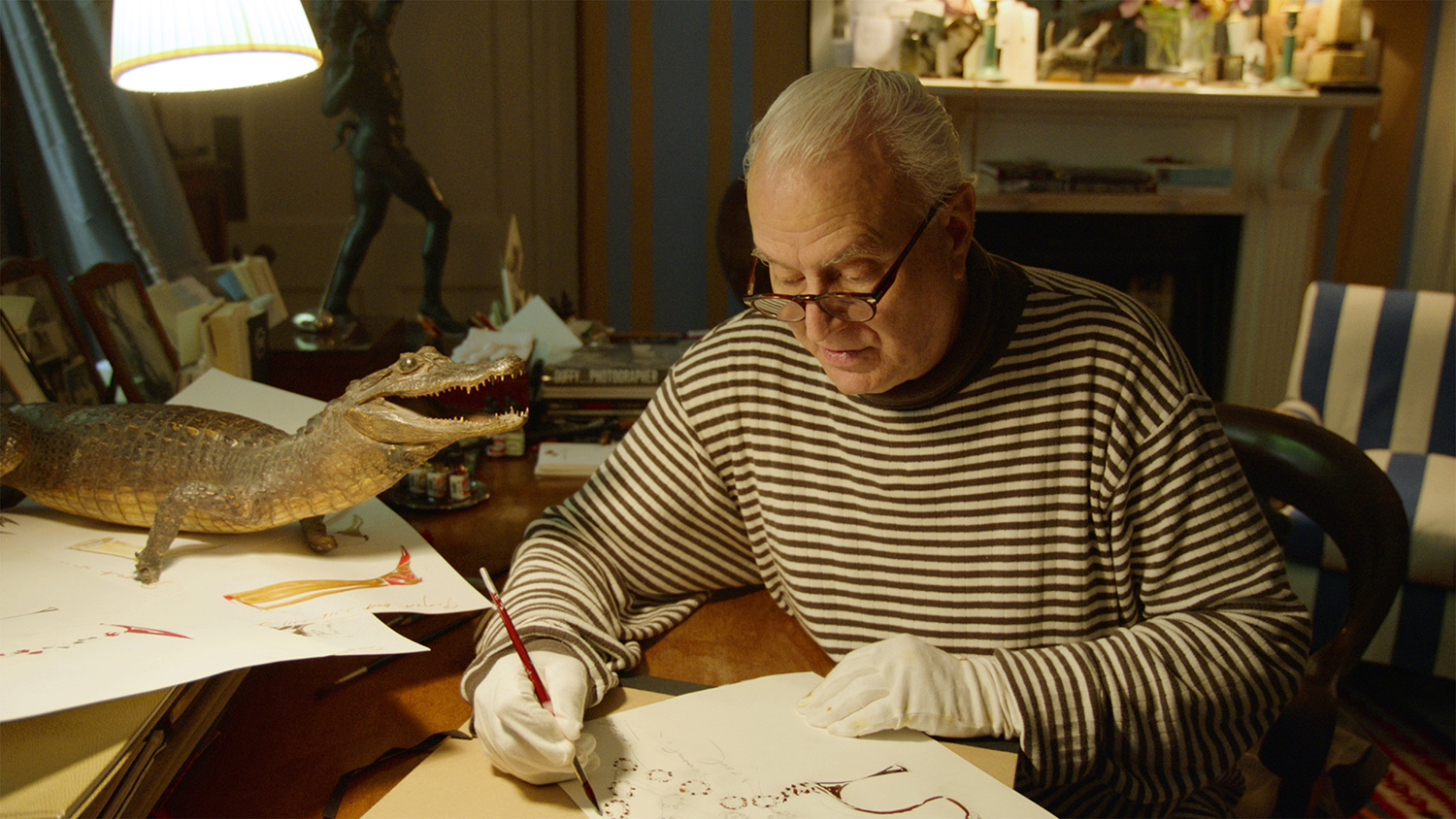 Roberts' dives feet-first into the compelling history of how Manolo Blahnik went worldwide in a matter of years. We see the moment when Blahnik quickly became a household name: the day Princess Diana stepped-out in her legendary LBD, famously deemed the "Revenge Dress," and black Manolo Blahnik pumps in 1994. He then jumps a few years to scenes from Sex and the City and how its heavy exposure of the footwear brand exploded Blahnik's fame. Thank you, Candace Bushnell.
From the early days of Blahnik's career until now, we can't get enough.
Even Dame Anna Wintour is hooked: "I can't remember

the last time I wore anybody else's shoes. I mean,

I don't even look at them."
What is almost as remarkable as Blahnik's life story is getting to see Wintour without her signature oversized sunglasses—we watch as her eyes reveal even more pure emotion than her powerful words do.
Blahnik's humble yet charismatic nature is shown repeatedly throughout the documentary and leaves us with arms wide open. Though he was the first man on the cover of British Vogue and is often known as the 'emperor of shoes', Blahnik mentions several times that he is quite uncomfortable and unnoticing of the fame. His unpresuming attitude and dramatic bursts of excitement display just how approachable he really is. We may not be able to relate to his rare skillset, but after watching this documentary, we will all want to call him our best friend.
For creating such delicate footwear, Manolo Blahnik lets us into his life in the most brutally and beautifully honest way. "Never take yourself too seriously, or you're finished."
Written by Kelsey Tucker
Images courtesy Music Box Films