With New York Fashion Week less than two weeks away, Club Monaco hosted a preview event entitled "Models and Music." Employees donned their favorite looks, while acoustic melodies by Morgan Taylor Lewis played softly as guests mingled and previewed the label's upcoming ready-to-wear collection.
Neutral color palettes, with hints of blush and wine, dominated the floor. Vivid floral prints elevate simple, yet classic silhouettes, too. Various styles of jumpsuits and rompers were displayed alongside coordinating skirt-top combos, proving that the co-ord set will remain a seasonless keepstay at Club Monaco.

"2018 is all about classic leisure," a Club Monaco employee commented.
Her coworkers nodded in affirmation, each swearing that the outfit they modeled was one of the most liberating pieces they had ever sported. Even the models wearing frilly lace dresses and midi trumpet skirts claimed that, despite the intricate detail and material used in their attire, they "couldn't be more comfortable."
The idea of comfort has carried itself into the workplace with business knitwear being all the rage. Knit trousers, blazers, dresses, and tops will most certainly be utilized by professionals who want the perfect combination of style and comfort while at work.
Based on Club Monaco's new collection, you can expect to see a beloved American classic make a reappearance: gingham. The timeless print has made a come back in recent years, and now, is a mainstay in many wardrobes. While it used to be reserved for warm-weather style, Club Monaco's new collection proves that it can easily cross-over into the cold seasons. Its simple elegance can be both dressed up or down, making it a versatile and must-have print.
Other notable patterns include small polka dots and stripes; both can be seen gracing a variety of garments.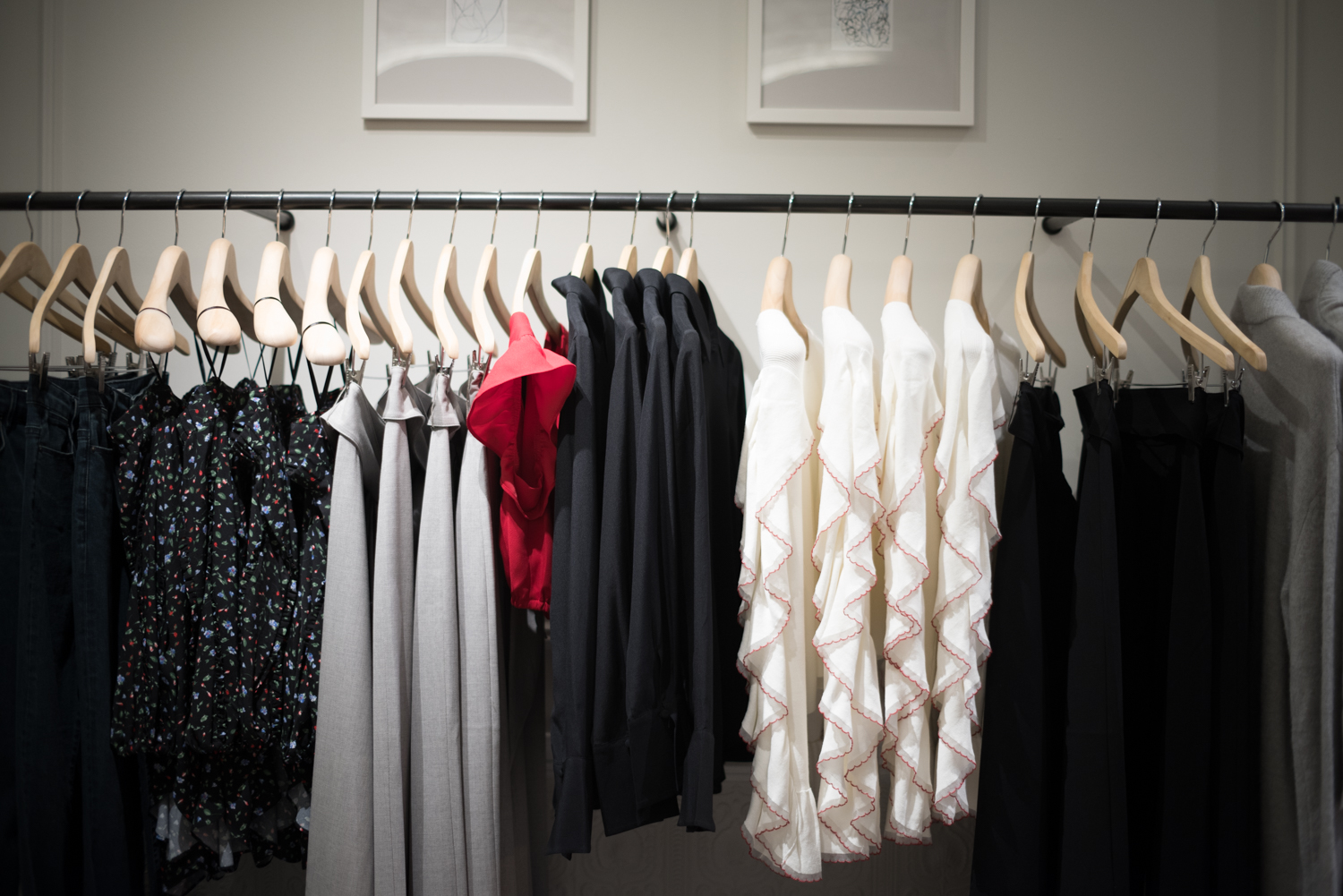 Feminine sleeve details were featured on majority of the sweaters and blouses, while skinny pants and trousers can still be seen on the racks. However, the style spotlight currently rests on culottes and wide-legged pants.
A perfect balance between formal and casual was the feeling produced from "Models and Music." Overall, the event was an excellent preliminary viewing of trends and styles that can be anticipated to be seen at this upcoming Fall 2018 season.
Written by Terriann Mohamed
Photos by CoCo Hubbeling