Deus Ex Machina is a term defined as "a character or thing that suddenly enters the story…and solves a problem that had previously seemed impossible to solve." Johnathan Hayden, M.F.A in Fashion Design, is solving the problem that the fashion industry has yet to resolve: integrating cutting-edge technology with fashion in a desirable, wearable way. The Dallas-native's knack for curiosity and interest in design beyond fashion will lead to his destiny of becoming fashion's next deus ex machina of the millennial generation — even the Metropolitan Museum of Art (Met) agrees. The sky is only the view for this artist and The Manor got the opportunity to chat with him about his work, inspirations and more.
So, tell me a bit about yourself as an artist and designer?
HAYDEN: When people ask me what my title is, I don't really like to use fashion designer, because a lot of what I do is more than just fashion. Fashion is just one of my skill sets that I can use to express concepts. On my resume and how I define myself is as a hybrid designer. When I say that, it's just technology and your conventional forms of design and then your more cutting-edge forms of design, like augmented reality and apps and UI design and motion graphics. I like working with those emerging fields to innovate my own work. And what's great about SCAD is the opportunity to collaborate with designers in these fields and a lot of them were new fields for me, but it's very interesting to hear a designer from a different field have a perspective on fashion. I often time think its more interesting to hear someone who's not into fashion talk about it.
For me as a designer, I think lately I have been getting more into the art. I did a collaborative motion graphic piece, I spent three weeks learning how to dance and working with a dancer at SCAD and then working with film students, and a motion graphic designer, collaborating with the ballet school, so I think my work is starting to transcend fashion and starting to be more universally approachable or beautiful in some way for people to find something intriguing, beautiful, engaging, interactive. I think interactive and engaging are the keywords to describe my work, but I'm always interested in trying to make immersive, memorable experiences for people whether it be wearing something or seeing something: or a combination of the two.
That's such a niche thing to merge technology and fashion, and other various facets of art, how did you go about finding something that you were really interested in?
HAYDEN: In my studies here, I was getting into interaction design, there was actually a class called Interactive Wearables and I don't think they offer it anymore. My interaction design teacher encouraged me to take that class and we had done some projects in there and one of them was for HP Intel "make it wearable," and it really made me start to make me think about what wearable technology was and I was starting to see where the discourse in technology and fashion was because I was the only fashion design student in the class, so I was hearing and listening to industrial designers and service designers and jewelry designers come up with ideas, but the foundation in those ideas, while cool, weren't necessarily substantiated in fashion and that's what's so interesting about this whole new dichotomy between the two is people don't really know what it can be.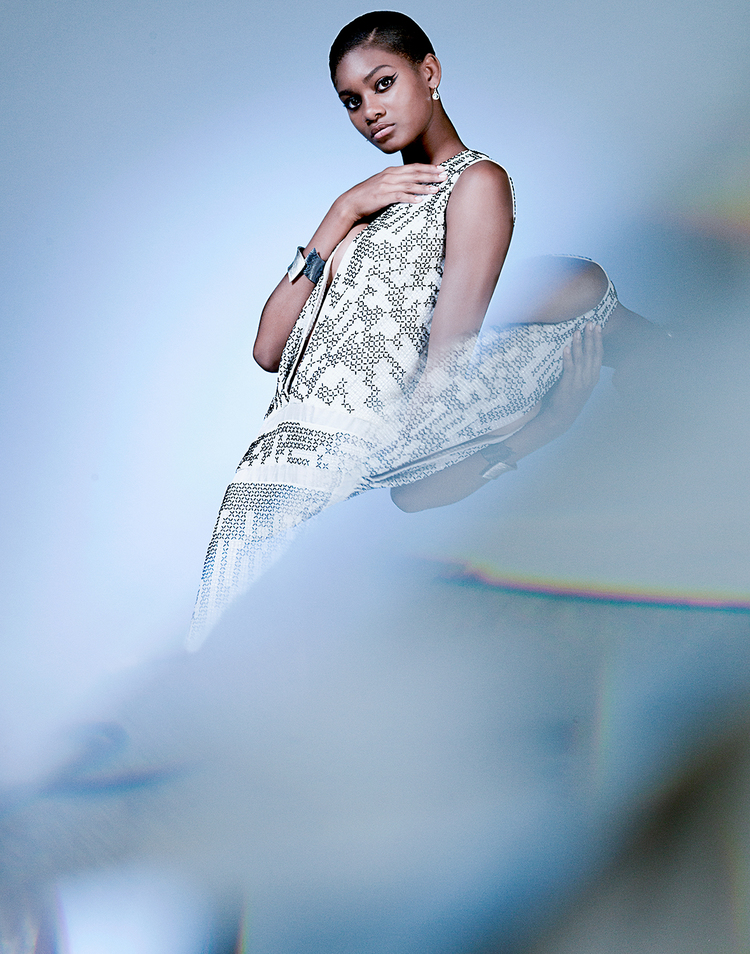 Speaking of merging technology and fashion, your piece was selected to be exhibited at The Met's "Manus x Machina," can you tell me about the garment and it's process?
HAYDEN: Yes, my dress was shown at The Met for an additional exhibition for "Manus x Machina." The museum hosted the competition for the design students. I was able to utilize the services offered by a beading and embroidery factory in Mumbai. I met their rep, Zak Syed, in a meeting during my time as design apprentice at Badgley Mischka. It was totally inappropriate for me to ask during a meeting, but I was so moved by the beading and embroidery samples that I had to ask. The rep was open to it and we developed some beading samples over the following two months at the beginning of 2015. I then draped and created the design/pattern of the dress. To create the layouts for beading, I then duplicate the patterns (after test muslins have been made) and begin drawing out the placement of every single bead. I have to color code the varying parts of my layouts so that I can create a guide that instructs the factory what color standards, materials, and types of beads/embroidery techniques are used where on the pattern. It is a very time consuming process. Because I am just a student working on a tight budget, getting the pattern and layouts correct the first time takes a great deal of meticulous attention. It's a modern way of thinking of couture work. Finally, with a lead time of 2 months, my beaded patterns arrived from Mumbai after countless weeks of e-mails and development approvals. Constructing the garment is the final step. That sharp contrast of that time-consuming/labor intensive process juxtaposed with the cutting-edge application of AR and motion graphics was a test run to prove to myself that AR could work with garments for fashion for my thesis to come the following year.
So would you say that augmented reality was the inspiration behind the garment?
HAYDEN: "Augmented Reality was never the inspiration. It simply acted as the terminal through which users/ fashion enthusiasts could immerse themselves in a new fashion experience unlike any other. That is the obstacle with a great deal of wearable technology. The work we saw at the beginning of this evolution in fashion was inspired by technology itself, as if the industry was still exploring how these new innovations could be worn. I don't believe the future of fashion will be 3D printed clothing or Virtual Reality simulations of fashion. People like the touch, weight, and opportunity to take fashion and reinvent themselves. Technology can often over power the individual and impact their behavior altogether. Take cellphones, for instance.
The dress was not specifically designed for this exhibit. That is what makes the timing of the exhibit so affirming for me. My research and development of fashion as a result had led me to the same questions, Andrew Bolton was provoking in MXM. I designed the dress for my Studio II class. It was inspired by online dating. The accompanying (augmented reality) AR video was called "Digital Affectation". Inspired by social networking and its effect on our physical interactions, the garments and the video explores pixelated digital landscapes that ask questions about transparency, privacy, fantasy, and reality. It's easy to forget we only see what others want us to see online. It can never be a complete and accurate representation of who we really are at our core. It can dehumanize us! With this added layer of anonymity, social morals are often blurred and, in some cases, ignored. How much of our identity is altered when we engage online? Do we say things we wouldn't normally? Do we only show the world what is deemed "good", and play a part in dehumanizing ourselves? Why is it that some people feel the need to remain anonymous online or completely fabricate an identity? Who are those ghosts haunting the digital space? What is their story? Who were they before? Who are they now? Who are you online?"
Where do you go to find inspiration?
HAYDEN: I actually don't look at fashion at all. I don't start in fashion, I try to not even look at clothes when I start. A lot of what I look at is psychological, philosophical ideas. I read a lot, I read quite a bit, usually ten or twelve books at a time and I don't know how I fit it in. I somehow have managed to fit it in on a flight or something, but I read quite a bit. I actually talk to my friends quite a bit. I have a lot of friends that have some really interesting things that and I'm always open to hear. Sort of like George Brock and Pablo Picasso, how they would respond to one another's work, it's almost like that. It's really interesting to see someone take something I've done and reimagine it in their field, and then me, find out about something in someone else's field and then apply it in my field. I don't really watch movies any more, just cause I don't like getting depressed, so most of what I watch is cartoons. Which actually, interesting enough, cartoons and animation are huge part of what I do. I'm like a big kid, I love comic books and cartoons and that's what's really interesting about the augmented reality was suddenly I could use all this background I had, I used to teach music and fundamental marching and help choreograph the marching shows. So it's interesting to see all of my background in music and cartoons and my love for animation combined with music and then technology and then fashion, its like everything i love somehow works.
And I think we live in this world where everyone wants to disseminate what people can do to one role and I'm quite defiant and rebellious about it. One of my biggest pet peeves is being told I can't do something or I shouldn't do something or that's not the way it's done. I'm from the generation of "why" "why not?" you know? Why did someone say that or why did someone make up those rules? And it really is that train of thought of questioning everything that really innovative some of the top minds in our worlds. It makes me think of Balenciaga when he started, that was what people were captivated by was his unconventional approaches to cutting sleeves and who says it has to be cut this way and he would change it. For that time period it was super revolutionary, so I just take notes from some of my favorite designers to stick to my guns and do what I feel and listen and stay open.
Where do you see yourself in the next 5 to 10 years, or what is the plan for the future, if there even is a plan?
HAYDEN: There is a plan. The plan always changes for everybody, cause you never know. You never know who will e-mail you or who wants to work with you. That prospect of opportunity is how I branded my personal business. It used to be specifically fashion design, but now it's more like creative consultancy, and I've structured it in a way that I get to work with some of my favorite designers. It's interesting, because the designers I work with are people I worked with first, and friendships bloomed from those, but it's a way for us to freelance outside of our main jobs so we can continue to improve our skill sets working on new projects and work on new things and constantly get better. I'm always going to be a beading and embroidery designer for a private label and we are considering the augmented reality as a facet of that business.
"The future is very bright, it's very scary, it doesn't feel real," states Hayden as we concluded our conversation, "I think I have a really hard time comprehending how lucky I am."
Lucky? Maybe so, but I'd go to say that it's sheer talent, determination and hard work. "I think it's the start of many things to come. So, I'm willing to embrace it, like everything else, so we'll see what happens."
To follow Hayden's journey as a hybrid-designer, be sure to follow his Instagram and check out his Augmented Reality Inspirational Video "Digital Affectation" here.
Creative Direction by Anthony O'Baner, Ashley Romasko and Emily Cole
Styling by Anthony O'Baner and Emily Cole
Photography by Matt Slade
Talent by Marshayla Turner
Garments by Johnathan Hayden
Written by Anthony O'Baner