The Manor had the pleasure of talking with senior student-athlete and fashion major Paulina Camacho. Paulina shared with us how the phrase  "letting go or holding on" inspired her to create her collection. She took something dark and personal and transformed it into something beautiful and light. "Collateral Beauty" displays her love of draping and her appreciation of simplicity and elegance.
I just want to start by getting to know you a little bit. So, where are you from and why SCAD?
I am from the south part of Mexico, my decision to come to SCAD was mainly because of the golf team. I've been playing golf since I was like six years old. For high school, I went to IMG in Florida which is all about sports and when senior year came I received many offers, but I still did not know what major I wanted to do. I wanted to do something with art but I was not sure what. Then, SCAD showed up. The coach was super interested in me. I came to visit and they showed me all these opportunities and majors. And I just fell in love with the buildings and I just thought it was amazing. I had no idea what I was getting myself into because I had never done fashion design, but I thought it would be cool to actually learn something and make it from scratch. So that's the main reason: golf. And once I was here, I just fell in love.
What inspired your collection?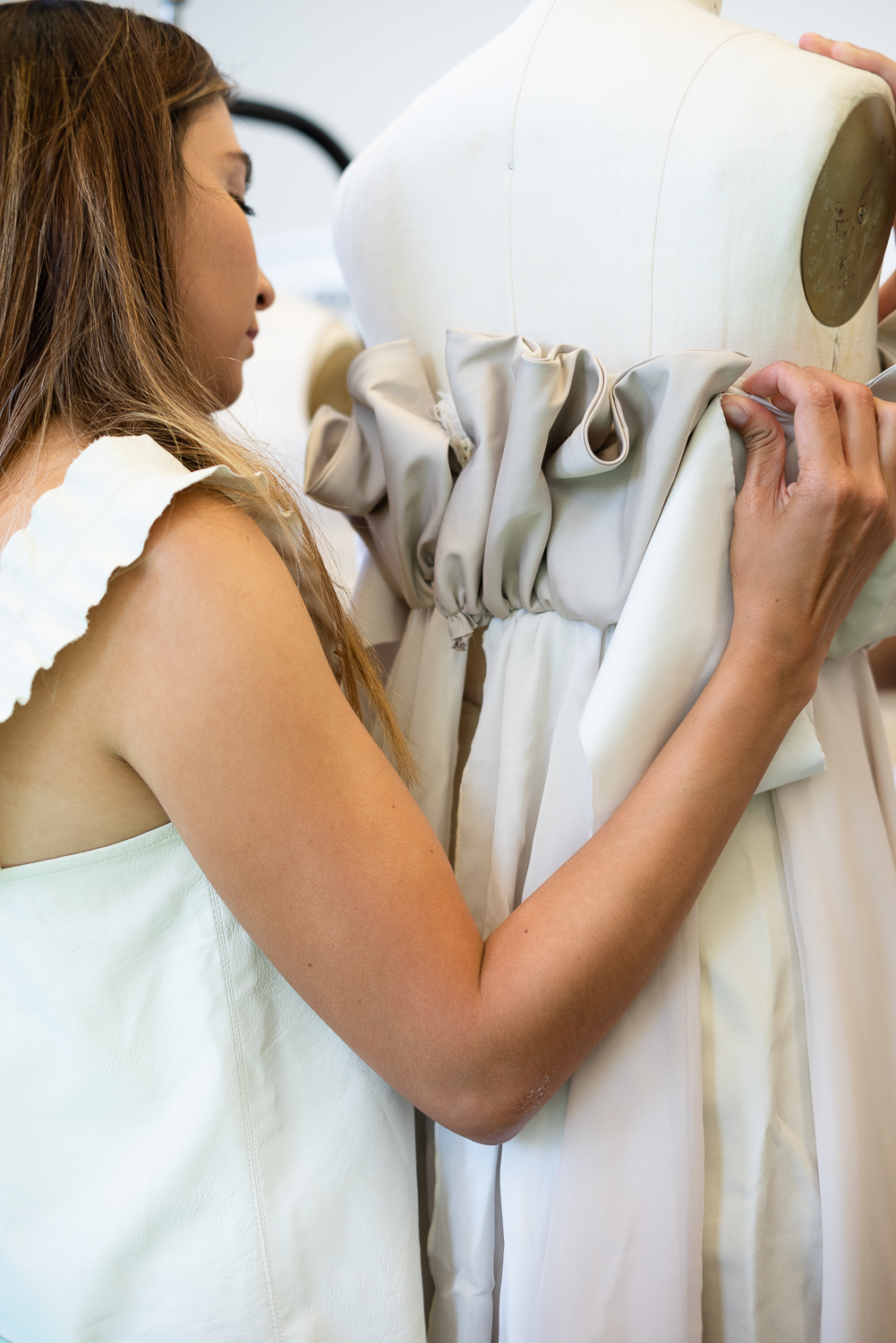 Well, it was a little personal. It was mainly inspired by my mom and the process when my parents were getting divorced. Me, being the oldest and having to be with my mom and guiding her through the process and making her feel strong. She would always tell me "how stuck she was between letting go or holding on." So I took that as my main inspiration and playing around with these two terms of letting go and holding on. So, "holding on,": the first thing that came to my mind was draping, which is something I love, so I wanted to mix that with "letting go" which is very structured and fine and clean lines. I am all for simple and elegant stuff. That's my main inspiration. I guess my mom, but I didn't want to make it about her, but those two things that were stuck in my mind. "Collateral Beauty." It is finding the beautiful things in the dark places, so I was brainstorming and trying to get images that made me feel something or little things that could give me some inspiration. Then trying to create a color palette with my love of neutral colors and playing with transparency and flowy stuff.
In the beginning, I wanted to create something brighter and shiny but I knew that was not going to be my style. So then I started to think about what type of fabrics I could use to achieve the look that I was going for. I wanted to go for something like evening wear, but I didn't take the class. I wish I did though.
Who do you design for? Who's your customer?
I feel like my collection is very ready to wear, super girly; and I was mainly inspired by myself and something I would like to wear. I feel it could be focused on people my age around 20 to 30.
What was your favorite part of the design process?
Draping. I drape every single thing. Like, I didn't tweak any other pattern. I would just start from scratch and I just think it's really easy. You just have something on your mind and you start doing and end up adding something and you like it. Like you think you fucked up but you liked it. So, I feel like it's very calming and getting out of the system and you just get more creative and you can make it your own.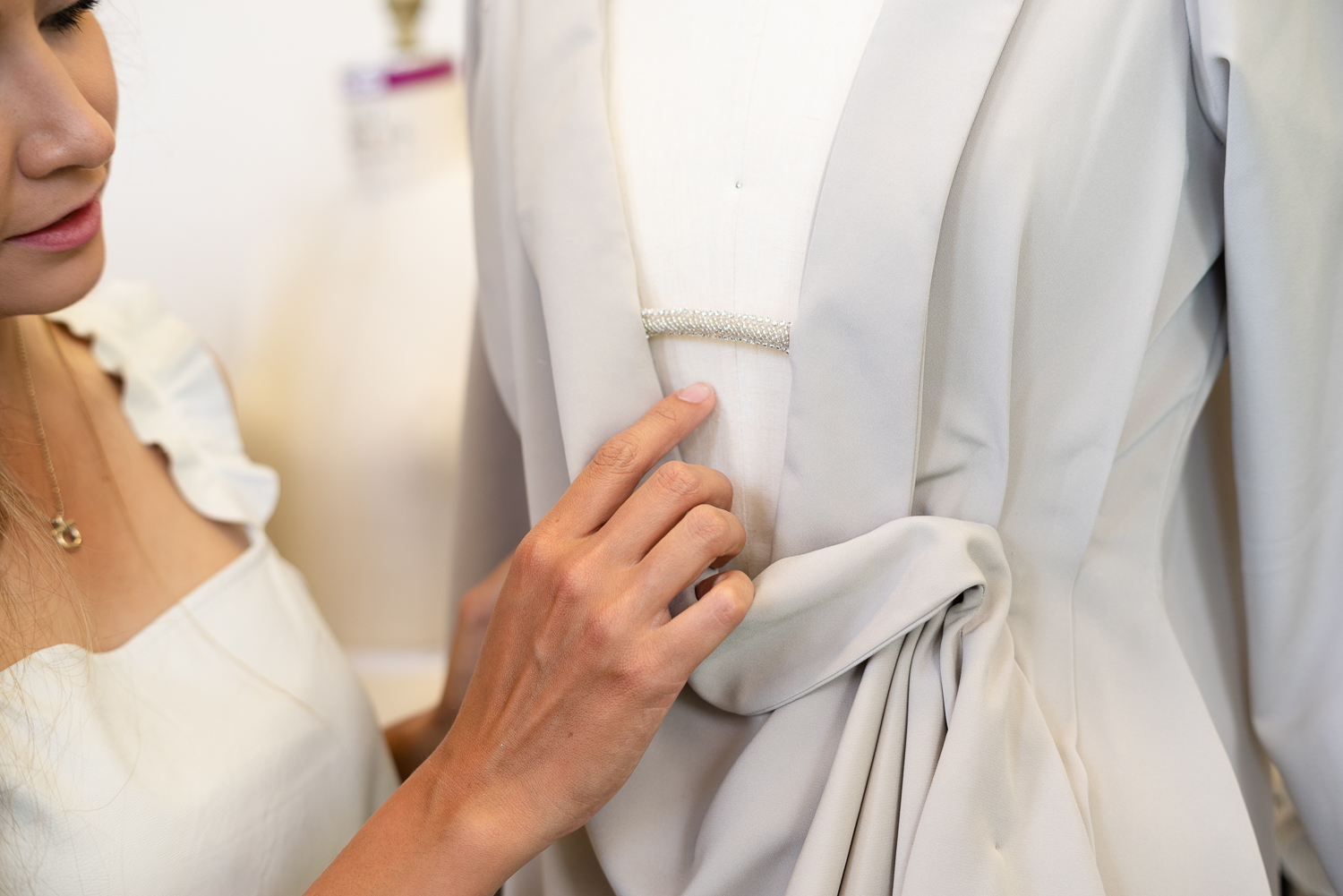 So did you encounter any challenges while working on this collection? And if so, how did you overcome them?
I guess time management. It is really hard to be successful in everything you do. With golf, if I want to play well I have to go to every single tournament, so the fact that I had to leave for fives days and not be able to do any of my work, because I would need the mannequins and the sewing machine so I could not do much when I am out of town.
Also, I wish I could have taken senior as my only class, but, as an international student, you are required to be in three classes and my biggest struggle was managing that plus golf. So I think it's challenging but it makes you appreciate every single thing that you do. With all that, I really don't have time to go out and stuff, but I am not mad about it. It just makes me more centered and makes me realize that it's actually worth it.
What music do you listen to while you work?
I like pop music, but I am Latin so I love Reggaeton I love it. It really depends on my mood. If I want to get something done, I'll just play Reggaeton to motivate me; but then if I am calm and have time or I am feeling little tired, I would play Celine Dion. So it really depends on my mood.
If you weren't majoring in fashion design at SCAD, what would you be doing?
I would have probably stayed in Mexico doing International Business or something like that. Definitely playing golf. When I graduate, I am actually going to give it a try to go pro, because when it comes to golf, you have like a very small window to actually make it happen. So I am going to give it a year try and if I make it into the biggest tournaments I'll stay there and from there, if I have the money, I can make something of my own. Right now, I feel I want to try since I have been doing it for so long.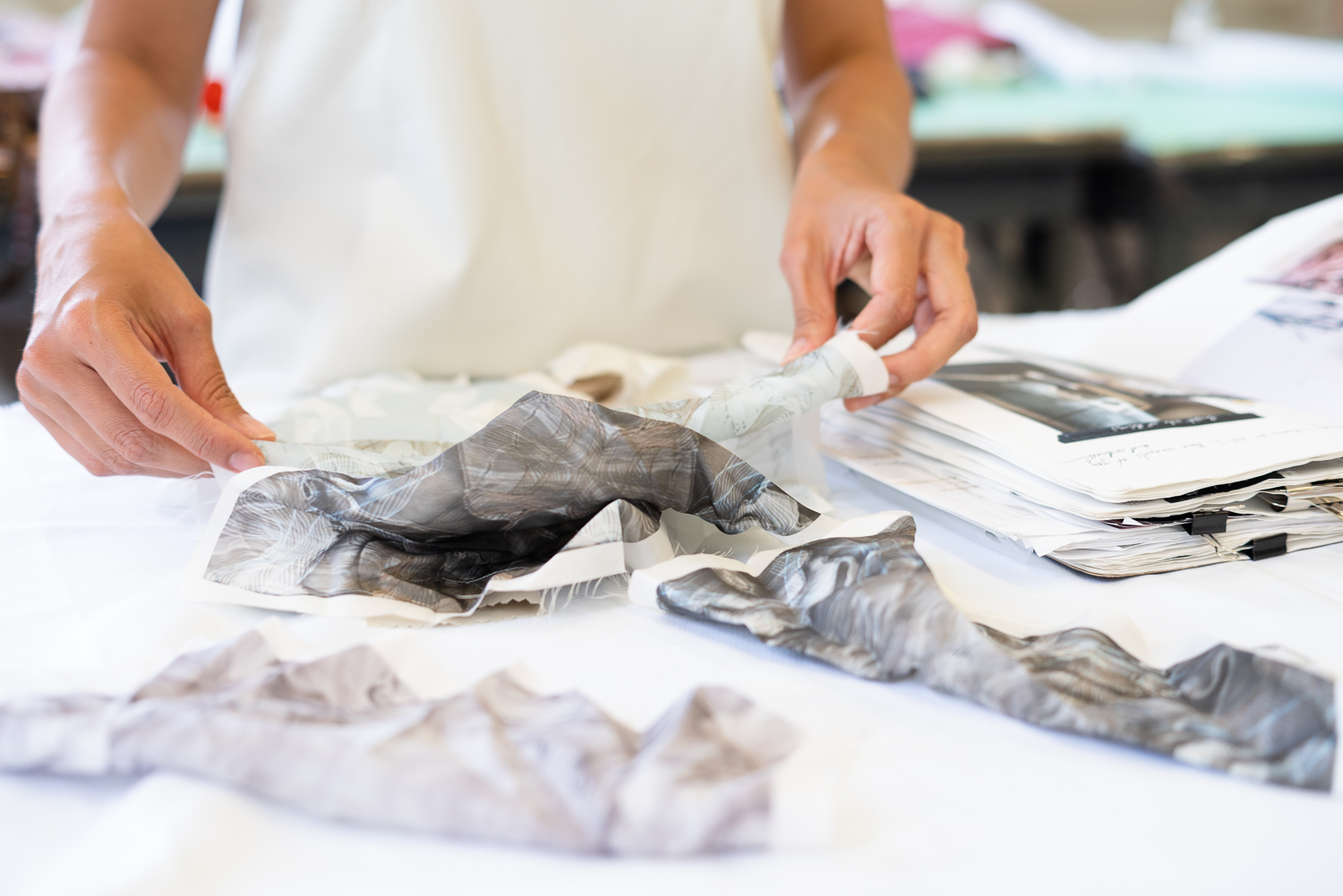 So, since you play golf, have you ever thought of doing sportswear or incorporating it into your designs?
I actually thought about it but I don't know if it's really my style. I am more feminine, more evening wear and ready to wear.
Do you have any advice for younger fashion design students?
To not lose any time. Enjoy every single second of it. I know at times it can be a struggle and you want it to be over and you are so done and tired, but it's all worth it. In the end, you see the garments and you are like wow I made this. So embrace it and don't let anyone make you doubt about the things you are doing or if you are talented or not. Everyone has different tastes, ideas, and opinions and at the end of the day, it's whatever you like and your style.
Editor's Note: Ka'Dia Dhatnubia is responsible for the development of these interview questions
Written by Laura Ramirez
Photos by CoCo Hubbeling