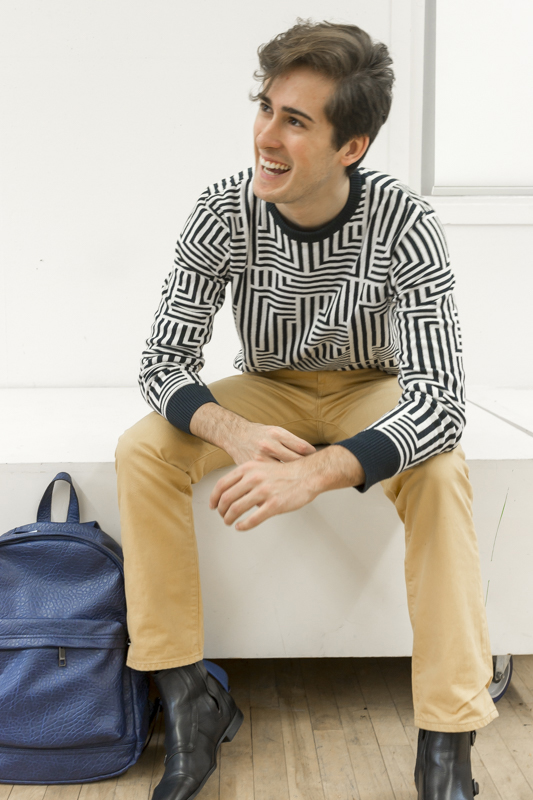 From Bridgewater, New Jersey, third-year Industrial Design student Andrew Repak is The Man of this week.
Fashion was always present in Repak's home, so it doesn't come as a surprise that his taste is immaculate and that fashion is something personal. As a child, watching his mother draft plans in the manufacturing facilities to create designs and knowing his grandmother created and tailored suits in Cuba while also heading an embroidery company with her husband, Andrew's fascination with fashion derived at a young age.
Before transferring to SCAD, Repak attained his associates degree in Fine Arts where, he was "tired of making painted" and "wanted to make art that was functional."
His understand of design goes beyond just fashion, as his interest in boats is unique and distinct from his peers. He pointed to a sharpie and stated, "See that sharpie there? Somebody had to design that."
So we asked, why not fashion? He said he thought about it, of course, but like many, he says he appreciates it more than wanting to create the pieces himself.
I like to feel good in clothes, buy something nice, you want to discreetly share it."
The Manor (M): How would you describe your style?
REPAK: I don't really base things off of looks or certain styles I base things of piece by piece, I will go to the store and be like I like that and go home and find out what it goes with. I would describe it as a collector.
M: What pieces are on your forecast?
REPAK: A nice long, tan wool coat from London Fog.
M: What's a piece of style advice that you would give to someone?
REPAK: If you want something sit and wait for it to go on sale. Seriously, I do not pay full price. Buy summer clothes in the winter and winter clothes in summer.
Andrew's 5 essentials:
 Every color of denim, slim fit jeans.

 Sweaters — and lots of them.
A quality jacket.
Appropriate shoes: dressy, high-top, low-top, all types.
A nice belt. Nothing is worse than seeing some have a nice pair of pant that doesn't fit them properly.
Written by Ashley Romasko
Photography by Laura Beckerdite
Styling by Emily Cole