The SCAD Museum of Art is giving the local art coterie the opportunity to overhear the conversations between fine art and fashion with Tête-à-tête.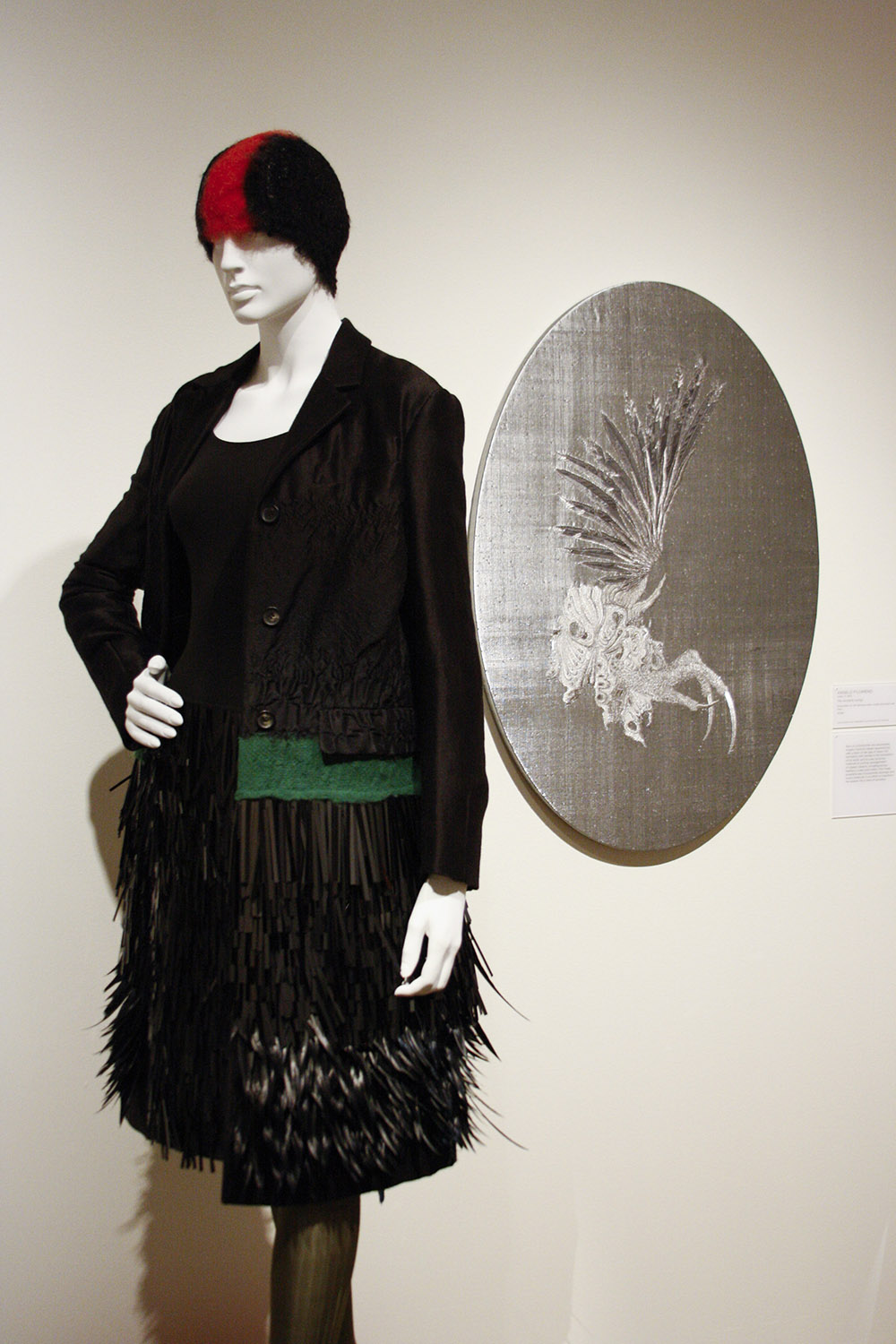 The exhibition merges memorable fashions from the likes of fashion icons Miuccia Prada and Yves Saint Laurent, alongside timeless oeuvres created by Andy Warhol, Salvador Dali and more. Taking place in the Andre Leon Talley Gallery, Tête-à-tête uncovers the similarities between art of various decades and how they influence or are influenced by one another.
Immediately as one passes Jacob Lawrence's exhibition, you are instantly intrigued by Vera Wang's Duchesse silk satin gown standing regally in the left corner next to Nicholas Hlobo's Untitled (Wazoneka) framed at its right. A fascinating observation between the two artworks is how both seem to be facing one another. The mannequin wearing Vera Wang's royal purple gown looks upon Hlobo's Untitled (Wazoneka), while his work subtly points to the garment at its endpoints implying a face-to-face discussion is truly happening. The two share a visual exchange about immaculate detail, color, and fluidity through their organic shapes and lustrous fabric.
Near the center of the gallery stands Birds of Paradise, an ensemble designed by Miuccia Prada for Prada Fall/Winter 2007. With a puzzling schoolgirl aesthetic, the feather and palette embroidery on the jacket and skirt exudes the concept of freedom, much like Angelo Filomeno piece neighboring it. Filomeno's The Accident (wing) also incorporates embroidery into its technique, furthering the relationship between the two. The rendezvous between both pieces express a sense of independence and liberation in an eye-catching way.
A more conservative conversation occurs between Oscar de la Renta and William Etty. De la Renta invites us into the discussion between his garment and Etty's painting about modesty, elegance and innocence. In A Female Nude by William Etty, a woman rests on her left arm with a white evening dress relaxed across her waistline resembling de la Renta's. Beautified with beading and embroidery, de la Renta's evening dress has a strict cut, as opposed to Etty's flow-y garb, however, the two are balanced in terms of maturity and charm.
Tête-à-tête is accompanied by more designers and artist, such as Paco Rabanne, Nelson A. Primus and Ralph Rucci. The exhibition will be open until January 31st, 2016. For more information on what artists are present in the gallery, visit the SCAD Museum of Art website.
Written by Anthony O'Baner
Photography by Quint Scott