[trx_dropcaps style="1″ bottom="tiny"]Nonita Kalra, Editor-in-Chief of Harper's Bazaar India, is one of Southeast Asia's most influential women. A force to be reckoned with, she is known as an unapologetically passionate individual who aims to create a society in which fashion and intelligence are synonymous. In just one year she has re-launched a struggling Harper's Bazaar India, creating a magazine that reflects the attitudes of the modern Indian woman and establishing it as one of the most highly respected publications on the subcontinent. In between her busy schedule in Mumbai, she recently talked with The Manor about life as an editor at the top of her field.[/trx_dropcaps]
It's a day like any other at the Harper's Bazaar Mumbai; stacks of magazines are piled up in every corner, staff are exchanging ideas over the tops of cubicles and the interns are packing away clothing in the fashion closet. Looking deeper, I sense that the morale is a little higher and there's an extra bag on the long desk where the senior staff sit. The Boss is in the office today. Wearing a simple blue midi dress and dark sunglasses, she plays the perfect part of a strong Indian woman on the go. As we walked into the small glass conference room, I found myself strangely at ease as she asked me about my day and if I'd been enjoying working there as an intern. I almost forgot that I was speaking to one of India's most respected business women; it was as if I was catching up with an old friend.
Alyssa Advano: Let's start off simple. What is the typical week like for a Harper's Bazaar Editor?
Nonita Kalra: A typical week is never typical. You wake up every morning knowing that no two days will be the same as it's the nature of the work we do. You're dealing with people. A fashion magazine is not simply about clothes alone, it's about the people who design, make and wear the clothes. When you're working with the variability of people and you add to that the fact you have an entire creative team who have their own requirements and their own ways of working, there is never a typical day.
However, if I were to break it down, we spend a lot of time planning for our issues and thinking about what we want to communicate through Brand Bazaar. Specifically, for 2017/18 we want to focus on two specific issues, the first being "India Modern," which is the way modern India is shaping up, including clothes and sustainability. Yet, we also decided this was to be the year of being fiercely feminist, so everything is put through these two wavelengths. Of course we work a lot on shoots, configuring of pages and the overall production of Harper's Bazaar, but a magazine cannot talk and have lunch with you. It has to speak through images, so we spend a significant amount of time figuring out who could represent the voice of Bazaar. But also we keep thinking and re-thinking and dismissing and re-thinking again of our ideas so that our magazine is truly representative of the Bazaar brand.
So definitely a lot of going back to the drawing board?
Oh, yes.
Speaking of which, as students, some of us know exactly what and who we want to become, but others are still struggling to find their way. Did you always know you wanted to be in the fashion industry?
I was very certain I didn't want to be in the fashion business and I was even more certain I didn't want to be a journalist. But I've always loved reading and that's been a constant in my life. I chain read, so it just became natural for me to write as I felt I needed to be able to express myself and find my own voice. I think that, without realizing, it led me to communication. What I didn't realize was that I also loved fashion, and it started at very young age. In fact, one of my mom's first memories of me was when we went to "Muzafar Nagar" (a market place) and I insisted on buying my own "chaapaals" (flip flops). They were this bilious neon green, but I was besotted by them.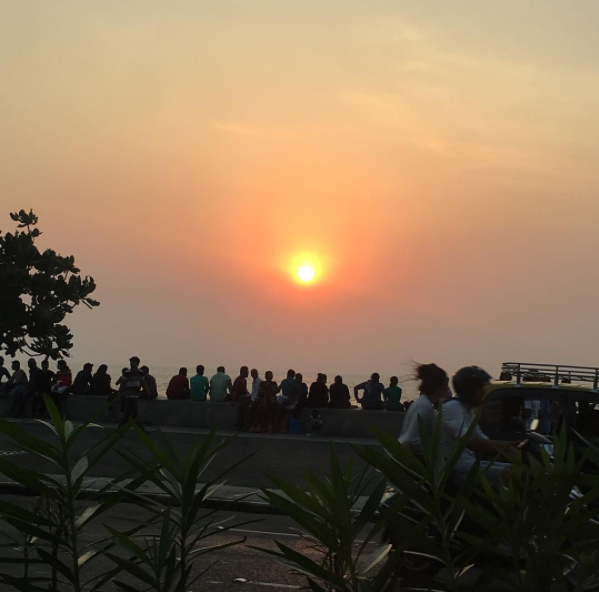 Every visual memory I have as a child is of clothes. I thought I was this girl that was going to get her Ph.D. in international relations and I was rock'n'roll, and I wore black and I didn't realize but it was all training for fashion. I think it's just serendipity. I trained as a business/political journalist in television, but in reality it was all just training to be a damn good fashion journalist. I never see myself as an editor. I am a journalist. So I didn't know, but one day I got a call asking if I would be the editor of ELLE India and I thought no way, until my boss at Indian Express said, "No one makes you an editor at 31. Go and make me proud."
Well thank you, that is more reassuring than you know.
You don't need to know ever, remember that, you can change your mind 100 times.
Before we move on, let's just quickly go back to ELLE. What made you choose to leave to come to Harper's Bazaar?
I didn't leave ELLE for Bazaar. I was with Elle for 13 years. It was my baby. ELLE turned 17 in India. She was old enough to go to college. She didn't need me and it was time for me to set her free. It was a tough decision because a good editor is only good if the magazine can survive without her. The first day you walk into your job, you have to know that the product should ultimately do better without you.
So I left to work in the beauty business with a consumer product company, then I moved to work with fashion stores and the Fashion Design Council of India. But I did not go from one to another. The reason I went back to the magazine industry, though, was because I was really angry. I couldn't understand why they hadn't been utilizing fashion communication. It had dumbed down. It was all about Bollywood and that what you wear makes you who you are. That is bullshit.
"Everyone today is turning communication opaque because we are too scared to be called out as stupid or we are hiding because we think that real life has filters like Instagram. So my everyday inspiration and challenge is the clarity of complete transparent communication."
So I ended up ultimately choosing Bazaar because it is for a grown-up woman in terms of age and intelligence. The only thing she wanted was information– and that I can give. We decided from issue one that we would not follow the conversation in fashion; we would start it. Bazaar is 150 years old this year. It has survived because it has driven the conversation in fashion. It is a thought leader. It has pulled you out of your comfort zone. It's taught you that fashion should be irreverent. Bazaar is not a bible but it is your cool, intelligent smart best friend. I saw that and I thought, "Yes, I'm coming back," and it's been incredible.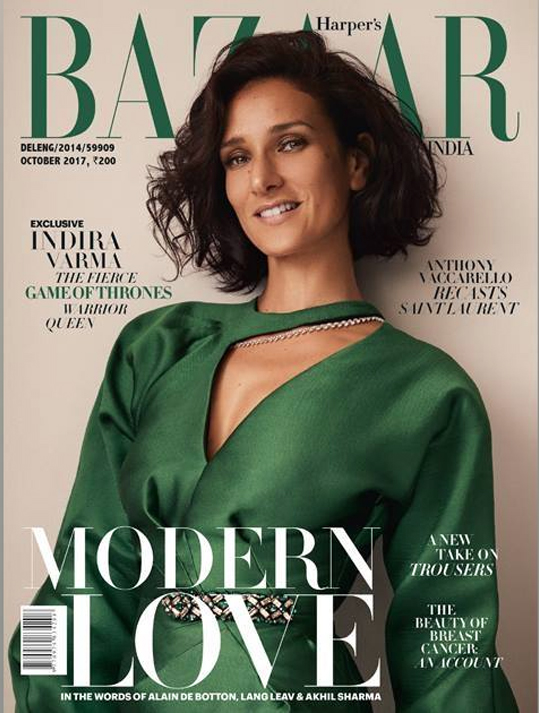 You're obviously inspired by Bazaar's message and the modern woman but who and/or what else inspires you.
Books. It always comes back to books. I love words. I love a specific word. "Serendipity." I think that I've worked so hard because I'm searching for the perfect sentence. Using words to communicate is my purpose. Nothing frustrates me more when I am misunderstood because I just feel we need to make communication transparent. Everyone today is turning communication opaque because we are too scared to be called out as stupid or we are hiding because we think that real life has filters like Instagram. So my everyday inspiration and challenge is the clarity of complete transparent communication.
Communication is seemingly different everywhere you go. What do you believe to be the difference between Harper's Bazaar India and the rest of the world's Bazaar's?
India is beautifully, deliciously, unapologetically contrary and I think that's what makes India fantastic and complex. Nobody can predict India or its direction. There is good and bad. We have terrific pride which encourages us to work with our own textile and craft, making our fashion unique and therefore we have a unique voice. When I look at other Asian fashion weeks, they don't have a voice that is this strong. We insist on wearing our own clothes or we take international designs and make them Indian. I love that subversion.
At heart we are anarchic and we are confident about our culture. We take our "Indianness" and slap it onto everything. We put chili flakes on a beautiful pasta. We add sequins onto anything we want. We will not wear a bindi with our jeans and t-shirts like every Katy Perry-like celebrity that is trying to culturally appropriate the bindi. We will wear the bindi at the right time only. Yet we will tie a sari over our jeans because we take ownership of what is ours. Being Indian is a living breathing tangible thing. It's almost like a being. That's what makes Indian Bazaar different. We use language as beautifully as other Bazaar's. We follow their rules in imagery, but the way we decide to approach content and the fact that we are so Indian in it makes us different.
International actors don't work on my covers. One of my worst covers at ELLE was Madonna. Our readers were like, "Why? We don't care."  And I thought, "I love Madonna, but how is she relevant to me here?" She's not. So we then used Padma Lakshmi and even though people originally said that because she was dark-skinned she wouldn't do well, she resonated better with our audience and was great! Bazaar India is a chaotic, heaving mass that is pushing up against the walls of the box. We love to scream and I love it.
Written and interview by Alyssa Advano
Cover photo courtesy of Nonita Kalra