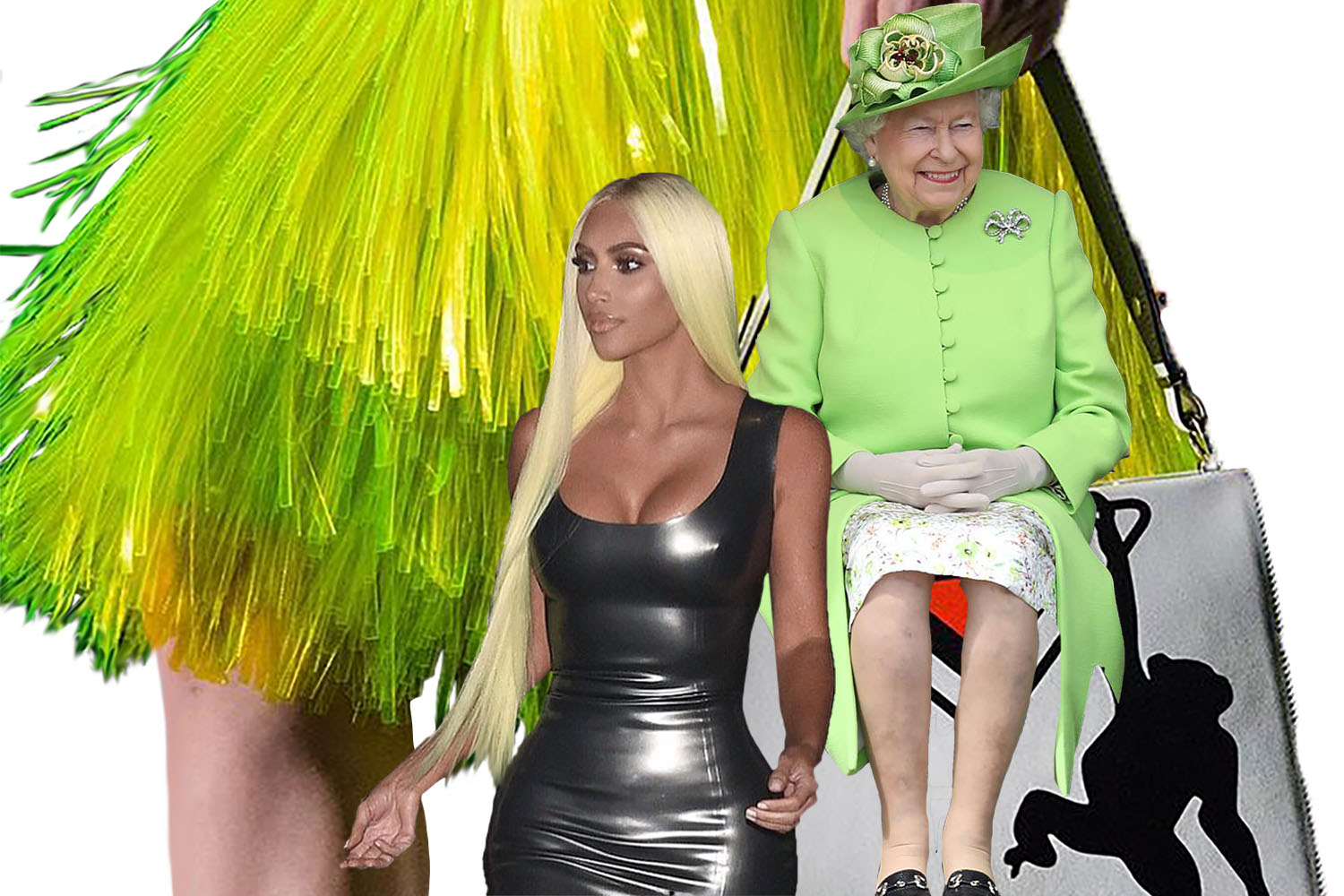 Slime Culture
Fashion just got slimed, slime green that is. From the runways to the streets, outfits are oozing with the color made famous by children's Television network Nickelodeon.

Slime green resurfaced on the runways of major fashion capitals across the globe. In Milan last Spring, Prada showed slime green in their industrial-inspired ready-to-wear collection for Fall 2018. Most notable is a dress dripping in rubbery green fringe with a neon yellow turtleneck tucked underneath.

Other brands soon followed. Josep Font for Delpozo delicately draped green and yellow tulle to reveal the softer side of slime for Spring/Summer 2018. Copenhagen-based brand Ganni paired slime green polka dots with plaid and florals in their Pre-Fall 2018 collection.

Soon, slime green seeped into the closets of consumers. Starting at the top, world leaders Queen Elizabeth II and Kim Kardashian were spotted in slime at the beginning of this fashion season. In early August, the Queen was documented on Instagram donning a slime green skirt suit during her first solo meeting with Meghan Markle. Later that month, Kim's hair glowed green outside a nightclub in Miami, as she sported a wig with a lamborghini to match. "Kim Kardashian just got slimed," wrote Victoria Moorehouse, referencing the nostalgic 90s catch phrase in an article for Instyle.

"Perhaps this is manifesting from a certain nostalgia for the '90s, when Figure It Out and Guts dominated the Nickelodeon airways with their sudden slime attacks, and a lunatic wasn't living in the White House" wrote Hannah Baxter for the Coveteur. Baxter is a writer and Instagram influencer, who established the social media movement "#slimewatch2k18" to raise awareness for slime. This is a humorous and nostalgic coping mechanism for Baxter, along with an entire generation of 90s kids, to confront the uneasiness of the times. Slime now serves as more than just a color trend; it is the visual zeitgeist.

These days people are so inclined to label trends as cultural movements, then cling to them like security blankets. It began with millennial pink, which fought gender stereotypes associated with color. However, millennial pink has run more than its course. According to an article in Vogue last Spring, pink is now the predecessor to Gen Z yellow, a reaction to the exhaustion of millennial pink.

In succession, the Pantone Color of 2018, Ultraviolet, was given the street name "Melodramatic Purple" after singer/songwriter Lorde wore a light purple evening gown to the MTV Music Awards in August of 2017 to promote her new album Melodrama. "It's both sad and happy at the same time— a state of being I think a lot of people can relate to for spring 2018." wrote Emilia Petrarca about the moody pastel purple in an article for the Cut. Slime green signifies the transition from moody to enlightened.

"This slime color, in some cases, is a little more tawny; it's very assertive without being aggressive, which I believe is the new way to be heard. It's almost subliminal," shares Intuitive Color Healer Roxie Darling in an article for Paper. The personified qualities of slime green generate the most timely metaphor for effective communication.

Whether it be on the runway or in reruns of 90s TV shows, monarchies or social dictators, Instagram or IRL— there is a green, goopy bucket of slime being dumped on culture. It might wash out of clothing but hopefully will stain society.
Written by Kat Sours
Graphic by Kat Sours