The thrilling collaboration between Jeffrey Taylor and Lottie Bertello had to be featured in our exploration of Senior Collections. Jeffrey and Lottie come from different backgrounds, Taylor with design and Bertello in fibers, but that did not stop them from knowing that they would be working together to create Taylor's senior collection.
The Manor (M): How did you get into fashion?
TAYLOR: Growing up in a household full of women; my mom, my aunts and my cousins always came to visit with the latest fashion and they brought with them all the fashion magazines. I was able to keep up with the latest TV shows, news trends and what was going on when in the music industry. Music definitely took a toll on my fashion sense.
Coming of age to where I could understand fashion I became inspired by everything and finding my aesthetic was more of a fantasy which brings in the whole aspect of evening wear, ball gowns and being able to use a lot of fabric to create drama and illusion of a fantasy world. I learned that being over dramatic is completely OK.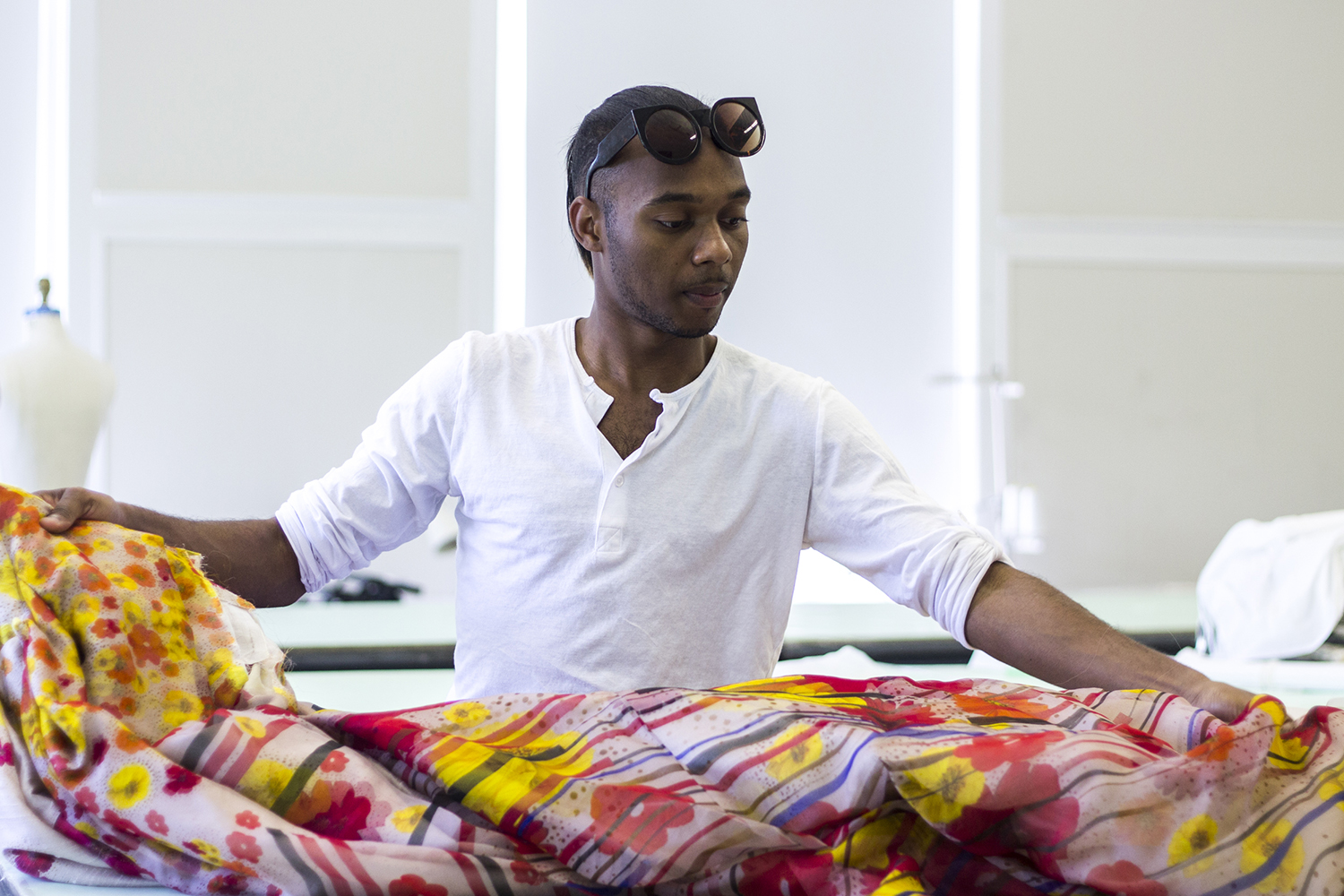 M: Has there been a turning point/revelation in your career?
TAYLOR: When I got my first internship with Naeem Khan and being able to experience that whole aspect of heavy evening wear and beading and embroidery. Being in the studio and seeing how intricate every bead is, and when the beads come from India, sampling, the whole creative mind and the process behind every single piece and how every piece had its own story. The whole process was amazing; coming up with a concept and the whole journey towards the end, it never ended. Even the day of the runway show we were still thinking of concepts for that runway. As I said, the story never ends, it just continues to grow and grow. So, I think that that was a turning point in my career and just being able to be in the presence of a top designer that was under Holtzen was very inspiring in itself. Being able to return there again this past summer was the highlight of my career.
M: Where do you go to find your inspiration?
TAYLOR: I normally pull inspiration from the 1950's silhouettes; I always have a story of a woman becoming something more than a woman. As you will be able to see in my senior collection, it is very soft and organic and very sweet and sophisticated. It has beautiful flowers and the mix of several harsh colors together in an attempt to make them very soft. Nature of course has been a great inspiration, and I feel like everyone pulls inspiration from there. My costumer, who is this very sweet and sophisticated woman that is always on the go, going to major events around the world, that travels and pulls inspiration from different cultures and brings it to her classic silhouettes. Pretty much my inspiration comes from anything that I can turn around and make it sophisticated and my aesthetic.
M: Can you give us a snapshot of your collection?
TAYLOR: Floral prints clashing with harsh colors and finding the balance and unity within all of the colors and making it work and knowing when too much is too much and a little is better than too much.
M: Lottie, what part did you play in this collaboration?
BERTELLO: I was in charge of the textile development of the collection. We met over the summer and Jeffrey told me what he was looking for, I told him what I did – It's like we decided to collaborate without saying that we were going to collaborate. It was just an instant understanding that we were going to do this. The first quarter we just met every single week. Jeffrey would bring his books to me and I would scan them. It was fully a print development quarter in which we were able to get our base. And then from there we wanted more of a textile development because I wanted to do more things and Jeffrey was interested in 3D work, beading and embroidery. I really think we covered all aspects of textile work. We experimented with every route we could possibly go.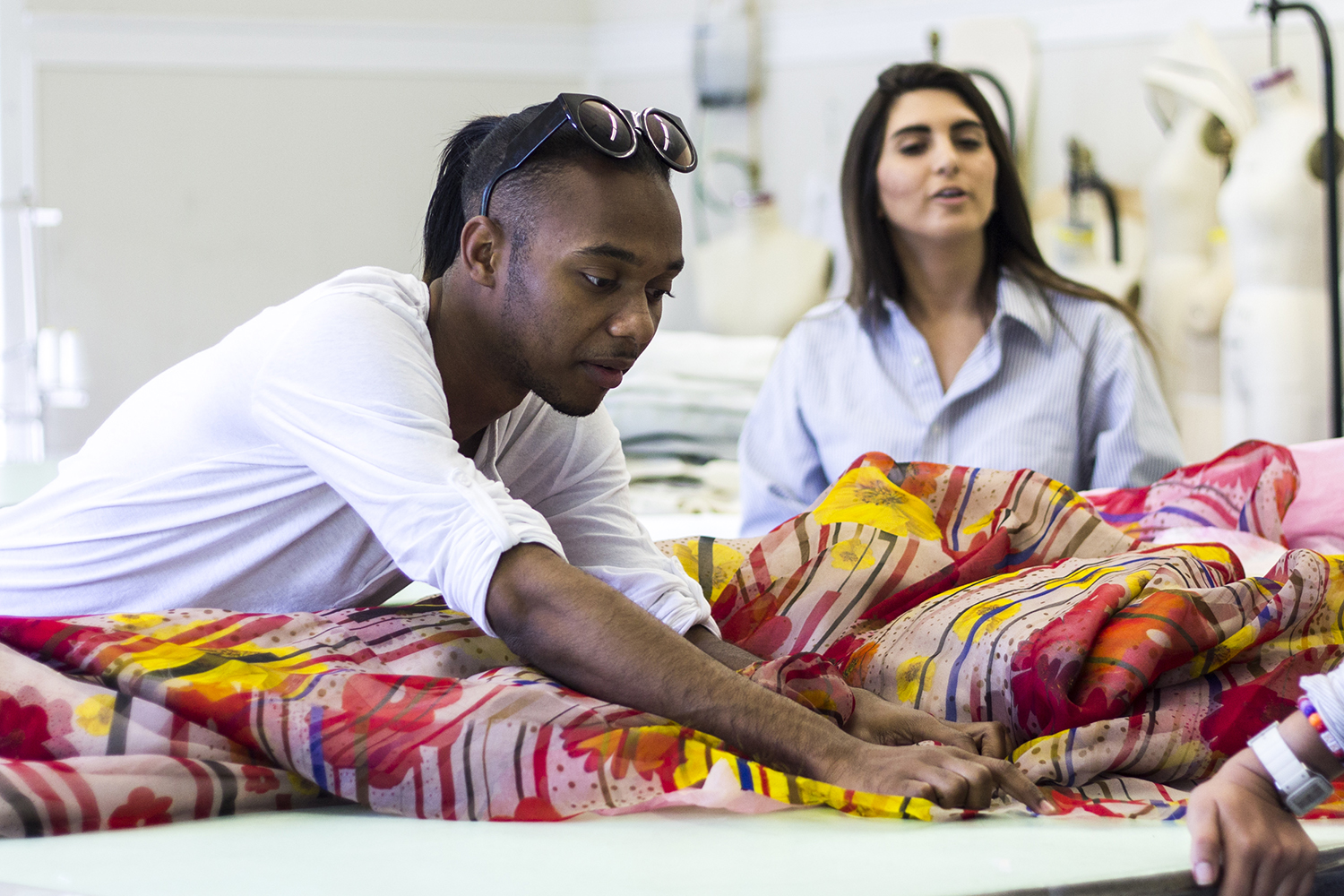 TAYLOR: We met every Friday at 11:00am at the library and we had to have something to show each other. It was always a work in progress and there was never a time were we missed a day. Every Monday of every week we had to have something new to show to my professor; it was nothing but process.
BERTELLO: I think by the end of that quarter I had developed 60 different prints!
TAYLOR: She would send me a picture of a print at midnight and I would have to re do everything because that one color that she added in just changed everything. The yellow you will see in my collection was a last minute thing and now it's everywhere. We didn't even think to do yellow and now all of a sudden she sent me this amazing print after I had already printed all of my line up and I had critique the next day and I had to change it. That yellow was exactly what the collection was missing.
BERTELLO: I think a day in the collaboration that was very important was when we got together at the beginning of the quarter and we went flower picking because all of our flowers for the prints are real flowers that we scanned in. We went to a florist, we bought flowers and then we didn't have enough so we went to the SCAD garden and we were picking flowers on a day that was 90 degrees and Jeffrey is allergic to bees, but the collection had to get done!
Written by Maria Zapata
Photography by Joselyn Dontfraid