"Remember when we were going to have a tree in the window," jokingly states senior fashion marketing (FASM) major Mike Magliochetti to his team. "Thank God we didn't."
The 'big' window is every fashion marketing student's goal at SCAD, where only the best of the best in the senior class gets the chance to leave a mark in Morris Hall. The process to attain said window? Imagine The Hunger Games and Scatter My Ashes at Bergdorf's combined. It's competitive, it's time consuming and it's down-right exhilarating.
Over the span of four weeks, Chanelle Bertelsen, Kerrilyn Gibson, Taryn Ford and Michael Magliochetti have dedicated their time and effort towards creating "Thoughts in a Small Room," featuring a stunning three-piece muslin ensemble designed by fashion design senior Christopher John Rogers. Two pages from Rogers' process book, which I called the fashion bible, accompanies the garment with golden butterflies adding delicate hints of fantasy throughout the display.
The Manor got the opportunity to chat with the talented tetrad to get a better understanding of "Thoughts in a Small Room" and to hear the story of how the team united to create an incredible visual and strong story.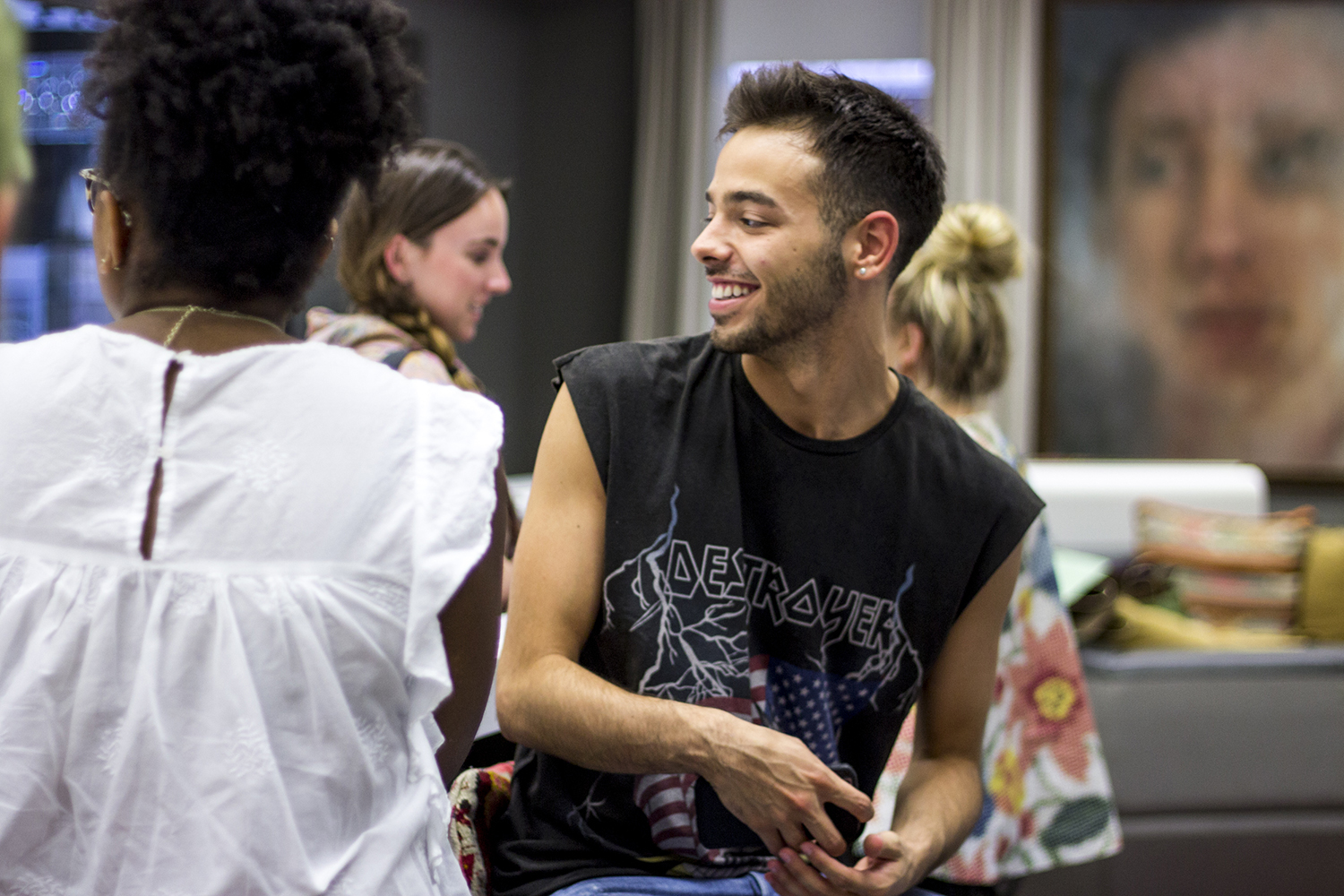 How has it been collaborating with a team of creatives?
BERTELSEN: It's been a learning experience for all of us. We have been collaborating with a lot of artists, but of course through the process we had to narrow down and make the concept behind the window more simplistic. We originally were working with Christopher [John Rogers] and Taylor who's in textiles and she was going to be doing an installation for us. But since the window is not so big, through our presentation and our process, we narrowed it down to just using Christopher's illustration and beautiful piece of work.
Can you talk about the process of intertwining fashion and FASM? How has that been?
MAGLIOCHETTI: Working with Christopher has just been fantastic. I feel he's the reason why we're able to combine fashion and FASM together and he made it very seamless. He was super inspiring.
GIBSON: It's been pretty much a breeze. He was really easy to work with and wanted to have a part in the design process and window…he's just excited to see it [the window display] as we are.
What is the inspiration for, or story behind, the window display you all have created?
BERTELSEN: Here at SCAD, we're always given the opportunity or the challenge to go home every day and come up with new ideas and how we're going to implement them with any school project, work project and/or any personal project. Saying that, we really wanted to make this SCAD idea come to life. So, thinking with innovative thoughts, we really wanted to bring to life the process book. With fashion, for example, you're sent home to come up with an idea or a concept and to make it come to life through your process book and translate those pieces of work into a finished abstraction. We wanted to take that idea and make it come to life, so we really wanted to take Christopher's illustrations and show the beginning, middle and end process. Us only using the muslin indicates the idea, the silhouette, and then what's going to be put on the muslin is what surrounds her. So we wanted to do a play on that.
Amazing story, right? A brief suggestion from FASM Chair Dan Green happened amidst the conversation and the team went back to constructing their masterpiece. We moved around and followed their every move and scrutinized each meticulous detail made throughout the development leading to the final result. It was awe-inspiring to say the least.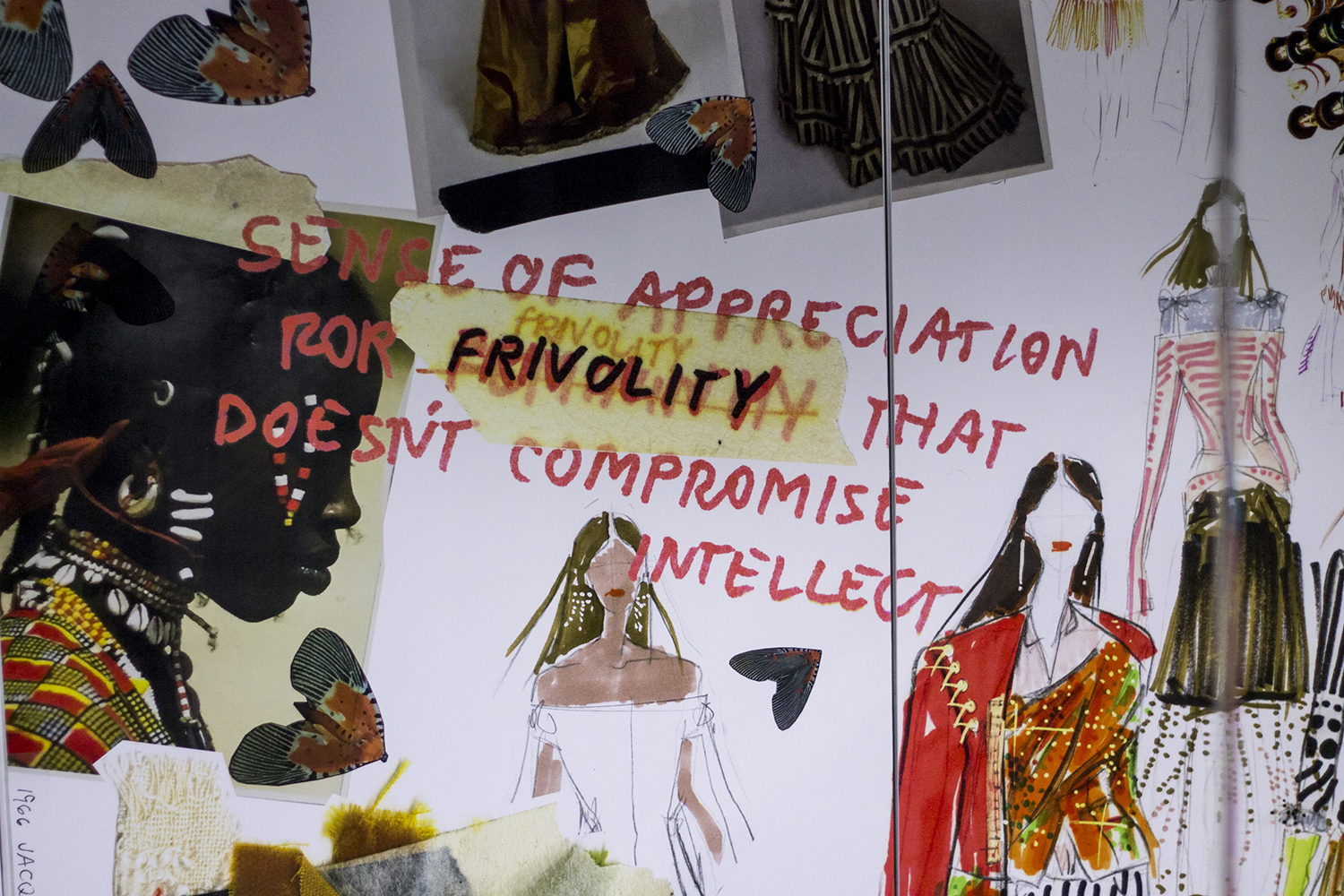 What is the must-see detail of the window display? Is it a small detail, the garment, etc?
FORD: The backdrop. [laughs]
GIBSON: I think that we also really want to make sure that people are looking at his process, because that's what the whole window is about.
How has working on the window been beneficial to you?
FORD: I know personally I got stressed with all of the different renditions and different ways we had to recreate it and submit  a bunch of times. But as I've been told, it's such a learning experience, and as Mike said it's very real life. It kind of makes you step back and think, y'know, it's stressful but you need to look at the big picture.
What was the most fun part of making the window?
MAGLIOCHETTI: "Just coming up with the idea!"
GIBSON: I think our beginning creative process we were so into it. We still are, and putting it together was also really fun an seeing it come to life, but the whole creative process.
FORD: We were sitting there like 'what if we did this!' and our pinboard was like an ombre effect of every idea that transitioned into another thing."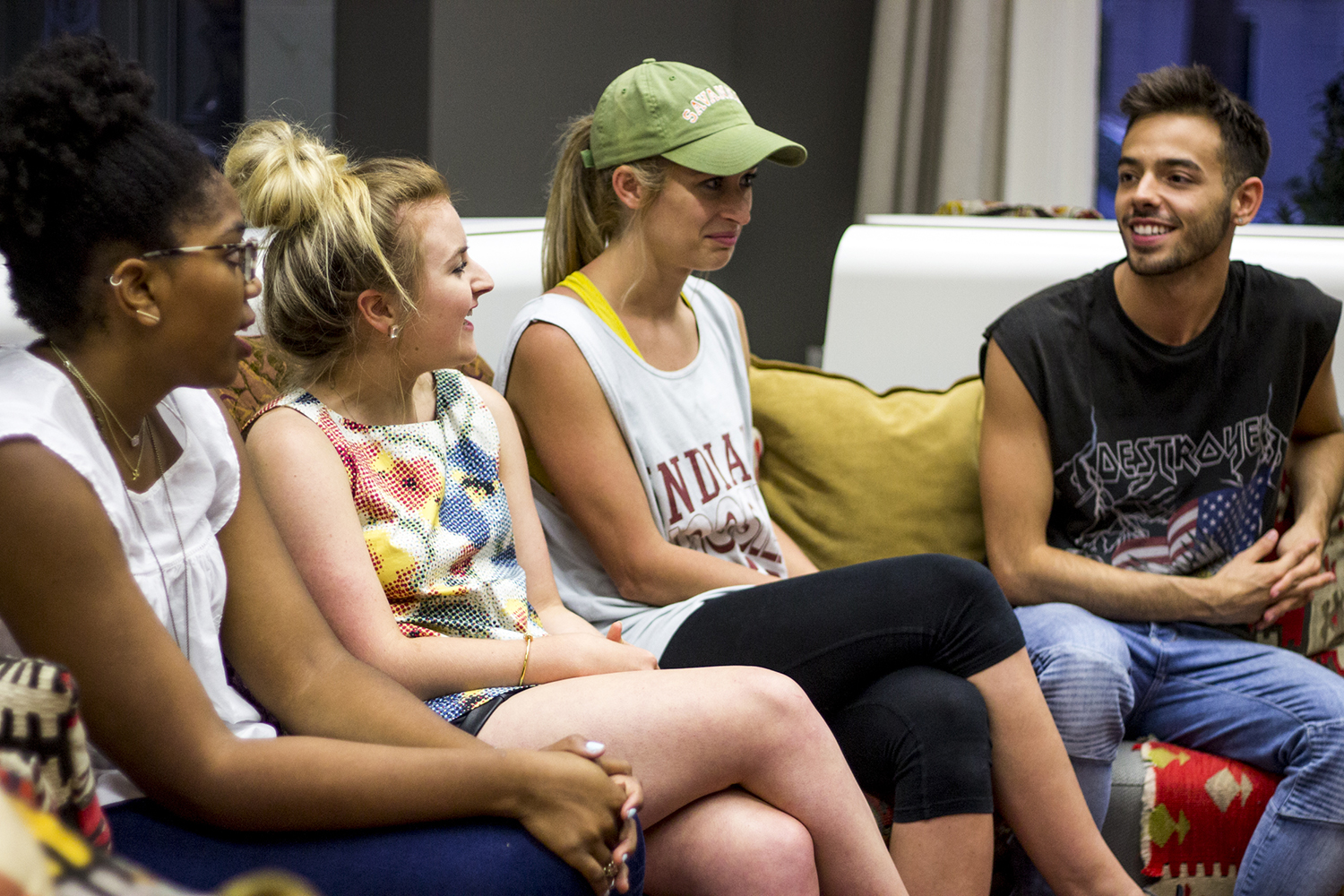 I heard the story about the tree. How was the tree?
GIBSON: There was a textile installation, there was a tree, there were threads hanging from the ceiling, there was muslin on the walls. We had a lot. It's so much more refined and I think it came together in a much more realistic way.
"It's official!" exclaimed Taryn Ford as she pasted the art card onto the window. "Thoughts in a Small Room" was officially complete. "It's perfect," states Dan Green as he admires the result — and it was.
You can check out the magnificent display in Morris Hall, the fashion marketing building, at 2 & 4 E. Jones St. Don't forget to also use snapchat to scan the QR code on the art card to watch a short film, filmed by Joshua Mcleod, about Christopher John Rogers. Trust me, it's worth the time and visit.
Written by Anthony O'Baner
Photography by Joselyn Dontfraid