The corner of Drayton and Liberty is looking rather vogue as of late. Enter into Ōtium, a boutique yoga studio, which by the name alone sounds like you are stepping into the matrix of something exquisite. Framed by floor to ceiling windows, it beckons you to enter where you feel as though you've stepped into a luxe Malibu oceanfront living room.  
Leather lounge chairs rest on sheepskin rugs where respites are highly encouraged.  Beachy, vegetal botanicals adorn a crisp white space with an aura of inviting warmth encompassing the air created by Palo Santo sacred wood incense.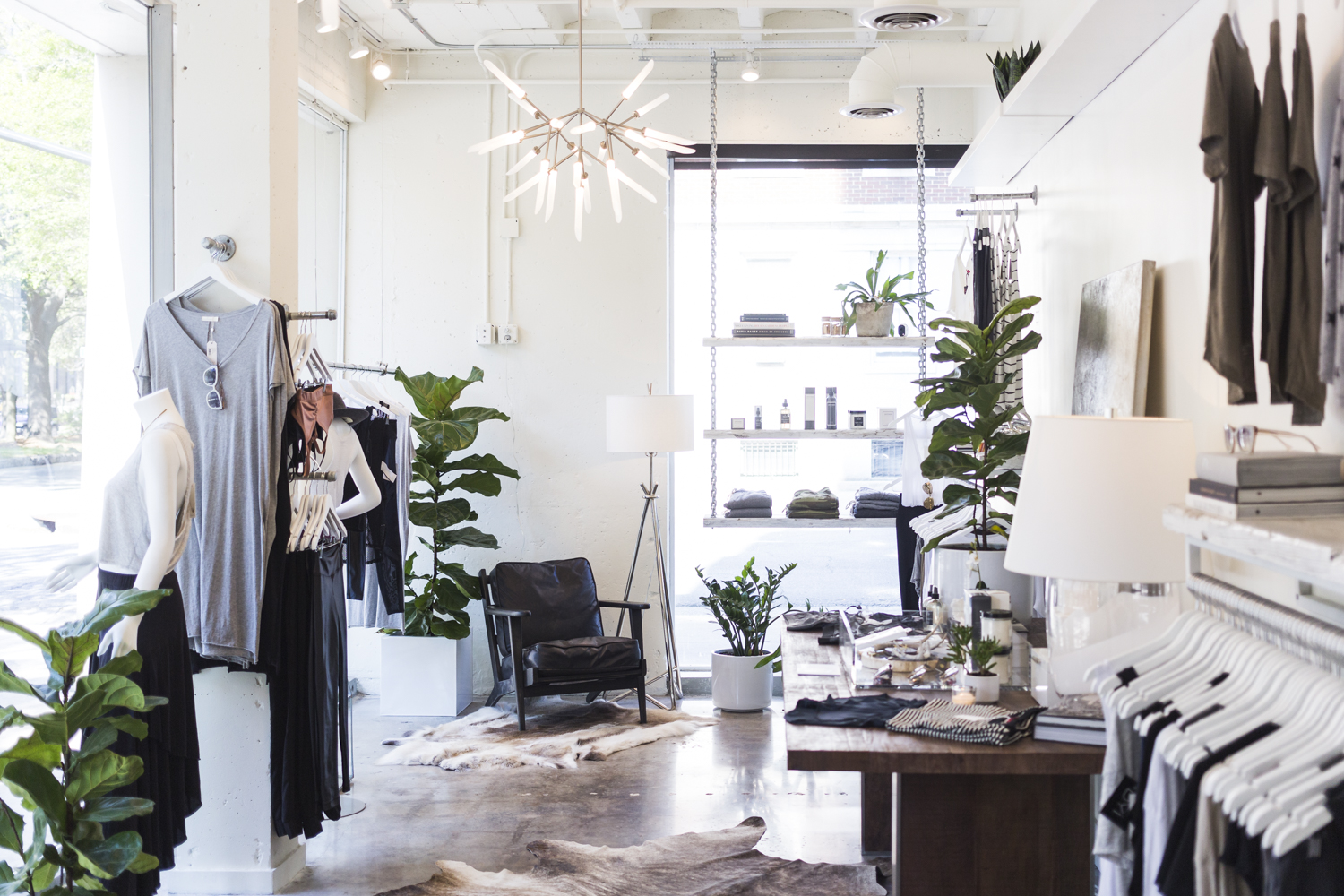 Large coffee table books by Helmut Newton and Dior accentuate the tables displaying Apotheke candles of Brooklyn for your own Zen at home. Accessories by local designers and attractively packaged organic beauty products such as lotions, facial, and hair mists are featured on creatively hung modern chain link window shelving.
With athleisure wear on trend, Ōtium has taken that to a completely innovative level all their own. On the racks within the experiential boutique, it looks like yoga just stepped off the runway.  Their fashions feature designers of eco-friendly pieces that are as soft and sensual to the touch as the space they occupy, with a touch of rock and roll edginess in the mix. Carrying MICHI exclusively, Michael Lauren handmade in LA, and Joah Brown, all styles are affordable with a luxurious look and feel to take you from yoga class to an evening out, along with an ocean mist spritz to freshen up.  
While the boutique strikes an LA/NYC studio to street pose, the creative team behind Ōtium has created something uniquely theirs with a heartfelt intention to "support the good"– their mantra– fostering a sanctuary of wellness and community.  The warm vibe of the boutique flows like a Vinyasa transition into an intimate all-white candlelit yoga studio, and through thoughtful and inspiring instructors who artfully craft each class and deliver personal attention to each attendee.
Meg Shuba, Creative Director of Ōtium, who is the exemplary definition of good vibes, treats each class as though "it is my art," she says thoughtfully.  Through languid transitions, curated playlists and abundant breaths, she leads her Vinyasa flow as though it is "poetry for the body."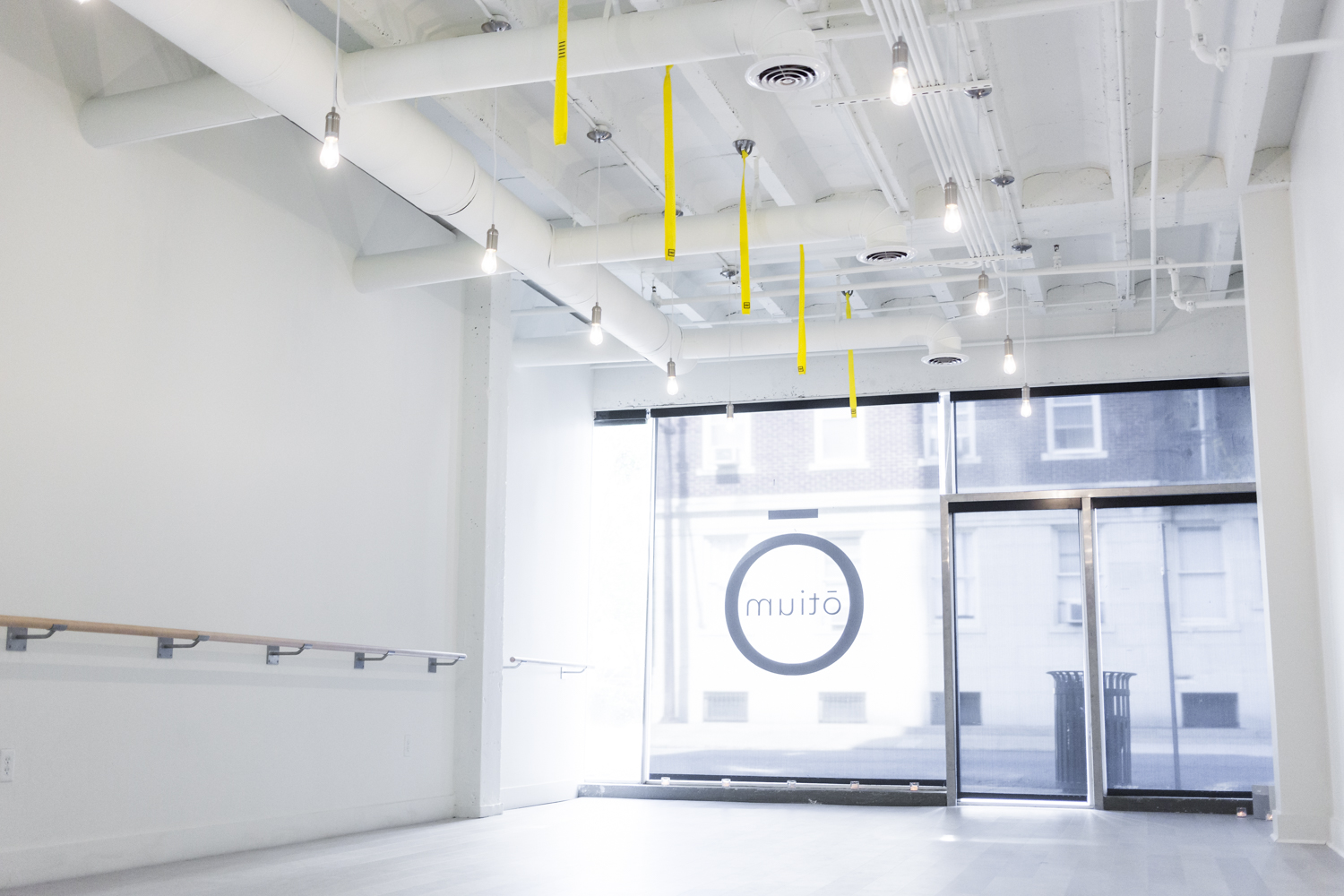 For her signature Ō class, she combines ballet barre principles, Vinyasa Flōw yoga, sculpt elements and heartfelt meditation.  See Meg's playlist for her Ō class here.
The studio also hosts Gentle Yoga, TRX, and a candlelit guided meditation to calm the mind and open the heart.  In the guided meditation, poignant storytelling under Turkish blankets and the combination of an Indian inspired harmonium played by Meg, take you away softly, completely clearing your mind. I have not sat still for thirty minutes since before I first learned to walk. I didn't want it to end.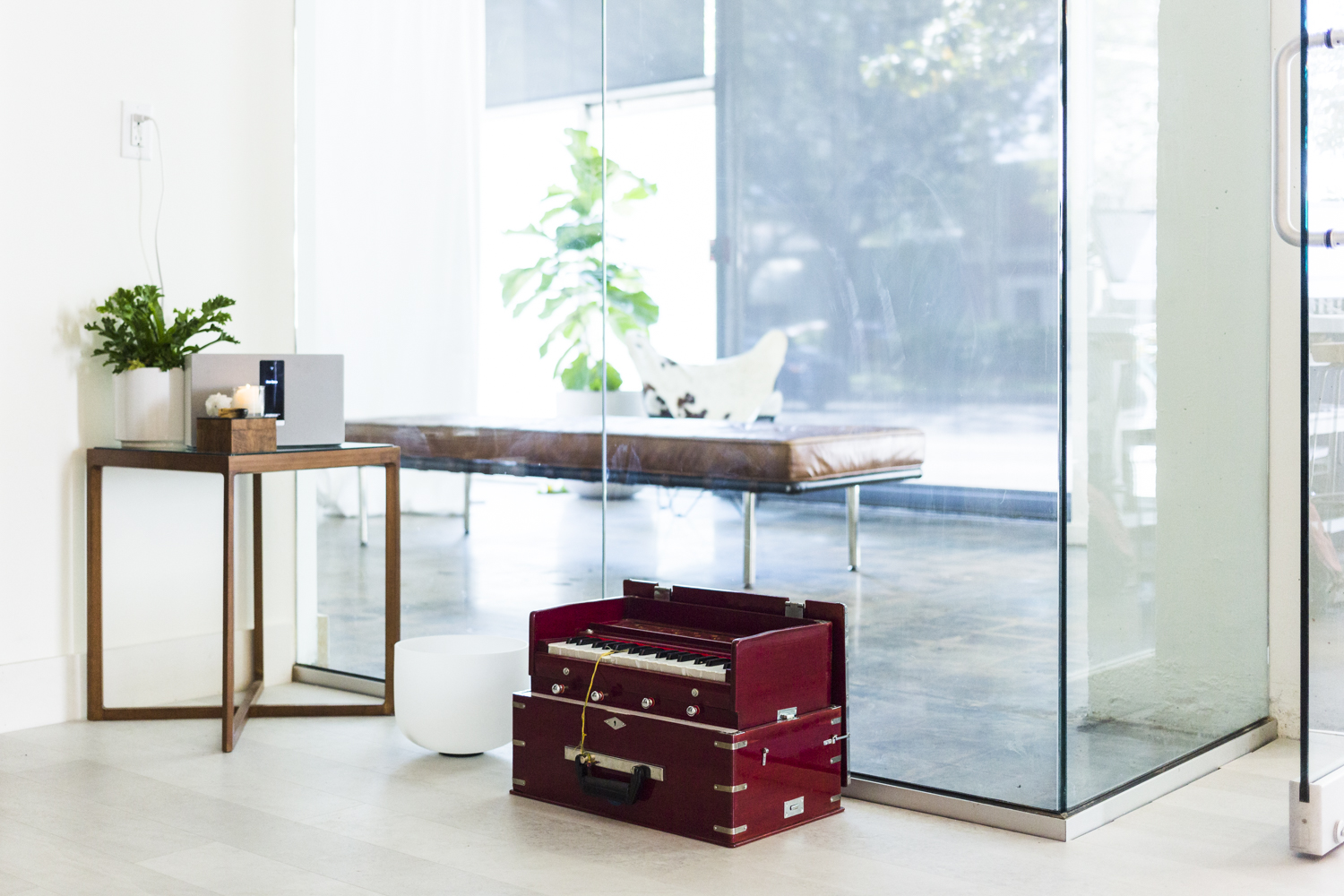 Elevating the immersive wellness experience even further, the studio will introduce infrared therapy to its Hot Yoga classes and offer sessions in its very own infrared sauna.  The benefits of infrared therapy are exponential and allow those with skin and heat sensitivities to reap the benefits of the heated practice. Through its penetration of the body as opposed to traditional heat, it produces a detoxification process which promotes the elimination of environmental toxins, increased metabolism, pain relief, and glowing skin.
Glowing skin is one of many luxe accessories complementing the beneficial atmosphere that flows within Ōtium, as people exited the studio this week during its grand opening of classes, beaming with uplifting smiles.  As we learn at SCAD, art can take on many forms; the truest form through human interaction and making your art your own. Ōtium, which stands for "personal sanctuary," has created an extraordinary, empowering and kind space that will enhance your peace of mind and inspire an open heart towards wondrous creativity.
Classes are offered throughout the day feasibly around class schedules.  Memberships will be offered to SCAD students at special rates. Refer to the MINDBODY online app to sign-up for their schedule of classes, or for further information at otiumstudios.com, Namaste.
Written by Hadley Passela
Photos by Angie Stong