Stirling Barrett, founder of the New Orleans-based eyewear company KREWE, crafts distinctive frames that embody southern charm and individuality. Barrett started with the dream of creating a brand "where creative people could make a fashion statement and represent themselves everyday," while keeping to his own personal style of ease and self-expression. That dream is coming true, because this year KREWE came in as the first runner-up for the CFDA/Vogue Fashion Fund Award, and is on it's way to becoming an international brand.
To begin, congratulations on the 2016 CFDA win. That's a huge accomplishment. What was that process like, and what did you take away from the experience?
STIRLING BARRETT: Thank you, man. KREWE was founded on the idea of being something unexpected. We always felt like we had a great opportunity with the CFDA to tell that story. We knew that we were competing, and we knew our products were just as good as anything coming out of New York. So, it came down to whether they understood our mission of trying to be about a culture rather than manufacturing one or fabricating one for a brand. That process was really great, articulating that vibe.
I think the biggest thing that we learned is that you don't have to be in a fashion hub to be known and recognized by fashion leaders. It was a great and humbling opportunity that we got, and we were rewarded with a win.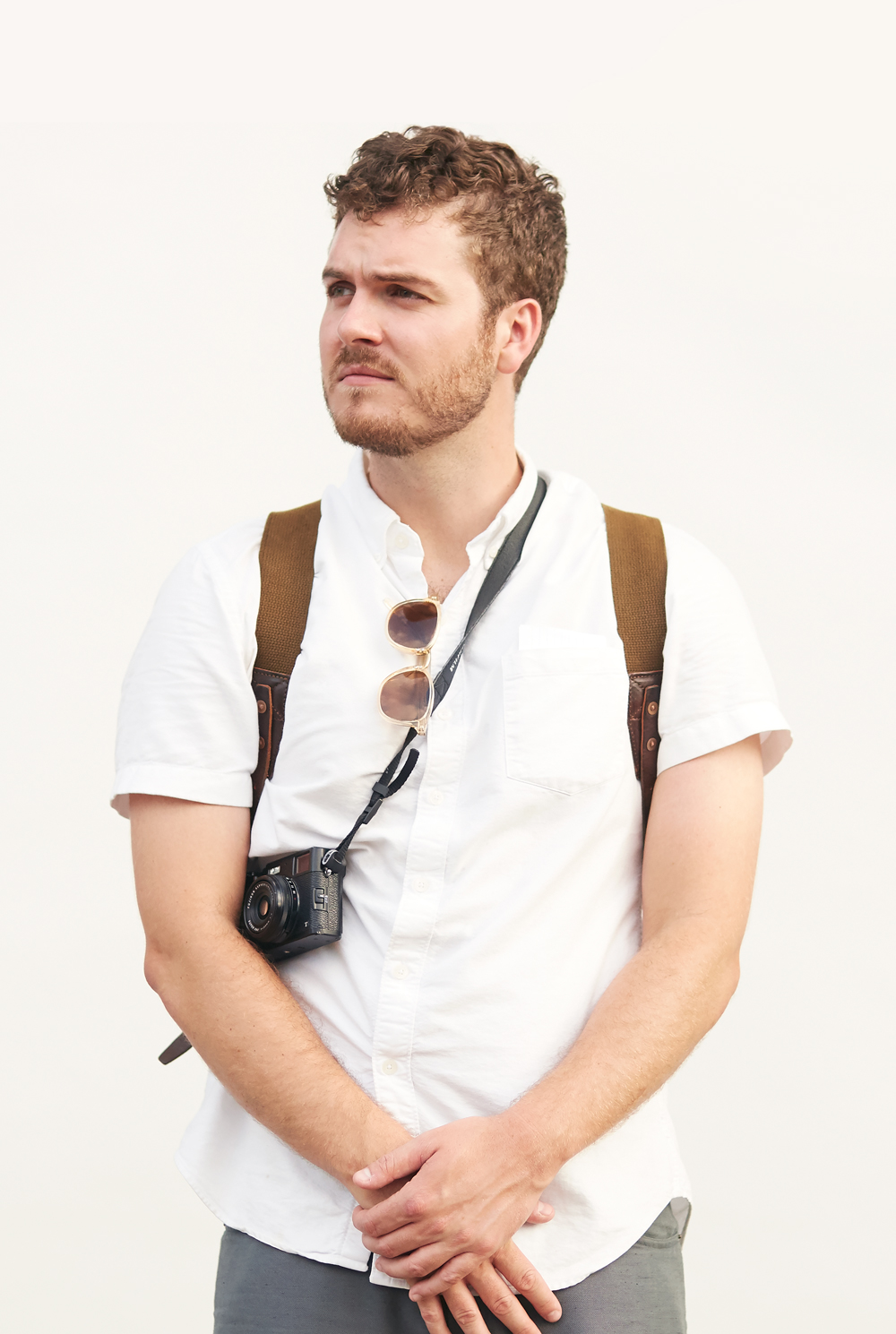 How did you get into fashion and what lead to your interest in the industry?
BARRETT: I'm not really into fashion; I'm really into my own individual style. Fashion is what you make it; it's really important to remember that. I still define myself as an artist and photographer. I don't really define myself as a fashion designer.
I got into art because I loved being creative and I still do. I love the detail and I love that half of the things will go unnoticed and then one percent of people will notice the things that really matter. That's what resonated with me at a very young age and that's why I got into art and design, and that's why I continue to be an artist today.
Tell me a bit about how KREWE came about.
BARRETT: After graduating from an art school, I had a pretty successful career in fine art, but I was ready to switch gears about four years later. I was about to buy a house in the Bywater, which is a neighborhood in New Orleans, and I'd always had the vision of starting something that was based on, but not just about, New Orleans. I ended up taking the down payment for that house and saying 'fuck it' and starting a sunglasses company called KREWE.
It was really based on the idea of doing something that came from somewhere unexpected, and of building a brand that can participate on a larger level. It was from me, as a 24-year-old, deciding not to buy a home and saying, 'if I lose the money I made it's going to be okay'. It's doing something a little bit crazy, like starting an eyewear company.
How has being a New Orleans native influenced your company's philosophy and your products?
BARRETT: With the original collection, we were fully inspired by St. Louis. We were also inspired by St. Louis Street here in New Orleans, which starts at the French Quarter. The St. Louis frame is really well known for its architecture, and you can see that direct correlation in the bridge design. It's a really unique example of how the city inspires some designs.
Specifically in the latest collections, we've been inspired by music or by the region itself or by the idea being able to 'do you.' That's a big saying within the company. We all take 'do you' time, which is basically Summer Friday's. It's the idea of representing yourself in whatever way you're most comfortable.
So that's why KREWE has always been a non-branded product. There are no labels on the outside; you're not wearing a brand on your face, but you are part of a community. You're representing KREWE and you're representing individual style, not a conglomerate.
When you think about a brand, just take Rag & Bone New York or Saint Laurent Paris. Why are those cities associated with those brands? Because, for a long time, we've associated that with high fashion, so how can we associate New Orleans with great independent style? That's one of our goals.
What made you want to go into the eyewear business and do you plan on expanding beyond eyewear? If so, is there any market in particular you're interested in?
BARRETT: There's definitely an opportunity for growth. I don't see KREWE as only being eyewear forever. But one of my mentors told me that you've got to really focus on doing what you're choosing to do really well. Sometimes, doing too many things will just stunt your growth. We're really focused on sunglasses and we're about to re-launch our optical, so that is where we see ourselves in 2017. But 2018 and 2019 – who's to say what it holds.
How would you describe the KREWE customer and what do you believe they're about?
BARRETT: There's multiple customers, but there's two main ones.
There's the person that's very traditional and stepping out of their comfort zone because they're choosing to represent themselves through eyewear. [They want] to have a conversation piece, or maybe they love the story, and feel like the frame really represents them.
Then there's another consumer who's really on-trend with eyewear who feels that KREWE is pushing the boundaries and that we're unique and different from the market and they want to represent themselves with that.
KREWE, as a community, is made out of all types of people, but it's usually people who want to represent themselves in a different way rather than wearing just black wayfarers.
How does it feel knowing that celebrities like Beyoncé and supermodel extraordinaire Adriana Lima wear KREWE?
BARRETT: That's always such a tricky question, because we have great relationships with Beyoncé, Adriana, and Gigi [Hadid], but a lot of brands pay them to wear their products. What we're super proud of is that we have great relationships because they truly love our products. It's always enjoyable to see Beyonce or Gigi in Paris repping the frames.
But, what's even more exciting than that is walking down the street and seeing someone who is fashion-forward, with their own style, wearing one of our frames. I think that's just as exciting, if not more exciting, than celebrities sometimes because it means you've found someone who appreciates individual style. If they weren't able to wear it, then the KREWE community wouldn't grow.
You recently opened a store in Savannah and I'm interested to know what led you to choose that destination. Is it similar in charm to New Orleans?
BARRETT: KREWE's retail strategy is pretty simple. We think there's a huge opportunity for a fashion-forward brand to be based in the South, representing themselves through retail in the region, and competing with larger city markets like New York.
Savannah was on short list of cities that we were interested in. We were really interested in Savannah, specifically because it's unique. In a lot of ways, it's the sister city to New Orleans, or vice versa. It's very similar in architecture, you can drink in the street, and it has a very laid back feeling.
Geographically it's very similar, but really, the fact that the founders of SCAD decided that Savannah was the right place to build a new art and design school is really true to KREWE's identity of doing something that comes from somewhere unexpected. We relate to that and believe that the consumers in Savannah will relate to KREWE, because our missions are very similar. Only time will tell, but my feeling is that we made the right choice.
What has the biggest influence on you as an entrepreneur and designer? Is it music, photography, film, or just the culture of New Orleans?

BARRETT I've always had this desire to be successful as an artist, and my drive has never wavered. I've realized that my goal is for KREWE to be a global company, but I'm totally flexible on the decisions that we make day-to-day to get to that goal.
Where would you be if you weren't designing eyewear?
BARRETT: I'd still be in art and design somewhere and I'd still be trying to push the boundaries. I'm only 27, so I have a whole life to figure out what else I want to do. That's what's beautiful about where we live – you can almost do anything you want to do.
What's an interesting fact about you that many people don't know or wouldn't expect?
BARRETT: You're putting me on the spot. [laughs] I ride my bike to work everyday instead of driving a car.
What do you enjoy doing when you aren't handling business with KREWE? Do you have a certain hobby like painting or anything that we don't know about?
BARRETT: I love Sunday Fundays, going around New Orleans on a bike, going from happy hour to happy hour, having one too many beers. I travel almost 15 days of the month and when I'm in New Orleans I like to enjoy the city I call home.
Rapid Fire Questions
Favorite pizza: Barbecue chicken pizza.
Favorite color: Green, for sure. I absolutely love plants. KREWE is obsessed with plants, because I love plants. When I lived in a small apartment, I probably had, like, 20 plants.
One thing you can't live without: It'd be one of two things. I have an addiction to coffee – not too much, like someone who drinks 5 cups, but I really like coffee. Or, [it would be] one of the first things I splurged on when KREWE started to become successful – a Bang & Olufsen A9 speaker.
Check out KREWE's products and be sure to follow their Instagram to stay up-to-date on the latest products.
Written by Anthony O'Baner
Images courtesy of KREWE