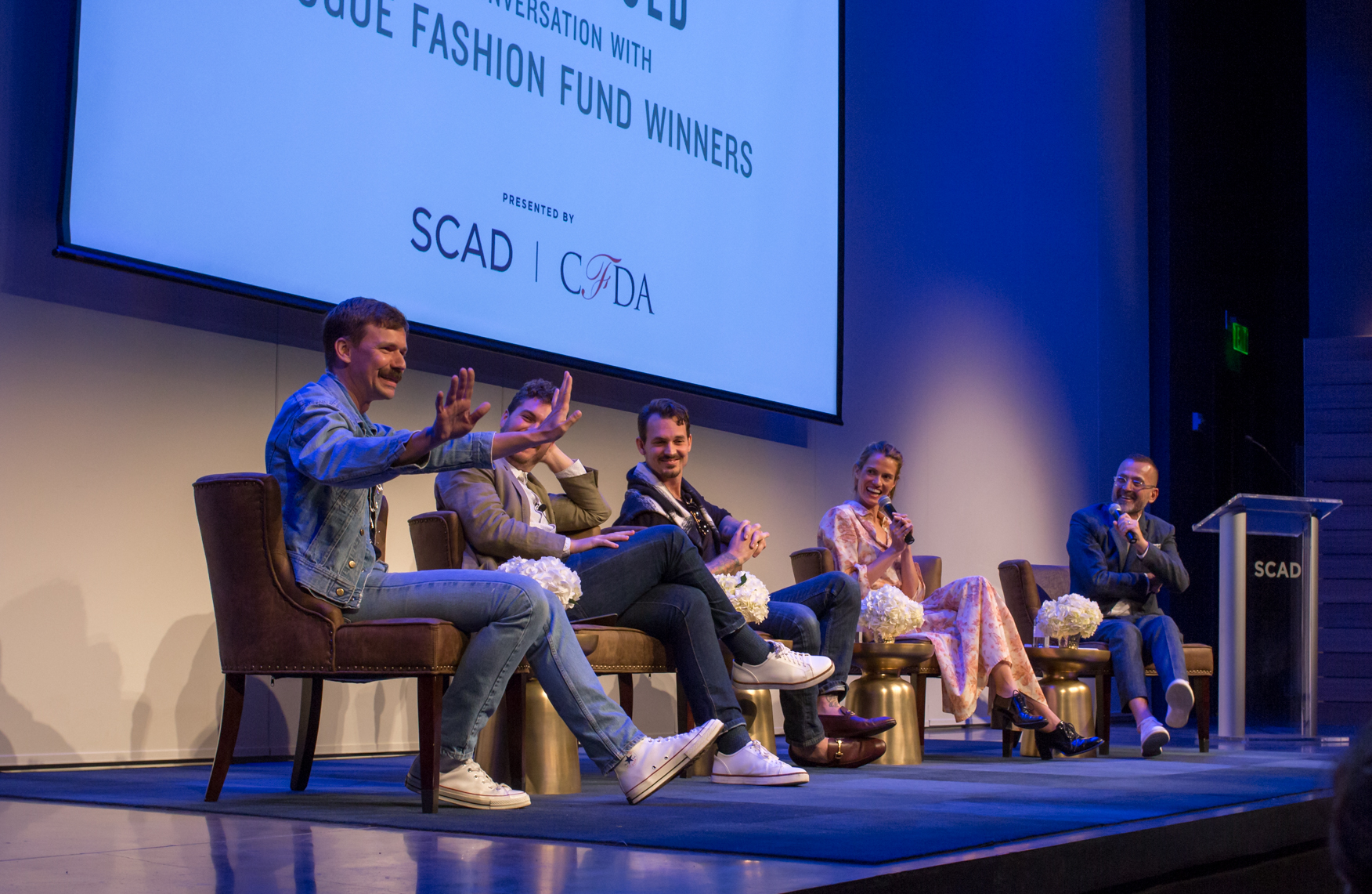 Finding Your Focus with CFDA/Vogue Fashion Fund '16 Winners
Just a few days before SCADstyle week kicks off, the 2016 CFDA/Vogue Fashion Fund winners Kristopher Brock and Laura Vassar from Brock Collection and runner-ups Adam Selman and Stirling Barrett of KREWE took to SCAD's Museum of Art stage to converse with CFDA president and chief executive officer Steven Kolb.
The CFDA/Vogue Fashion Fund is an annual competition that has established some of the most notable designers, from Proenza Schouler  to Thom Browne.
Towards the end of the competition, the designers had just fifteen minutes to pitch and sell their brand to a panel of powerful judges. They agreed that Anna Wintour – no surprise – was the most intimidating. This short amount of time really forced the designers go back to their pasts and analyze who they were and what they wanted their brands to stand for.   
Said Selman, "There's no real pathway in this thing we call fashion."
Laura Vassar, who shares Selman's background in celebrity styling, agreed that there isn't one right way to find success – but that's the fun part.
Something they all acknowledged is that fashion is now happening beyond New York City.
Brock Collection's roots are in Los Angeles and KREWE started in New Orleans, where Barrett holds annual events for press and big accounts to show off his southern hospitality.
One of the perks of owning a smaller business is that you can easily be more personable and candid, but there is still a fashion schedule that has to be played into. Selman, Vassar and Brock agreed that the see-now-buy-now business model is harder for smaller brands who don't have the production means to rapidly pump out clothes in order to meet projected customer demand. For Selman, being a part of New York fashion shows was always the dream; he is content to work in the traditional schedule.
The young designers discussed the discovery of self and how the path to finding it isn't something you can just pluck out of a how-to textbook. The process is unique to everyone, and finding your focus is an evolving act.
Brock Collection has only met with their mentor, Tom Ford, once, but the few hours spent with him left the couple with valuable knowledge.
Ford asked them, "What is your focus? The brands that do well have a strong focus and point of view and don't waiver."
Laura Vassar stressed the importance of this message because it's something everyone can learn from. Whether you're pursuing a career in fashion or not, the understanding of self and your focus is essential to your own success.
Barrett added, "The best athletes in the world need coaches, and you're no different."
Yesterday's panel may have included some of  the most accessible guests who have visited SCAD so far. Their success is clear, but they're still figuring out what works best for them and how to refine their focus – something everyone at SCAD can relate to. Thanks to the CFDA, their designs now have the funds, but in reality it's only the beginning for these talented designers.
Written by Emily Cole
Photography by Angie Stong