Anna and I arrived early. As we climbed up Fab'rik's staircase all I could think about was the amount of noise the heel of my mules were making, until a girl stood at the top, staring into the oversized mirror. A guy (who we got to know later as Patrick) called from the top, "Nora!" and the girl turned, introducing herself as Nora Harrison.

The space makes everything old new again, with exposed brick in some places and crisp, white walls in others. The artist's talk was intimately arranged in the center of the room, surrounded by her alluring pieces. "With this body of work, I wanted it to be very approachable but still feminine and romantic," Harrison stated. The paintings cover the walls in the coral color palette of your dreams, while framed handwritten poetry and custom neon signs only add to the exhibition.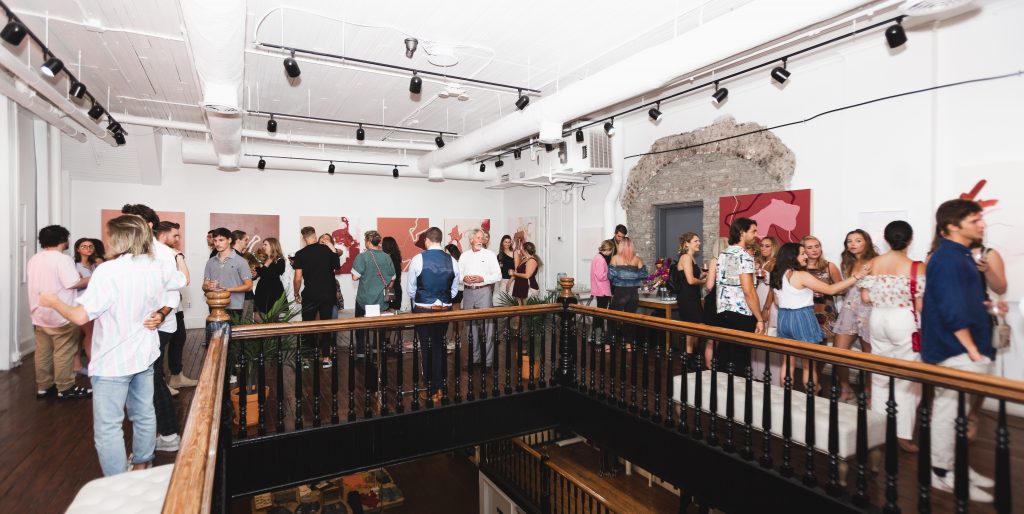 Beneath the aesthetic, and embedded into the experience, are Harrison's own thoughts and feelings, collected over the past four years of her life. The poetry on the wall is ripped right out of the little black notebooks she carried in times of pain. The neon signs, that seem to serve an Instagram worthy purpose, are really her dad's handwriting inspired by her only colored tattoo.

The large square canvases with their beautiful color palette are abstractions of the female form, some closer to realism than others. "All the paintings are derived from the female body. And they began with a very neutral, kind of like skin tones, and blush tones, with pops of red."

In the end, Harrison's goal was to intertwine her two worlds of poetry and painting. She named each painting by a phrase or title of poetry, while the paintings served to bring the poems to life. The reason poetry is so powerful is because everyone can find themselves within the words, the situation, the feeling. Harrison strives to mirror this effect in her art, the abstraction allowing "people to look at them and try to find themselves in the paintings."

She succeeded; I found myself in two paintings in particular. To me, 'I Can Be a Bit Much' is a dancer. She's wearing a tutu and leaping away. I should probably mention that I was a dancer in an earlier time, and there's a found freedom in movement. The second, 'Make Me Whole,' shows a woman embracing her femininity, her style, tone, color, something about her reminding me of myself (selfish, I know).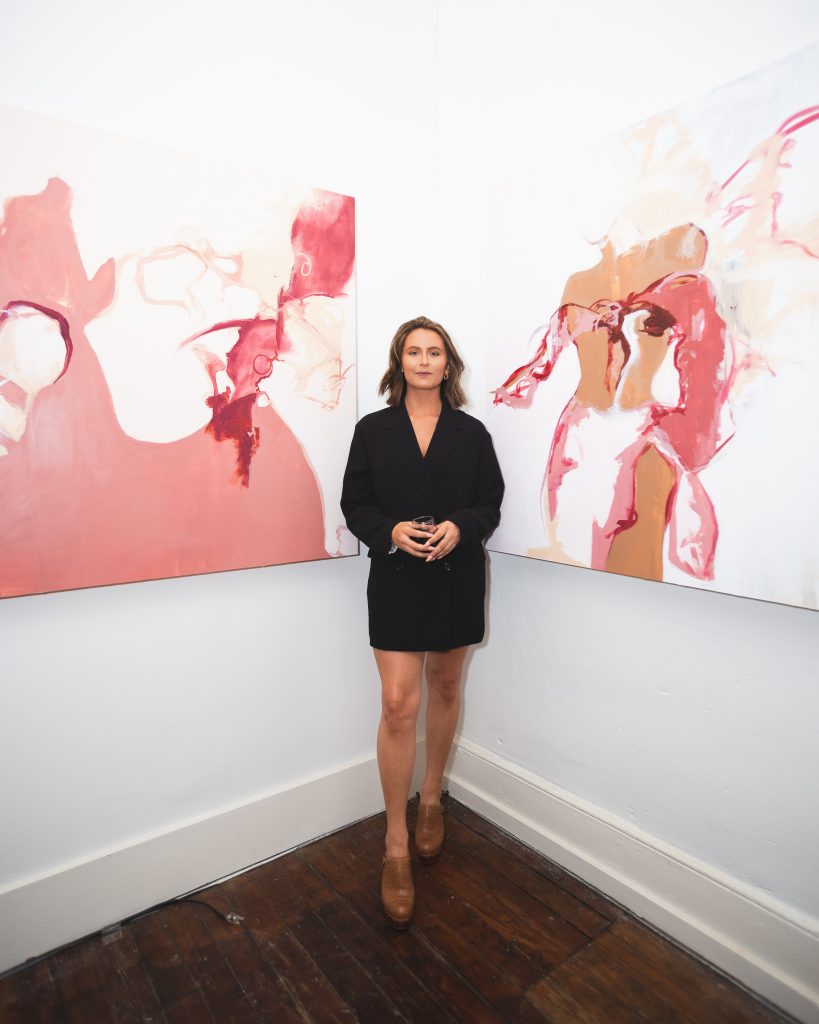 The printed book rendition of 'Hollow' is a compliment to the masterpieces. It serves as the story behind the canvas. Hidden between the pages one can find the title of a piece and discover Harrison's feelings and perspective for that painting in particular. The book also allows admirers to take home a piece of the exhibition, especially since the artwork can be substantially more expensive. Interestingly enough, Harrison's confession surprised me: "I don't write much anymore, which I think is a good thing."

What artist, whose entire collection is based off of stringing words together, gains satisfaction from letters no longer on the page? She continues, "I started writing because I was sad." The absence of writing in her life represents a time of happiness. The poetry had healed her and filled her hollowness. She reads an excerpt aloud:

"I learned to cope with my demons, I fell in love; the kind of love that makes you a better person. And, I stopped writing. I realized that I wasn't much good at writing when I'm happy and I'm working on that."
Photography by Patrick Meynard
Artwork mentioned: 'I Can Be a Bit Much,' 2019, Acrylic on panel, 48 x 48 inches

'Make Me Whole,' 2019, Acrylic on panel, 48 x 48 inches