The Musée Des Arts Décoratifs made the most beautiful gift to Paris fashionistas. What could be better than holding a Dior exhibition in one of the most gorgeous quartier of Paris? Un café, et allons-y (a coffee, and let's go!).
Off we go to the Rue de Rivoli where three hundred Haute Couture dresses are waiting for us.
The line made the line at Beyonce's concert green with envy. Luckily there is an option to get tickets online and pass the crowd, but most of the people in line looked like they were okay with waiting. After all, you need a prepared mind to be able to comprehend all of the beauty inside.
The exhibition celebrated the 70th anniversary of the Maison Christian Dior. It opened on July 5th, 2017 and closes January 7th, 2018.
Visitors are invited to observe the history of Dior through its artistic directors: Yves Saint Laurent, Marc Bohan, Gianfranco Ferré, John Galliano, Raf Simons, and recently Maria Grazia Chiuri.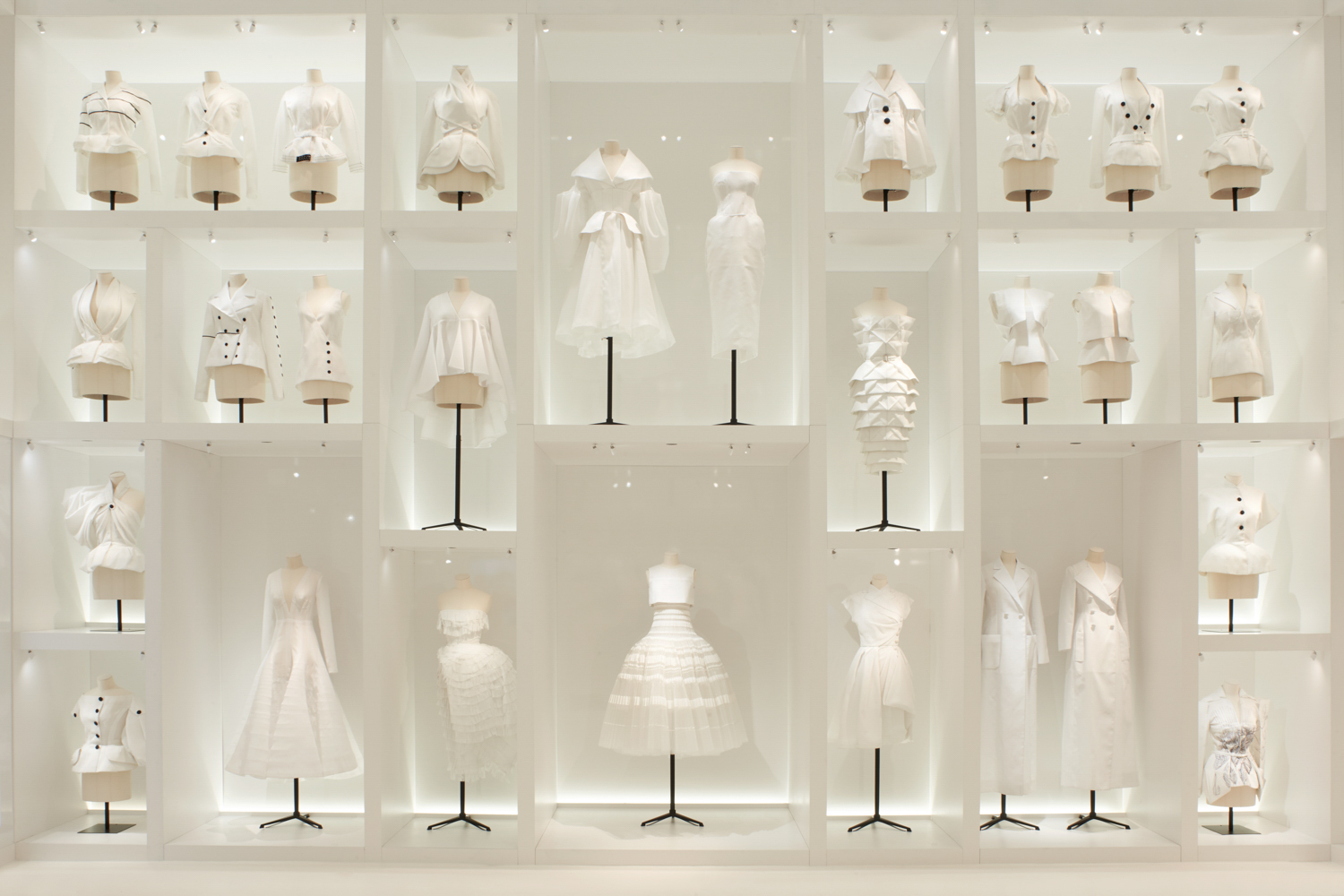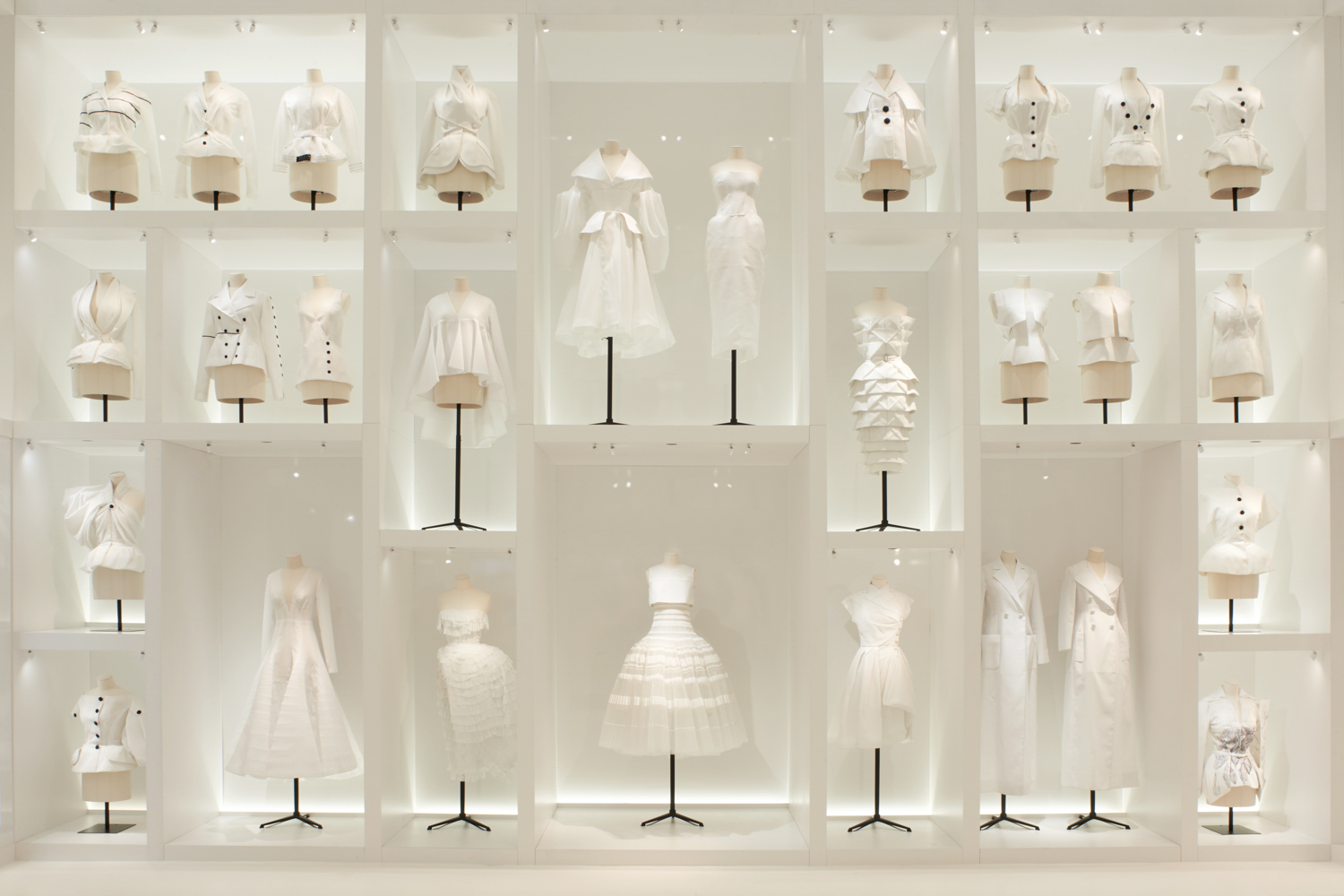 As a young man, Dior succeeded to have his dad investing in a Gallery on one condition: the family name, Dior, won't appear on the frontage of the place. Dior sold paintings of young talents of his generation, who are still famous today: some of the stellar names are Salvador Dali, Alberto Giacometti, and Christian Bérard. Unfortunately, the gallery closed in 1934 following an economic crisis. And then Dior installed his first Maison de Couture at 30 Avenue de Montaigne —a still emblematic address of Paris. The city and its Parisians became an inexhaustible source of inspiration for the creator.
Not only does this new exhibition expose some of the paintings Dior had sold in his own gallery, but for the first time in fashion history exceptional documents can be seen close up to the public: illustrations, sketches, fashion photography, letters, manuscripts, advertising, and even press reports.
An arch of gigantic windows displays a rainbow theme of clothes and accessories: from black to purple, from shoes to slippers, from hats to necklace, and so on. One of Dior's big visions was to dress women de la tête aux pieds (from head to toe). So visitors can admire collaborations with Delman or Roger Vivier for shoes, next to the collaborations with Henkel & Grosse, Scemama, and Gripoix for jewelry.
The exhibition is set in Paris, but it makes us travel the world.
Not only was Dior one of the first houses to expand throughout the world, but they also drew upon foreign cultures for numerous sources of inspirations.
Dior himself paid tribute to Chinese calligraphy and traditional clothing. John Galliano and Raf Simons brought attention to African jewelry, art, and the traditional Macao finery. Galliano and Marc Bohan revisited the jewelry chest of Egyptian antiquity. Galliano also brought out inspirations from Mexican and Peruvian heritage and culture.
However, one of the greatest inspirations Dior drew from was his own garden.
"After women, flowers are the most divine of creations," Dior said.
The femme-fleur (flower-woman) became an emblematic look. From then on Dior would have a flourishing style, from the large skirt to the narrow chest-chalice shape. Like Monet who painted around his garden, Dior came up with collections in his. As did his successors, Bohan, Gianfranco Ferré, Galliano, Simons, and Chiuri.
But what is a Femme-Fleur without a fragrance?
After all, "perfume is the finishing touch to any dress," said Dior.
It was in 1947 that Dior decided to create another legendary item of his House. In a circular room, we are surrounded by the perfumed creations which marked all generations of young women.

The second part of the exhibition takes the audience through the creations of Dior's new artistic directors. From Saint Laurent to Chiuri, if Dior were still among us, he would see his dreams and visions fulfilled. Elegant, classy, the dresses breathe Haute Couture and the Dior Allure.
After Chiuri's magnificent revisit of the flower collection, a room follows full of white clothes on mannequins. It has a strong feeling of Heaven. At a corner of this little paradise, two couturiers (dress designers) work on patterns, representing the Ateliers of the House Dior.
A very dark room follows the white paradise.
Dresses are framed with several electrics panels, and one sentence said by Christian Dior shines on the wall: "I think of my work as ephemeral architecture, dedicated to the beauty of the female body."
Dior's creations were meant to idealize proportions, even in movement.
The last room is a fashionista's fantasy come to life. In one huge room decorated with mirrors the House of Dior created the most perfect of illusions: you are surrounded by miles and miles of Haute Couture dresses.
And to make it even more mesmerizing, the ceiling changes colors from soft, elegant pink to night-blue to show the visitors how different the dresses look in different lighting.
You will surely walk out of there with stars in your eyes, but the exhibition is a complete torture: you can't touch or buy anything. The Architects of Haute Couture and the Musée des Arts Décoratifs offer an amazing show; a pure delight for our eyes in the City of Lights that inspired Christian Dior.
Merci Paris pour ce cadeau. (Thank you Paris for this gift.)
More information is available on the Museum website: http://www.lesartsdecoratifs.fr/en/
Written by Scarlett Ruggiero
Images courtesy of The Musée Des Arts Décoratifs