Pulsing music, a plethora of risqué photos, and a jam packed theater set the mood for the final event of SCADstyle, held at Trustees theater. Out came the iconic Calvin Klein, hand-in-hand with Fern Mallis – a power duo, to say the least. Instantly, we were engrossed in a personal conversation and, yes, I was pinching myself.
The talk began swiftly, detailing how Klein established the platform for American fashion and built his empire.  At a young age Klein knew that he wanted to be in the arts. He went to a progressive art and design school in the Bronx, which had a "bohemian and intense" vibe to it. Honing in on the craft of fashion design, Klein took his talents to the Fashion Institute of Technology and the rest is history. With a hungry drive, Klein "knew what he wanted to say and wanted to say it himself", which speaks volumes about his detail-oriented eye.
Of course, Mallis wanted to talk about some of his most provocative advertisements. From the Brooke Shields jeans commercial to Marky Mark posing, chiseled in a pair of Calvin Klein undies, Klein broke the boundaries for what was deemed appropriate in fashion advertising. His openness in celebrating sexuality is why many, including myself, have followed him throughout the years.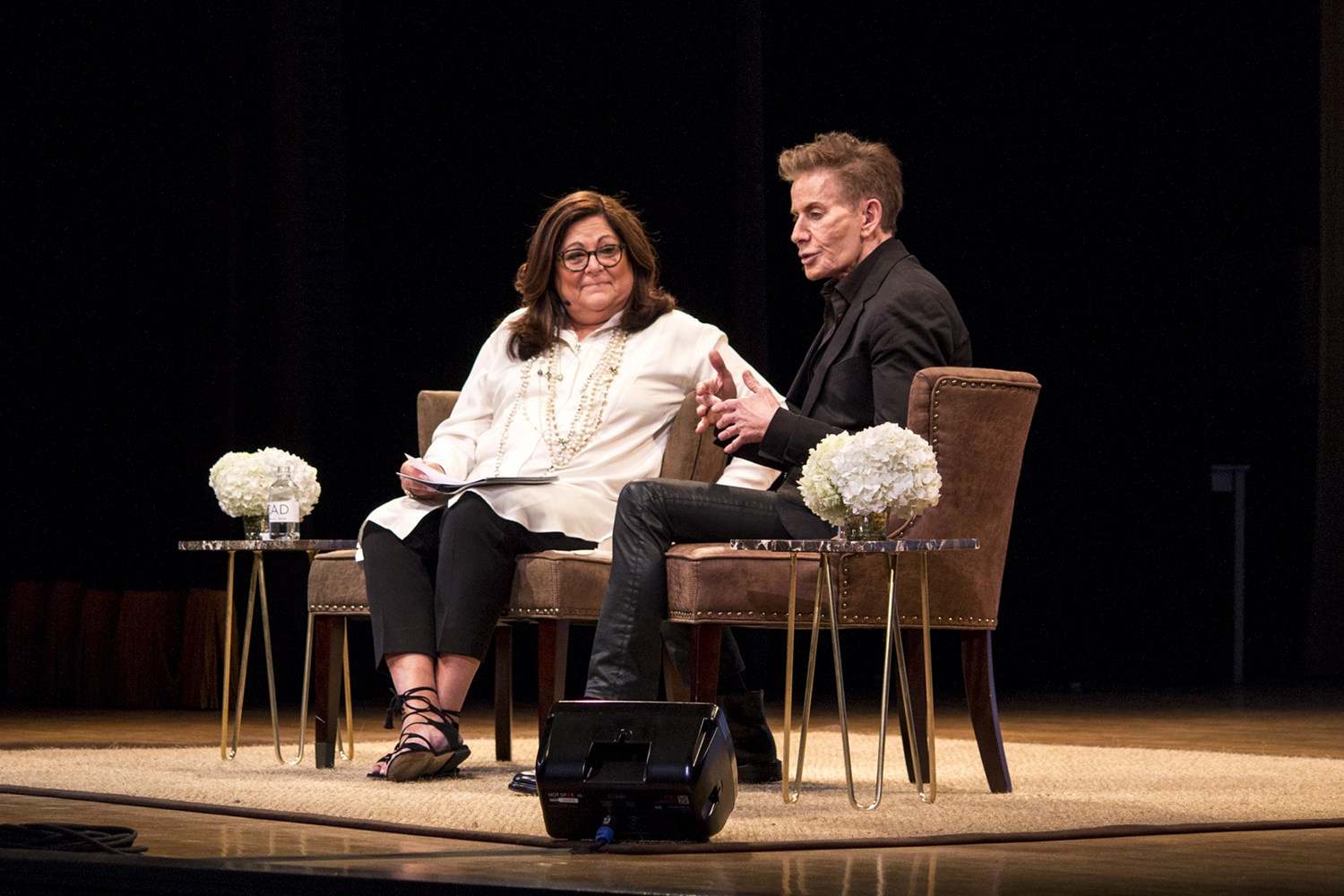 A large portion of the conversation focused on discussing where fashion is now. As we all know, the internet and social media has changed the way fashion is viewed and communicated. Mallis asked Klein if having access to social media from the start would've changed his brand. Quickly, Klein replied no. Instead, he believes that the brand identity and his vision would've stayed the same with or without the likes of Instagram and Twitter.  
What is Klein doing now? Casually building model houses, then knocking them down to make the real deal. I'm being serious. It's no surprise that Klein has dived into the world of architecture, given his artistic background. Although he always knew his company would reach great heights, he also knew that one day he would ultimately seek freedom from the fashion world. Klein rarely speaks about the brand today, but he did mention that he likes the Justin Bieber advertisements, because he is someone he would personally pick. As for Kendall Jenner, he's "not familiar." *Insert the sound of an applauding crowd here.*
From the start of the talk, both Klein and Mallis were brimming with great advice to share with students. Mallis reminded students to follow their instincts, and play nice along the way.
At the end of the day, people want to work with people who are nice," stated Mallis.
She noted that developing friendships is essential to a successful career. Klein ended with underlining the importance of exuding confidence, even when you are full of doubt.
Being just a few feet away from such influential fashion figures is a feeling I can't really describe. At the end of the day, all I know is that nothing comes between me and my Calvins.
Written by Emily Cole
Photography by Jenny Watts