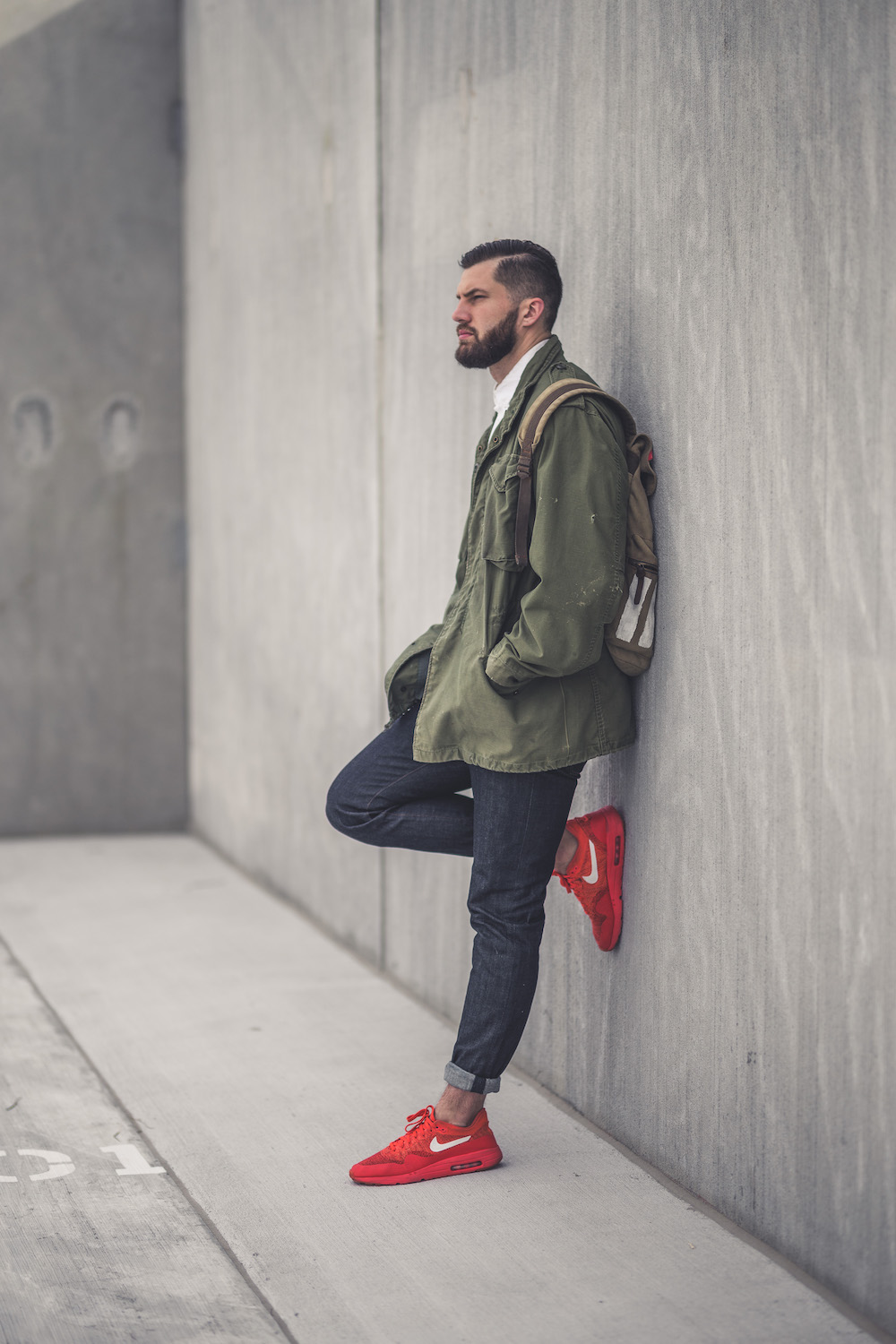 Name: Brady Patterson
Major: Graphic Design
Year: Senior
Hometown: Lima, Ohio
There are few people at SCAD who don't know Brady Patterson. From his towering appearance to his incredible graphic design portfolio, nothing about him goes unnoticed, and his style is no exception. Whether going to the gym, class, or interviews, Brady's style is clean, sporty and masculine. Brady grew up playing inner-city sports, and he loves basketball and football. After scoring a graphic design internship with the San Francisco 49ers last summer, this merging of craft and passion is likely to continue.
Even though his style is greatly influenced by his love of athletics, it is constantly changing and always unique, something that he takes pride in. Brady doesn't give in to trends, nor does he try to be someone he's not. He knows the importance of being himself, knowing who he is, and carrying himself in a way that projects that.

Brady's five Wardrobe Essentials:
Dark denim jeans

Comfortable T-shirts

Running shoes

Boots

Burt's Bees (never leave home without it)
From where do you draw inspiration?
Growing up as an athlete in the inner city, we were always pulling style inspiration from hip-hop and sports culture. There's a certain level of flash and uniqueness to the way a lot of my idols carried themselves, and that was something I always strove for in the way I presented myself.
My style has changed dramatically over the years, from 4XL tees, baggy jeans, and Air Force Ones (not my greatest look) to selvedge denim, fitted shirts, and boots, but my attitude towards being unique and original has never changed. I've always been less inclined to dress like the person next to me, and more interested in how I can set myself apart without throwing money down the drain on the latest trends. My family didn't have the money to spend on expensive clothes and shoes, so I taught myself how to ball on a budget at a young age.
People often stereotype graphic designers as being well-dressed, often minimal and masculine. Do you think this is true for you?
I think the study of graphic design and visual communication impacts the way so many people dress because of our deep focus on aesthetics and minimalism. We're often tasked with taking a complex idea and stripping it down to its simplest form in order to communicate quickly and easily. It's an idea that changes the way we see the world and definitely has impacted the way I live my life, not just in fashion, but in various aspects.
Out of the three outfits you wore today, which describes you the most and why?
Going to school, freelancing full-time, and being a gym rat – I'm always on the go, which means I need comfortable and functional outfits. That's why I often pair button downs and denim jeans with a pair of Nikes, so I'm ready for anything that comes my way.
Do you see similarities in the designs you produce and the clothes you wear?
The way I carry myself on a day-to-day basis definitely impacts my designs. I try to incorporate a sense of minimalism in everything that I do, which is why my wardrobe is so heavily influenced by basics, but there's also a sense of being on-trend and creating something that stands out that affects the way I dress and design.
Everyone loves the arrow bag you painted. Have you ever thought the way you dress could make as large of an impact as your designs do?
I really don't. My style is something that has to be unique to me, and if I see someone wearing the same thing as me I'm immediately inclined to change it. Design on the other hand impacts the way we interact with the world every second of every day, and I take that very seriously. My main goal when I'm designing is to impact the world in a positive way, and if I can make a difference in the quality of life of the user then my job is done. I find fulfillment in that.
Sports seem to play a huge role in what you do and how you live. How do you think you have translated that into your style?
Playing football, basketball, and baseball I idolized guys like Michael Jordan, Allen Iverson, Deion Sanders, and Ken Griffey Jr. I was always drawn to the swag that certain athletes carried on and off the field. My teammates in high school would joke and call me "Hollywood" because of the ridiculous amount of arm sleeves and wrist bands I would wear for every game, but the idea of being confident in how you look because it affects the way you perform is definitely real in every aspect of life. Who wouldn't feel more confident going into an interview in a brand-new fitted suit?
Written and creative directed by Madison Mallard
Styled by Madison Mallard and Brady Patterson
Captured by Patrick Meynard