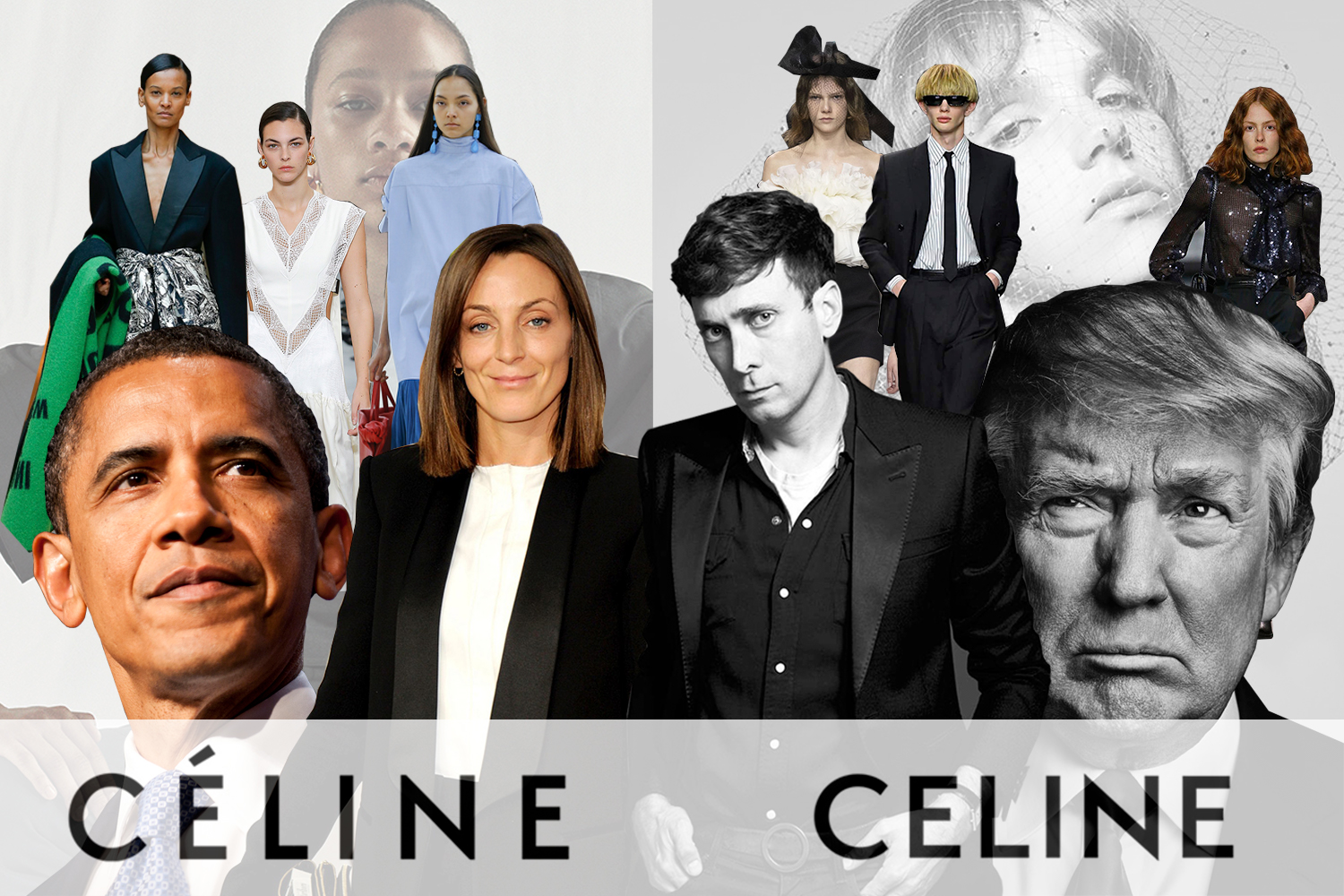 Politics and Fashion: Hedi Slimane's Devotion to Conservatism
Fashion fell into extreme partisanship last Friday after Hedi Slimane's debut as creative director of coveted fashion brand Celine.
Fashion conservatism is the only way to describe the ideals of Slimane's Celine, beginning with his choice to drop the accent on Céline to pay homage to the original logo created in the 60s. The small, yet seemingly drastic, change left the fashion community divided but universally eager for Slimane's next move.
The entire industry held its breath as the first look hit the runway. The result left no sighs of relief, only more gasps for air. Puffy sleeves, slim suits, sequins and leather— we've seen it all before at Saint Laurent and before that at Dior Homme. The enigmatic designer possesses an unwavering vision that airs on stubborn traditionalism. This goes not only for the clothes themselves but the message communicated through them.
Over the past decade the fashion community, specifically younger generations, has pushed for more inclusivity. The industry begged and Slimane turned up his nose. Not only did the show lack body inclusivity but racial diversity as well. Ninety-one percent of the tall, thin models were white. According to an article released in The Cut on Sunday, it took thirty looks to go down the runway before a single person of color walked.
Conservatism in fashion and politics belong in the same wheelhouse, being that they both cater to the wealthy and white. Most high end brands are still not the poster child for inclusivity, but Slimane was given a platform to share his vision for the future. It does not look bright. It looks white— white privilege that is. His choice of models unearths the demographic he is trying to appeal to, which is the elitist one percent.
To take matters further, Slimane's objective is a far cry from the intentions of the brand's previous creative director, Phoebe Philo. Although the French designer was not the role model of diversification, her clothes appealed to female empowerment. She made women feel sexy without having to look sexy under the male gaze. Her silhouettes were loose and whimsical and affectionate to the female form, contrasting Slimane's recurrent vision of "menswear as womenswear," a concept that suits only one body type: boyishly thin. To Philo's "Céline woman," Slimane's collection appeared constrictive and physically polarizing.
In light of this and other recent events, women are universally unsure of their voice— or lack thereof— in fashion and society as a whole. This was evidenced by the recent hearing of Supreme Court nominee Brett Kavanaugh, accused of sexual assault by Dr. Christine Blasey Ford. The world watched the accused become the victim and the victim become the villain, proving that movements such as the Women's March and "Me Too" are still not enough to save feminine jurisdiction from its critical state.
Gender inequality exists in all industries, fashion included. But despite its obvious flaws of representation, the fashion industry has always been a woman's place of security. Until now.
The degradation of women that exists in the right-winged political sphere has surfaced in fashion. This is where women must draw the line. For Slimane, fashion may still be just about the clothes, but the times call for it to be so much more. Power has been placed in the hands of a man with an unshakable vision, but whose work and intention continue to remain the same.
This should sound familiar. A middle aged white man speaking for the virtue of women, stifling their voice and discounting their individuality— cut to the current presidential administration in the United States. It seems outlandish to compare politics and fashion, but recent events make perfect sense of it. The past two years have seen a global push towards extreme conservatism, most notably with the election of Donald Trump. While the previous administration implemented eight years of pure progression, the 2016 election sent the pendulum swinging right.
According to an article in the Independent in 2017, this sort of "nationalist populism" is a reaction to "nostalgia for the pre-modern world." The election of Donald Trump sparked a wave of right-winged movements, such as Brexit and the election of several hard-right nationalist leaders in Europe. Even France, the home of Celine, experienced what some might call a "fascist scare" from presidential candidate Marine Le Pen in 2017.
This conservative backlash stems from fear of progress. Young progressives terrify the "old dogs" of both politics and fashion because of their unpredictability. That being said, extreme liberalism has contributed to this unprecedented chasm of partisanship. Therefore, conservatives nostalgically advocate for traditionalism in order to maintain a sense of security.
President Trump proclaims to "make America great again," and people like Slimane advocate for the same in the fashion industry. The problem with that statement is that the age of America (and of fashion) that is being referred to will only be "great" for the white, wealthy demographic— the one Slimane is marketing to. Slimane and Trump alike fear that if change does ensue, it will ruin the comfort they have grown so accustomed to. This is because conservatism is driven by two things: money and fear of losing it.
To compare Slimane to Trump is extreme, and by no means can their political views be directly compared. Only metaphorically can their actions be equalized. Still, more similarities present themselves, specifically the transfer of power from Philo's Céline to Slimane's Celine, which mirrors the succession from the Obama to Trump era.
To the left leaning majority, Obama's presidency was the age of progress. Regarding fashion, the same can be said for Philo's Céline. Obama's two terms saw the legalization of gay marriage and implementation of universal healthcare. Philo herself was the image of feminine expression and empowerment. Not to mention, both leaders were minorities in positions of power, replaced by middle aged white men.
This is not hate speech on white men. However, they cannot personally comprehend the struggle of being female, being a racial minority or being anything other than what they are. If we want to see a change in the industry and in politics, we need to either see a change in the people leading them or do a better job of influencing their decisions.
The Celine show and the global political state should serve as a wake up call to many: the fight for gender and racial equality is far from over. Change does not happen by compliance or complaining. Change is implemented through action. And while fashion is not technically democratic, the United States government is.
Written by Kat Sours
Cover graphic by Max Condon