Faux fur heart sweaters, legwarmers, and glittering raincoats? Fashion design senior Mariah Hodges is doing just that. Her collection is fully embellished, featuring the ultimate "girly" aesthetic that would make Cher Horowitz and Elle Woods proud. Hodges sat down to discuss her artistic vision and design future.
How did you become interested in fashion?
HODGES: Oh, that goes way back. Ever since I was a little girl, I loved playing with clothes. I would take everything out of my closet and create different outfits. I was also a dancer, so I would get to wear glittery costumes; I was honestly more interested in the costumes than I was in dance. It's kind of a combination of those things, I've always just really loved clothes.
What has your experience been like in the fashion program here at SCAD?
It's been great! I mean it's been incredibly difficult, like you have no social life whatsoever, but the program is amazing. The amount I've learned is incredible, and the people I've met are incredible as well. I honestly wouldn't trade it for the world… I'm so glad I came here.
I've never been into the whole eveningwear thing or stuff that looks super elegant. I just want to make clothes that make people smile.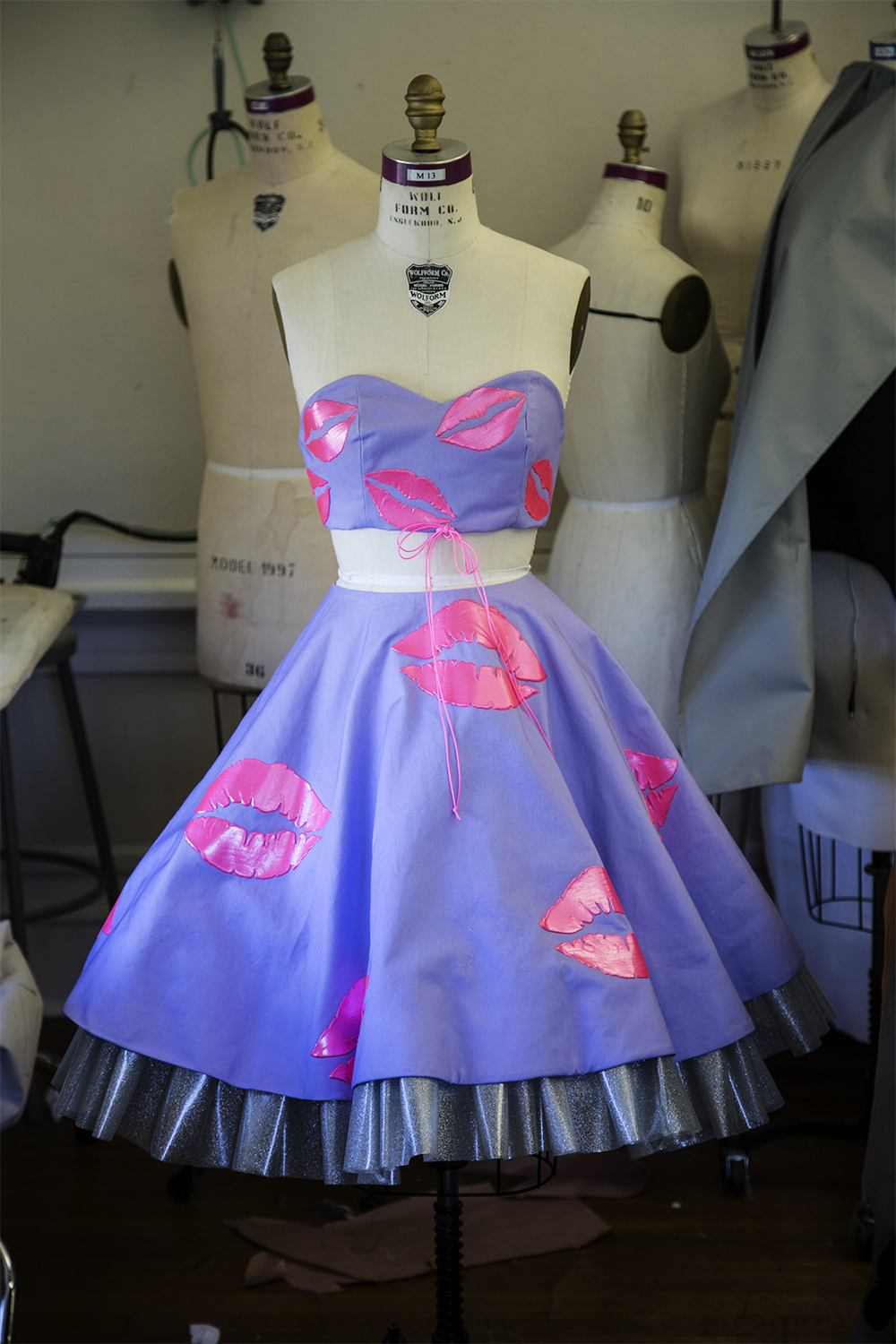 What was the inspiration for your collection?
Lip gloss! I really took inspiration from a glittery purple makeup kit that I had found in a box that my mom had. It had an assortment of different types of lip gloss in it. It was probably really, really old, but it was just so glittery and cute that, all of a sudden, I was like, "hey, what if I tried to make a collection out of this?"
I tend to pick really silly concepts (I've done a collection with bubblegum before), just really cutesy things. I love challenging myself to see if I can take inspiration from one little thing and then turn that inspiration into something more.
What is your design process like?
The first thing I do is start looking up photos or [taking] my own. I try to pull images from everywhere. Then I work on textiles. I don't really go straight from images to silhouette; I definitely work on textiles first. I use textiles more for inspiration than the actual shape of the clothes. You really have to understand the textile in order to know what kind of shape you can get out of it. So textiles come first, and then I start working on designing.
Did you have any setbacks or struggles while working on your collection?
Oh, yes. For the longest time, I had no idea what I wanted my collection to look like. I had all of the textiles down, but I had no idea what I wanted the shapes of my garments to look like. I probably spent a month and a half sketching stuff I didn't even like. It was kind of a huge setback.
How do you think people will react to your collection?
I feel like people usually get very nostalgic, especially girls I've noticed. They're always like, "oh my gosh, I remember these!" So it kind of brings warm feelings to people. Also, some people will probably think it's totally ridiculous.
I like to call this "fun fearless fashion." I've never been into the whole eveningwear thing or stuff that looks super elegant. I just want to make clothes that make people smile.
Do you know what you want to do, career-wise, after leaving SCAD?
Honestly, I would really like to have my own business. Not high fashion, probably more at a realistic level, so teens could buy my clothes. I'd love to be able to start something with my collection after school. Obviously, I need a job, but ultimately I want to have my own little company someday.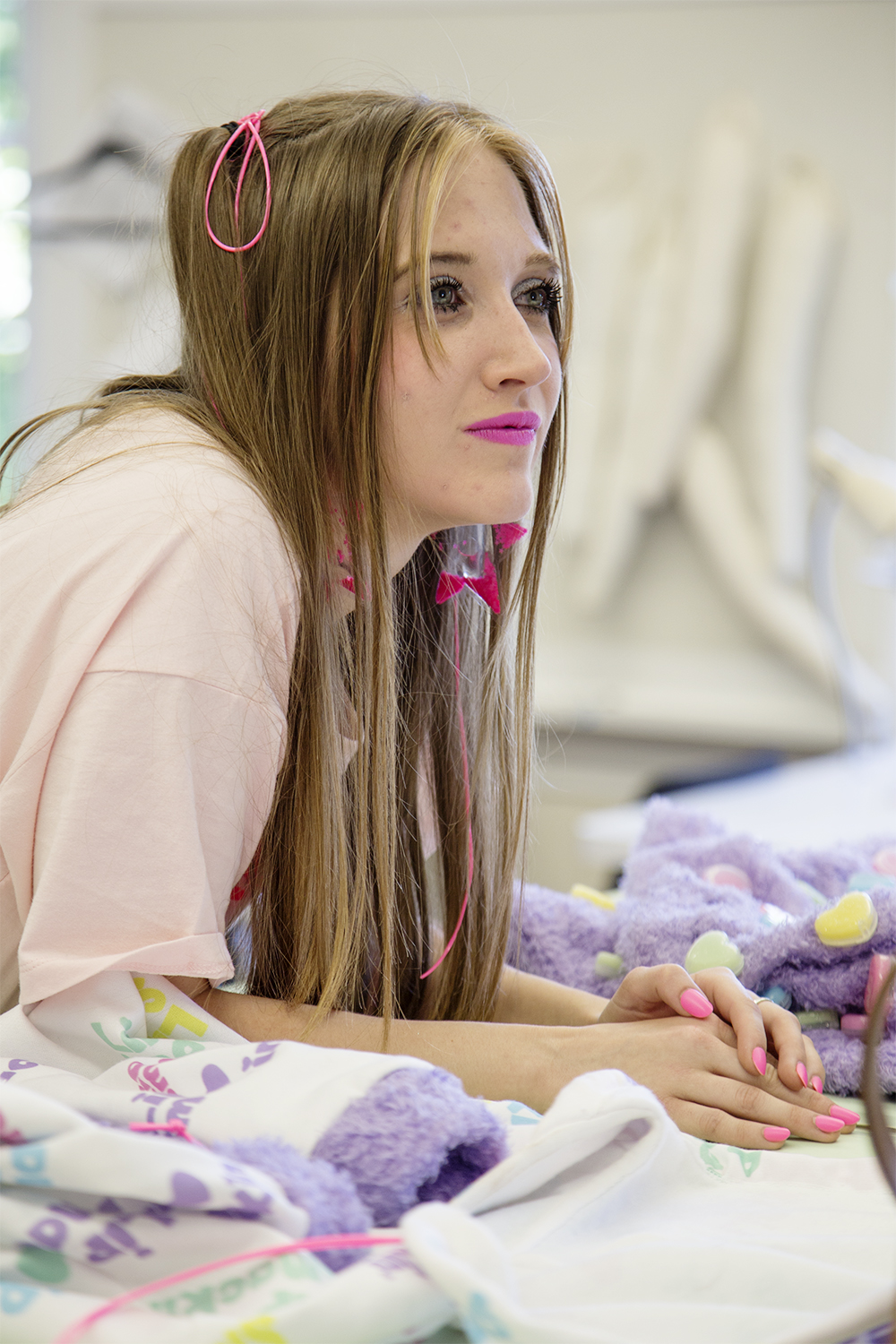 What do you think sets you apart from other students or designers?
I guess my designs are more cutesy than most; I have a really cute and girly aesthetic. I try to focus a lot on youth. I don't like the idea of growing up. I want to stay focused on a younger target customer, which I think definitely sets me apart.
Do you have any fears about entering the industry?
It's definitely nerve-wracking, no matter who you are. I've heard it's intense [and that] there's a lot of competition. I love fashion design, though, so no matter where I am, as long as I'm doing what I love, it'll be okay.
Do you have any advice for younger fashion design students?
First of all, time management. You're gonna want to go have fun every weekend with your non-fashion friends, but make sure you do your homework first! They're very strict with grades.
Also, don't take it so seriously that it feels like the end of the world when something doesn't go right. It's just college, you'll survive! By senior year, no one is going to care how you did in Drawing, or Intro to Fashion or any of those classes… stay happy and stay positive. It's a long road, but trust me, you'll be okay. I made it through, and I'm still smiling!
Written by Julia Blandford
Photos by Joe Kelly