In SCAD's synagogue-turned-student center, the Colleges Against Cancer Society held their third annual Ignite Fashion Show on February 25th. With all proceeds going to the American Cancer Society, it is a multifunctional event, supporting families who are suffering while giving SCAD students a chance to showcase their work.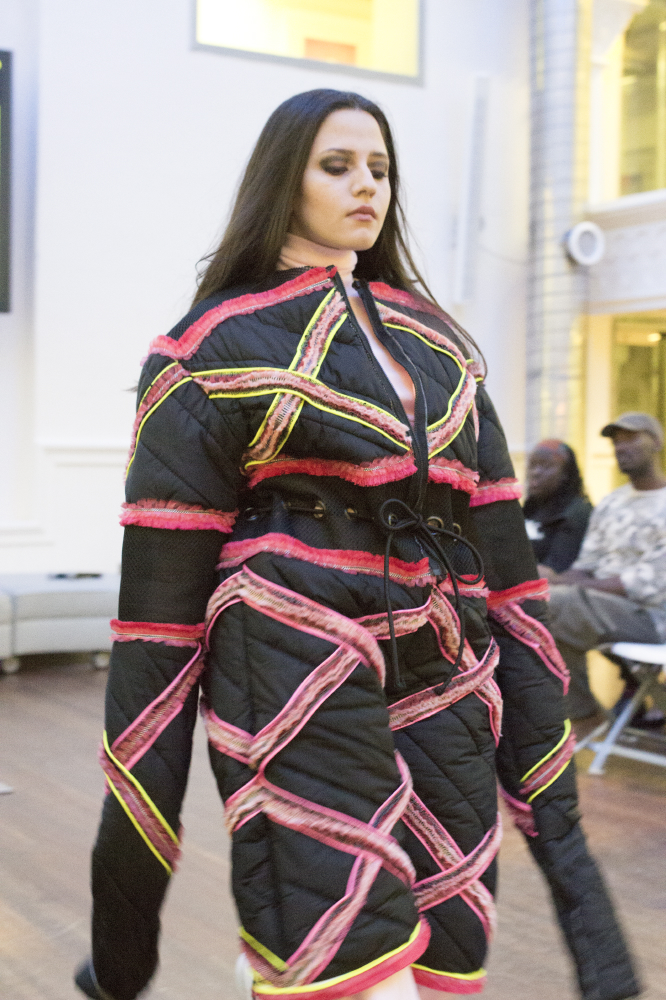 While it is still a young production and developing its reputation, the Ignite Fashion Show was an overall success.This year's show attracted 12 designers and 27 looks overall. There were about one hundred people in attendance. Designers and models attended a casting call two weeks before the event to audition, and then were chosen by Vice President, Abi Lierheimer and Event Coordinator, Isabella Mendez.
The Colleges Against Cancer Committee consists of four people: President Patrick Malins, Co-Vice Presidents Abi Lierheimer and Eric Primo, and Event Coordinator Isabella Mendez. The four of them plan all of CAC's events, including the SCAD Relay for Life. Although the final amount raised cannot be disclosed, Lierheimer replied in an email that "it is always upwards of $1,000."
A variety of majors were represented in this rare opportunity for fashion and non-fashion majors alike to showcase their work.
The participating designers all had completely different aesthetics, ranging from lacey femininity to structured outerwear.
Theo Gough, a designer working towards his master's degree in fashion,  made a set of menswear jackets that were quite powerful and aggressive in their simplicity.  As a graduate of the industrial design program at SCAD, one can infer why his concepts are so efficient. The jackets were all either black or grey and looked futuristic. They all also featured hoods that completely hid the models' faces, making the men appear domineering and strong.
Senior fashion major Abi Lierheimer presented an avant-garde piece. Her padded jumpsuit featured sleeves that completely covered and restricted the model's hands, extending to the floor. Black, with stripes and crosses in bright colors, the jumpsuit was the bombshell needed to end the show.
Adrienne Chiu, another participating designer and senior fashion design major, decided to contribute because she wanted to help support the cause and gain exposure within the SCAD fashion community. Her look was composed of a flowy yellow jumpsuit with a black jacket.
Other SCAD students that attended were really impressed by their peers. Both a fibers and graphic design major commented on how exciting it was to be able to see the work done by their peers.
Next year, increased awareness through more marketing, organization, and polish could help boost the number of attendees and participating designers, as well as raise even more money for a worthy cause.
"This is a student-run and organized event in support of all fashion and accessory design students, with the intention of giving back to a cause that is very important to us all," wrote Lierheimer. "The committee will grow and change, and with that, the show will grow and change."
The event itself is still developing and establishing its presence. It has the potential to become an important yearly event for the SCAD fashion community.
Written by Tess Kulikowski
Photography by Jonathan Vasata