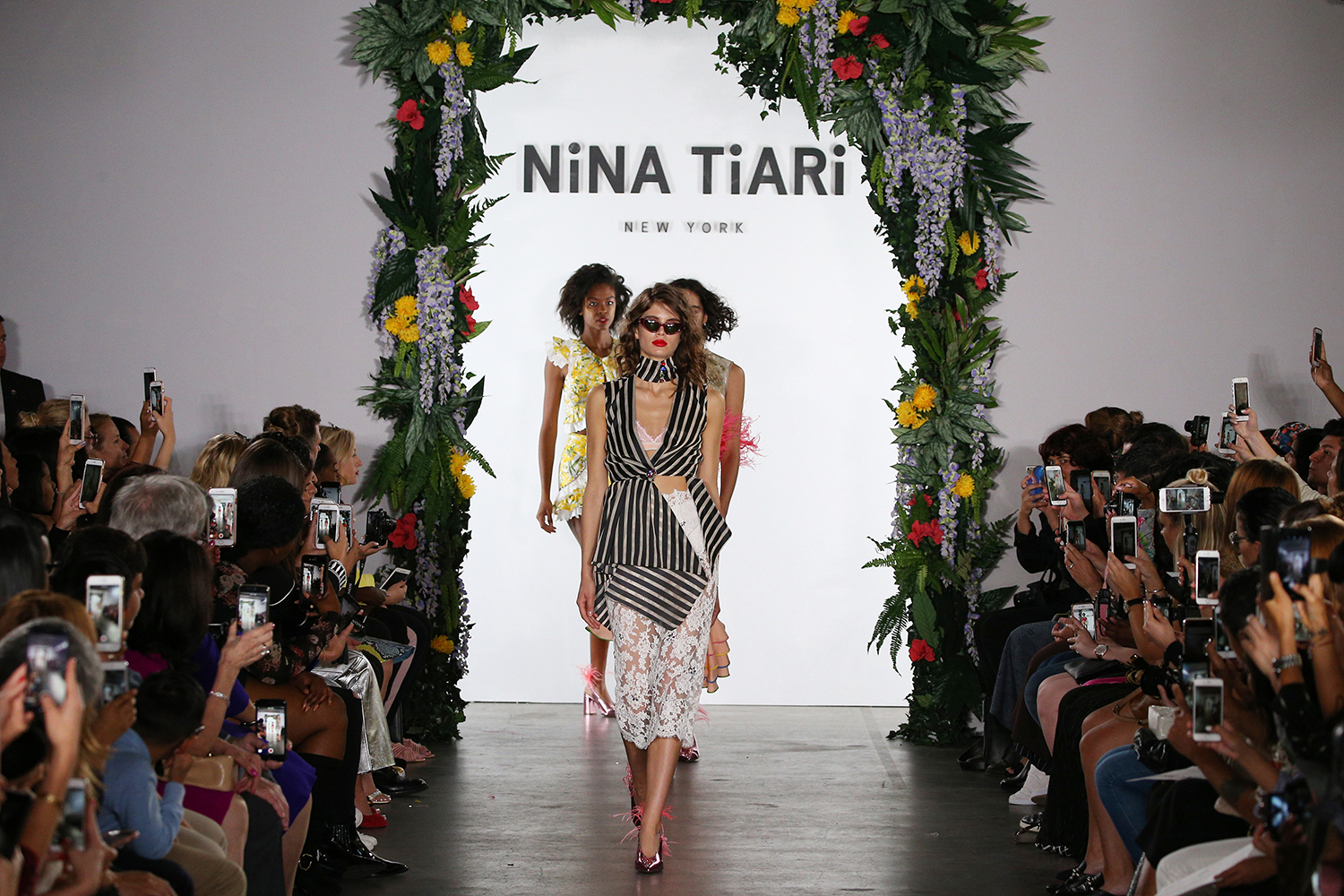 Cocktail Hour at Nina Tiari
Nina Tiari is the editorial wardrobe stylist-turned-designer who studied at Parsons, New School of Design, before embarking on a concentrated study in Art History at New York University.
After a good debut last season, Tiari is back for a second time with a free-spirited collection filled with lighthearted optimism and fun. Her subject matter, however, is the turmoil in today's society. The results? A series of party looks that are guaranteed to turn heads.
Opening with a simple black sheath dress, Tiari placed cutouts with multi-color fringe embellishments on the fabric for motion. A skirt version was paired with a sheer top encrusted with jewels along the bust.
The party took off with the next pieces.
Polka dots and colorful lace clashed with striking hues of fur for a strong visual impact. Mismatch prints were a notable detail towards the end of the show— some hit, some missed. But something about the collection had a sense of charming naïveté that anyone can appreciate.
The amalgamation of prints, material, and color, are all a clear reminder that Tiari is still new to the design game.
One of Tiari's best looks was one of her most simple: a white bustier with lace straps and sleeves exposing open shoulders paired with tonal high-waist pants with a panel of lace along the front.
The cocktail hour pieces included a funky green off-the-shoulder top with dandelion yellow floral motifs that was paired with a matching midi skirt, and an apricot pant was tailored with tiered flares and multi-color trims.
Although she isn't necessarily seasoned in terms of runway design, she has experience in the industry with a clientele that includes Vogue and The Wall Street Journal. Not to mention, Lady Gaga was spotted wearing her debut collection.
We cannot wait to see what Tiari mismatches next.
Images courtesy of Nina Tiari