At the intersection of Southern and chic lies Charleston Fashion Week (CFW) 2018. The timeless port city boasts the largest fashion week in the South. It's no mystery to the event's success, considering it was established by the queen of fashion weeks herself, Fern Mallis, founder of New York Fashion Week. With local to international designers, CFW allows small and large designers to intermingle. According to Mallis, the event is meant for up-and-coming designers to get their start, many of which are our very own SCAD alumni. The Manor had the privilege of traveling to historic Charleston to attend the Friday and Saturday shows of the event.
Friday's show kicked off night four of the five-day event. It commenced with a pre-party in the style lounge, where vendors filled booths that boasted the latest local boutique styles. One SCAD alumni stood out with her namesake brand Erika Lynne Handmade, which consists of handmade goods constructed out of exotic leathers. Guests sipped and shopped before making their way to the runway tent.
Friday's show kicked off with Gwynn's of Mount Pleasant, a local department store known for its Southern taste with a hint of modern. Their menswear selection consisted of everything from casual beachwear to tailored suits, all unified by the color scheme of denim blue, green, and burnt orange. The contrast of bright colors and traditional silhouettes are definitive of the modern Southern man, who is both traditional yet contemporary. This idea transitioned into the women's wear collection, where we saw more bold colors and prints. These seemed to be highly influenced by the tropics. It was an ode to the empire waist as well as the mod shift dress, which were two recurring silhouettes. Each look was paired with a bold handbag, for instance, a fruit-shaped clutch or vinyl tote. From men's to women's wear, the selection from Gwynn's achieved a balance it Southern and Modern style.
Up next was the Art Institute of Charleston, where fashion design students showcased their most recent collections. With content ranging from sustainable to separates to luxury, each student had a unique voice to add to the industry. Their work truly spoke on the nature of this event as the future of fashion. The modeling competition, which took place next, embodies a similar principle. Out of thousands who auditioned, two model finalists were signed to a modeling agency and given a $10,000 prize. Not only does Charleston Fashion Week showcase emerging designers but the faces that will represent them.
Onto a designer already well established in her industry, Minh Le, owner and designer of 831Minhle, drew the audience into an ethereal dream with her pre-fall 2018 collection. Sprite-like creatures, adorned in tulle and lace, appeared to float down the runway. With a strictly neutral color palette and conservative silhouettes, Le achieved an exotic sex appeal in the way she alluded to the female figure. Sheer, neutral fabrics allowed for the elusiveness of skin and undergarments. Such mystery contributed to the exuded sense of magic within the collection itself.
In contrast to the free-flowing forms of 831Minhle, the following collection from Yeohlee by Yeohlee Teng focused on structure. Teng is known for her cross-disciplinary work between fashion and architecture. At the beginning of her career, she coined the term, "the modern nomad" as her muse. With this in mind, Teng designs for sustainability, for movement, for the modern person. This distinct concept Teng exhibited in her utilitarian silhouettes and textiles. Thick fabrics, oversized coats, boxy silhouettes adorned the models. While some garments hung as separate entities, others flowed against the skin like cascading water. Instead, just of designing to the shape of the human body, Teng designed shapes to juxtapose and compliment it. The result was an architectural masterpiece.
Yeohlee Teng's showcase of wearable art left the audience craving the fashion to be seen the following night, the finale of Charleston Fashion Week 2018. Identical to Friday's show, Saturday night began with sips and shopping in the style lounge before moving into the runway tent. The main event for tonight's show was the Emerging Designer Competition, followed by featured designer Yigal Azrouel. Six designers from the emerging design competition were chosen to showcase their collections for the finale, and the winning designer was awarded a $10,000 cash prize, along with $10,000 in online marketing, a mentoring opportunity with an industry leader, and a chance to be featured at Charleston Fashion Week 2019.
The winning collection, designed by Tygerian Burke, was the first to hit the runway. Burke took inspiration primarily from her African American heritage and applied it to her use of intricate textiles, comprised of detailed patterns and 3D elements. Female empowerment and energy radiated from the runway; it was seductive yet eclectic, detailed yet chic, sexy yet sophisticated. It embodied the future of fashion, thus rightfully landing Burke the title of Emerging Designer Winner.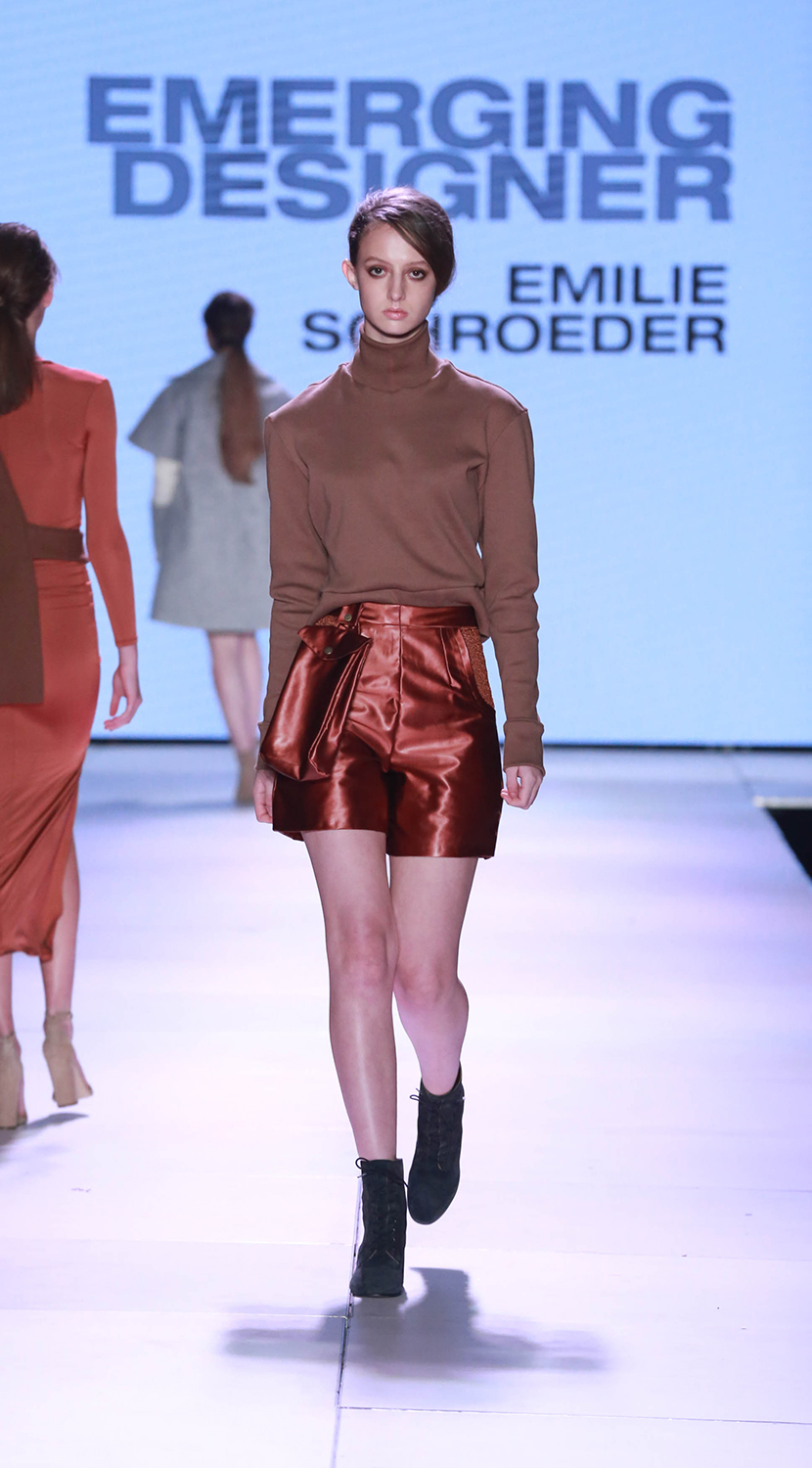 The designs of SCAD alumni Emilie Schroeder were next on the runway. Her collection focused on the strength of vulnerability, visually communicated through her use of nude textiles. The Manor got the chance to meet up with Emilie in between shows to ask her more about her collection. The young designer admitted that "as an artist, she is so vulnerable showing her work, but what gives her strength is watching her garments go down the runway." She also elaborated on her use of the color orange, saying that, "she found the fabric first then researched that the color orange actually represents freedom and happiness." The collection was a beautiful representation of strength and sensitivity.
Following Schroeder was Joan Madison, a designer inspired by the drama associated with red carpet gowns. From capes and trains to sequins and headpieces, drama is what was received. The showstopping collection brought the audience to a standing ovation and won Madison the people's choice award for the night. Up next was another impressive designer, commended for her talents and for only being 13-years-old. Kelley Callaway's collection definitely exuded her youthful spirit but also her sophisticated eye for design. The garments boasted bright patterns and funky silhouettes that could only be thought up by one of the freshest minds in fashion.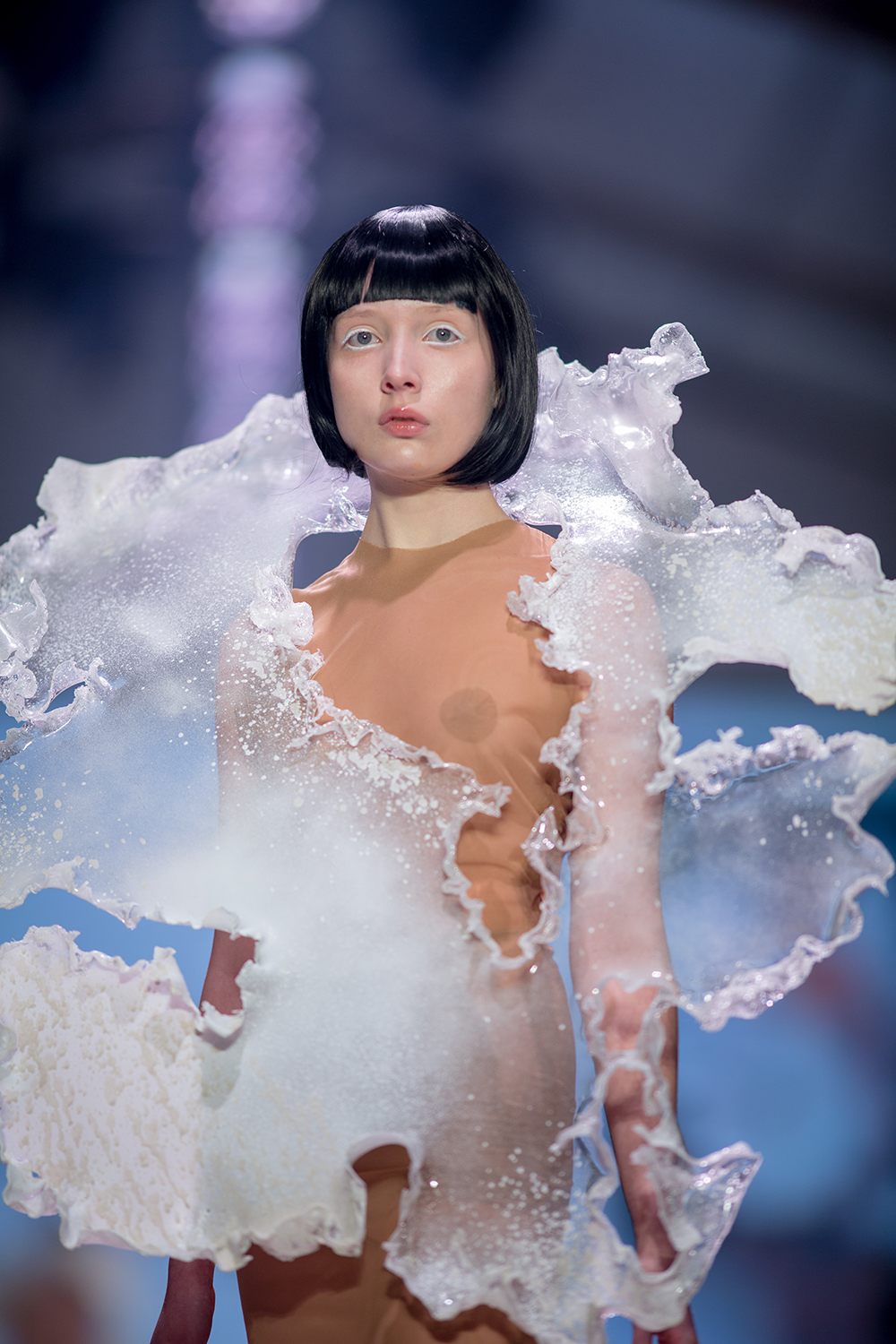 Patresea Peppers, another SCAD alumni, was next to showcase her designs. Her collection leaned more towards avant-garde, with unique fabric experimentation that included melted acrylic, safety pins, and tulle. The shapes and textures alluded to melting icebergs and global warming. Peppers exhibited fashion's ability to vocalize social activism in combination with aesthetically pleasing designs. Last up was Kenya Freeman, a designer who might be recognized from her time on Project Runway. Freeman's collection was a combination of 70s sex appeal and modern sophistication.
To close the show, featured designer Yigal Azrouel showcased his pre-fall 2018 collection. His designs were a combination of geometry a fluidity through a juxtaposition of bold textiles and free-flowing silhouettes. The extensive pleating in the fabric provided an ease of movement as garments moved down the runway. High necklines and silk scarves were an evident motif in the collection, as well as high waisted belts. These elements depicted how two structure and fluidity can be combined to create a cohesive collection.
At Charleston Fashion Week, the worlds of Southern and modern style collide. The event serves as a gateway for emerging talent to work alongside those more established in the fashion industry. In a sense, the historic cobblestone streets of Charleston serve as a pathway to New York Fashion Week and beyond.
Written by Kat Sours
Photos by Side Yard Studios, courtesy of Touchpoint Communications