As we sat down at Blends Coffee Boutique to begin the interview, Chelsea came in with a bag full of swatches, process books, clothes, fabrics, yarn and sample artwork to show me. While she laid everything down and got situated, I couldn't help but admire how open she was with her art. I already had a lot of respect for Chelsea, but by the time the interview was over and we had gone through her look books my level of respect and admiration increased tenfold.

From the outside looking in, you can see that crocheting is a thorough task and no easy feat, but she makes it looks so easy like ABC's. Crochet was the first medium that Chelsea used before sewing. For her, crocheting is a meditative process, the repetitive movements calming and therapeutic. She described it as "endless, infinite. It is organic and not restrictive." She made it sound way more magical than any short-lived experience I had had with crochet.

Only recently has she ventured into embellishments, specifically a style of embroidery called Tambour Embroidery. Tambour embroidery is a meticulous method that revolves around beading. Coincidentally, it has the same continuous movements as crocheting that made it easy for her to get accustomed to.

Although crocheting is Chelsea's go-to for fashion design, she has not limited herself solely to that medium. Chelsea incorporates her love for painting and drawing into her clothes. Her clothing is her canvas. Creatively, she puts paint to denim, dyes her own yarn, adds poetry to her work, even explores installation.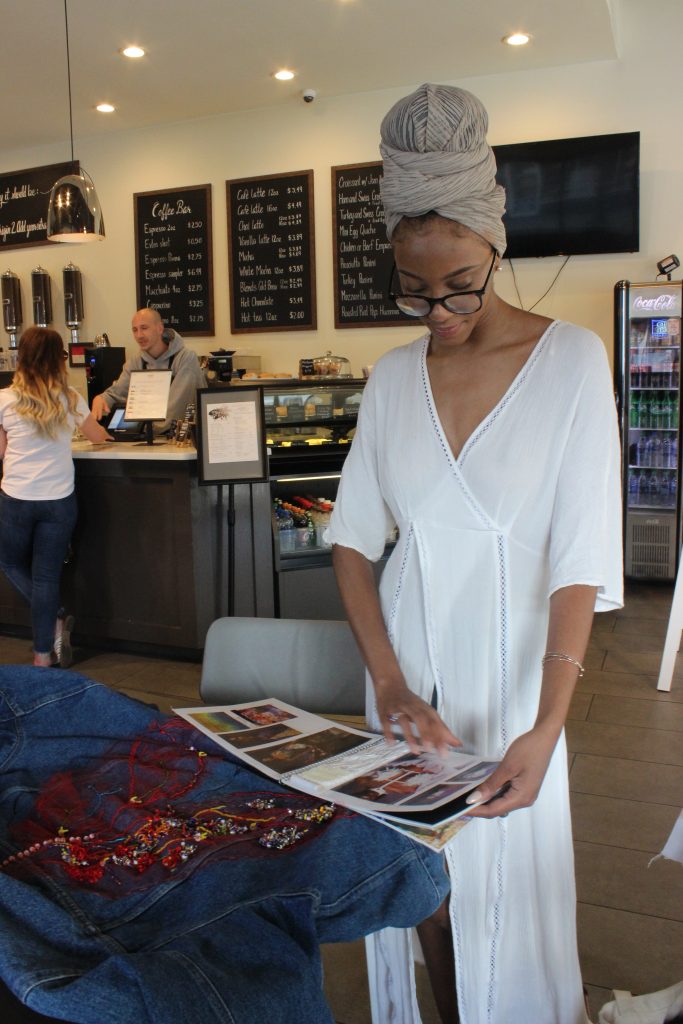 With animated excitement, she explained to me her senior pieces, consisting of three different themes. We went over each one in light detail as to not give away too much.

Her first piece, which she has been working on for well over a year now, illustrates the time and dedication she is willing to put in for her art. Her theme titled Pieces of Me, she explained, is an "abstract portrait of self." Anatomy is the inspiration for her second piece appropriately titled Anatomic Inspection, which revolves around the beauty inside of the body. Last but certainly not least is her Code Redd theme that takes place in her hometown of Chicago as a way of paying homage to her family. She explained that this theme truly focuses on a transitional journey from the beginning of freshman year to her senior year. She spoke about the whole idea with such fervor, equating her passion with the symbolic color of passion: red.

We also touched on the difficulties leading to the end of her senior year at SCAD. She narrowed it down to two major obstacles she battled with within these few months: balance and collaboration. Chelsea is a people person to the nth degree. She has a knack for helping others, almost to a fault it seemed. She said she had to find a balance in saying no to those she genuinely wanted to help.

As for collaborating, it was a learning process, to say the least. Her advice? "Express your abilities about what you can and can't do, and have a contract set." She said that many times people confused commissions and collaborations. Things can become muddled and misunderstood. Fiber art is time-consuming and meticulous—a challenge often overlooked, especially during the hectic times of finals.

As we wrapped up the interview, I asked her one final question: "If you had to pick a book, tv or movie character to wear your designs, who would it be?" After pausing to ask if she could say two she excitedly answered that she would love to dress Chloe X Halle with her designs. It was a big dream of hers, stemmed from a growing admiration of Iris Van Herpen who has designed for Chloe X Halle in the past. Her second person was Solange Knowles, whom she favors, saying that she was her twin and would love to collaborate and even match outfits with her.

Written by Taylor Alexander
Photo by Taylor Alexander