Senior fashion major Carly Eager has her audience "Seeing Double" in her senior thesis collection, inspired by her life as a twin. The talented young designer possesses an eye for the unconventional, especially in her creation of silhouettes and use of materials. Carly and her twin sister Kendall, a senior photography major, have taken SCAD by storm with their collaborations over the past four years. Carly's collection communicates how she and her sister are two parts of a whole, two as one. Carly took the time to share her life as a twin, her collection, and her plans for the future.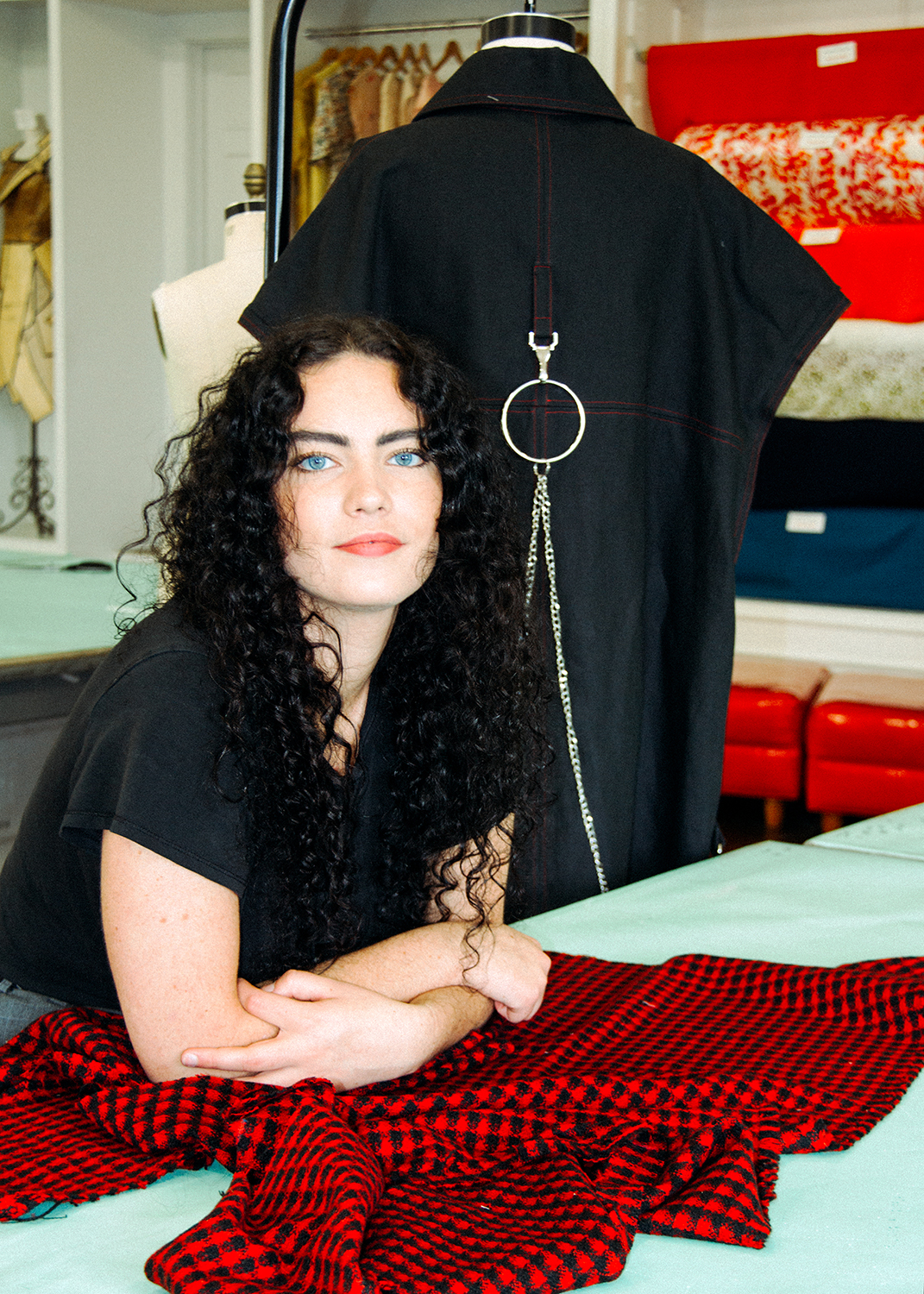 Where are you from? Did your background influence your decision to come to SCAD and pursue fashion design?
Okay! I'm from Princeton, New Jersey. I was always interested in fashion and knew I wanted to do fashion, but I wasn't necessarily sure if I wanted to do design. I was always super hands-on when it came to fashion. I was thinking about going into marketing but then I realized that the business side wasn't so much for me. It was design. Another major reason I chose SCAD. I wasn't proficient in drawing or sewing. While some schools expect you to know everything right off the bat, SCAD sort of started from the beginning. I also chose SCAD because my twin sister, Kendall, decided to come here for photography. We've always worked together, even in high school. It's so nice having that support.
I can imagine. I understand that your relationship as a twin inspired some of your senior collection. Can you talk a little bit about that?
To describe the collection in a few words, I would say it is "two as one." It's actually called "Seeing Double" and depicts the relationship between half of something and the whole. I wanted it to be garments that can be worn by one or two people. Man or woman, no restrictions; it's unisex. I did a lot of that through the silhouettes, a lot of exaggerated silhouettes. There are big shoulders, asymmetrical design elements and hems. I also used a ton of hardware in my collection to represent being bonded to someone or something. I especially used the circle motif in my hardware because it symbolizes unity. There's also this red top stitching, which I stitched into the plaid myself. It's meant to represent the bloodlines being carried throughout my garments.
Wow, the symbolism is incredible. How do you reach a point of completion with it all? What did your creative process look like for this collection and for your work as a whole?
I always start by pulling inspiration images that I've gathered from different places and then I'll save them in a folder on my computer. One of the best ways for me to concept design is to make collages and then sketch on top of them. Also, for this collection, I actually used my sister and me and physically draped fabric on top of us, and then I sketched. This is where I got the idea to create one garment to clothe two people, instead of one. I really just love the process of collaging and sketching; it's where a lot of my silhouettes come from.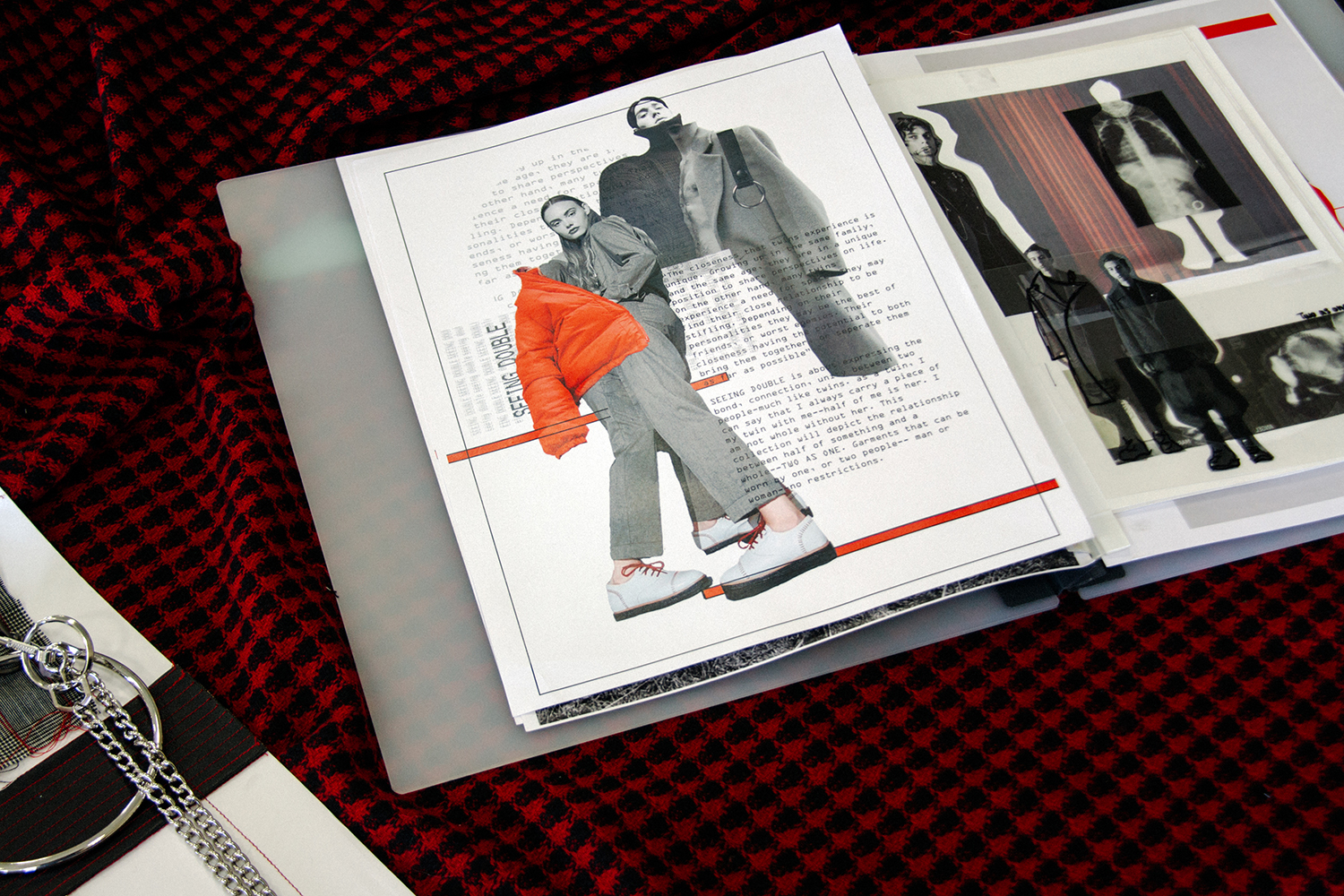 That is such a unique process; you can really see the concept transition from 2D to 3D in your collection. That being said, what are the challenges or freedoms of creating unisex garments, as compared to strictly women's or men's wear?
Well, I always, sometimes by accident, create men's inspired women's wear. In the end, it would just turn out as men's wear. I do feel that I am much more of a men's wear designer, or at least that's the field I want to pursue. My collection kind of did transform into menswear from a unisex collection. The four looks that walked for the jury were all worn on male models. As for the challenges, this was my first time creating a collection that I had to fit to a male model. It was a different experience. I had to sort of learn along the way how to do a lot of the tailoring and other things that aren't present in women's wear. There were a ton of aspects that I just wasn't aware of when I started this collection. It's definitely been a learning curve for me. Even though I usually do unisex, this time I took a lot of traditional menswear elements, so that was a new experience.
Well, I think it's so commendable that you did take on the challenge and it has obviously paid off. Now for a question dreaded by most graduating seniors, but I have to ask, what are your plans for the future?
After I graduate I'm just gonna stay here for the summer to finish off my lease, apply for jobs, sort of prepare myself for the next step. After that, I am most likely going to move to New York. I'm from New Jersey, so even if I'm not living in New York, the commute from home is so easy. I'm going to try to find a job designing. I interned with a really small design label this summer, and I really enjoyed that environment. It was really hands-on and I got to do all kinds of different things. So, I'd really like to find a job designing for a small label like that.
That sounds perfect. But talking further in the future, what is your dream job? Would you ever want to own your own label?
I mean, I think everyone has that dream. There are definitely a few designers I would love to work for, like Raf Simons or Thom Browne. Those are just some dreams of mine.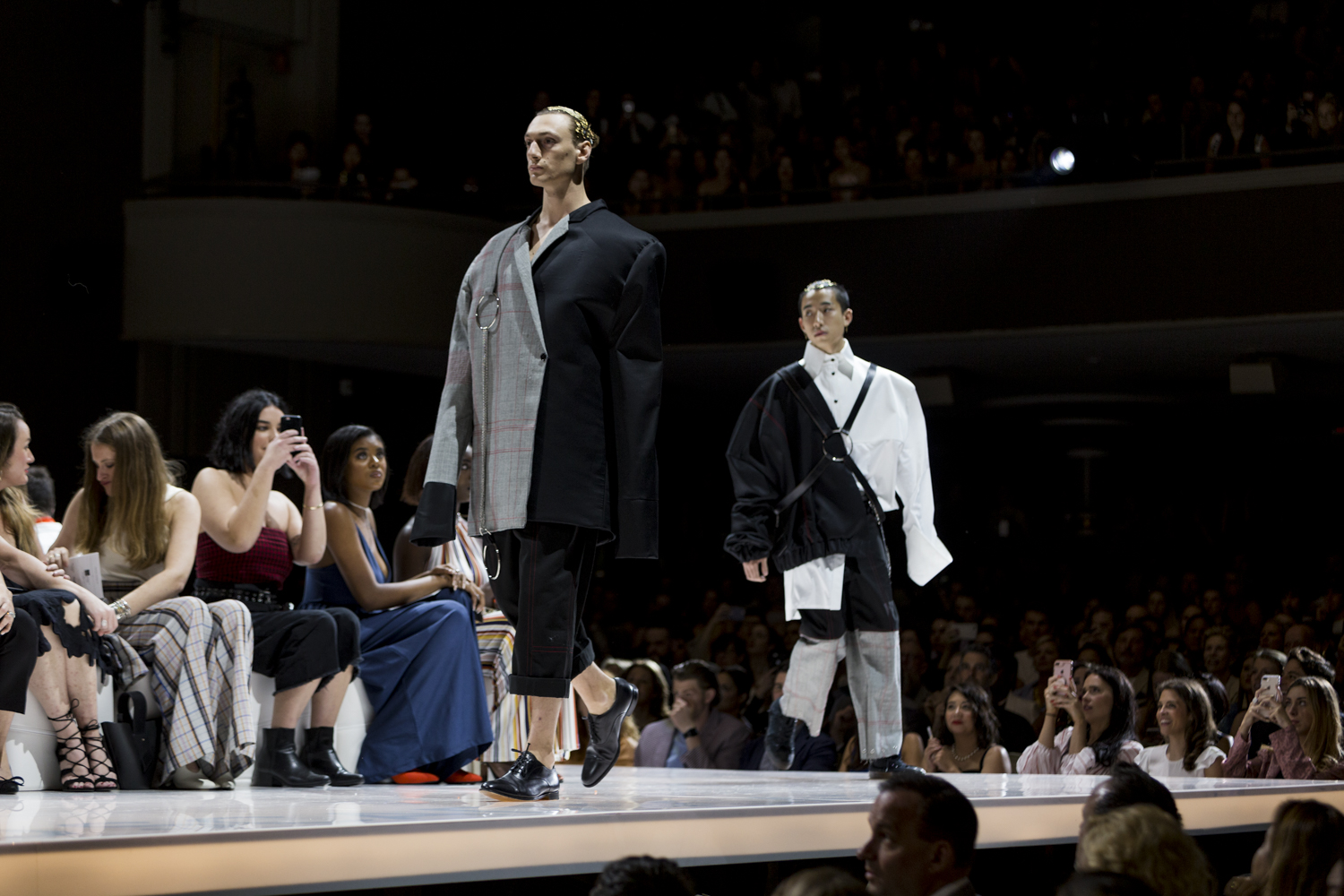 That would be amazing! I think we all have those few labels we would just die to work for. But for now, as you're about to graduate from SCAD, what has made the greatest impression on you? What advice could you share with younger designers hoping to reach your position in a few years?
I think the greatest thing I've taken away is the importance of work ethic. I've always been a really hard worker, but SCAD has pushed me to work even harder. All the fashion majors here, we put so much time and effort. SCAD really taught me how to put everything I have into my something because if you're going to do something, do it well.
Written by Kat Sours
Profile photos by Kendall Eager
Lookbook photos by Christine Szczepaniak
Runway photo by Angie Stong