After countless sleepless nights, must-see design senior Ashley Romasko took the time to discuss her senior collection. Along with explaining what inspired her to create such a colorful collection, Ashley also shared what surprised her during this experience, what she learned about herself, and what she wished she had known going into senior collection.
I have known you for a while now but could you tell me a little bit more about you. 
[Laughs] Well, I am from Wisconsin and I wanted to do fashion since I was eight years old. One time I got really frustrated while doing a math problem and cried and started drawing dresses in my notebook. I never stopped. Being from Wisconsin, where no one knows about fashion has actually influenced my design aesthetics a lot because I look at ordinary clothes and see how they can be elevated and made luxurious. Especially since luxury was never introduced to me. It was just something that I liked and wanted to explore. So here I am, a senior.
So, as you said, since you were eight you were interested in fashion, but were you interested in marketing or design?
Well, I love the world of fashion in general and the story something can create and how it makes people feel glamorous and fabulous in their own way. I actually came to SCAD with a double major in marketing and design. Very quickly, I retreated from marketing because I realized I liked creating the product and wanted to create a product that made people feel a certain way, rather than take the product and then make the story. People are way better at that than I am.
I think design allows for more creativity on certain levels that corporate level doesn't at all.
What surprised you during this process?
I think what surprised me the most was how flexible I was with myself. How I just allow my ideas to take shape in a very organic way, because in years prior I always pressured myself to something or pushed myself into an aesthetic that might not have been really mine and this year I really tried to fill it out as things came. I was really allowing myself to drop something if it didn't work even though I had two days to make something else like time wasn't an issue like it was but I didn't want it to be.
What did you learn about yourself during this process?
A lot of things. I learned that fashion is the only thing I absolutely love to do and is the only thing I was absolutely made to do. I also learned that it breaks me out so much, those sleepless nights are so hard, and I actually hate working when I'm sleep deprived but I get back up the next day after sleeping one hour and I'm like I want to do another collection. So that's when I know I need to pursue this career.
What inspired your collection?
So, when I was [interning] in New York this past summer, I lived in Midtown, which is the armpit of New York. It's, like, so gross and dirty and I was working with the businessmen and all the people were serving me coffee. I was so inspired by the work ethic in the city and I really thought where I stand in my life.
So, my grandfather came to the United States with absolutely nothing and started a sewing machine repair shop in Wisconsin and that's where I learned how to sew when I was ten and he built this lifestyle for our family that allowed me to do whatever I wanted to do here. So, I was inspired by this working class and making their dream happen type-of-thing and also in New York being among the people who are very, very rich and looking at the modern art and the lifestyle that they have and I was merging the two. Old and new, a lot of color, so yeah.
What was your favorite part of the design process?
Using color. I have never done that before and I just went for it and I was really scared to go for it, but I loved it. Because at the same time, it was like oh wow I am making something happy and that makes me feel happy wow, what a surprised. So it was fun using colors.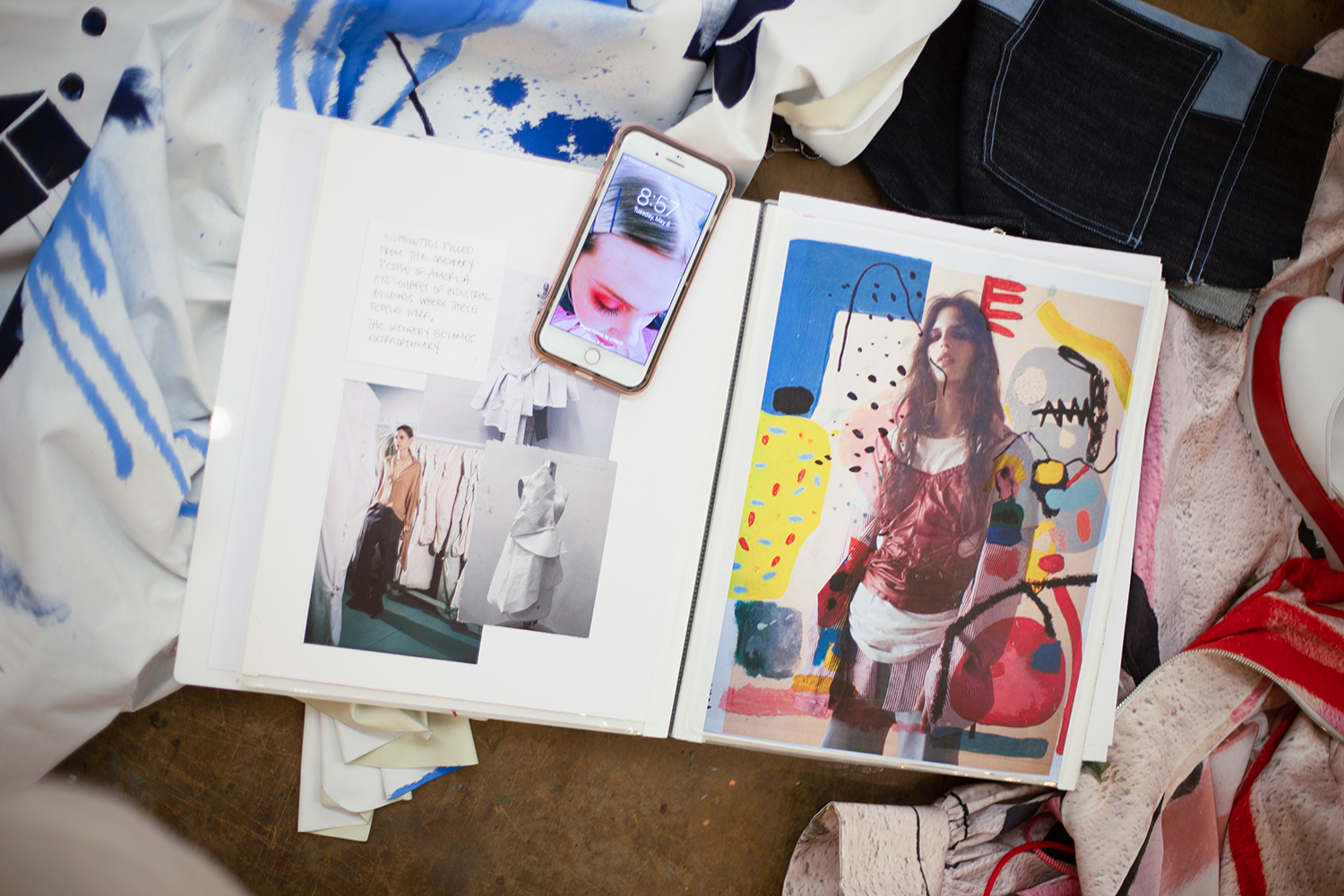 I know you had to finish your collection early, can you tell us why and how was that?
So basically a couple of us were pulled in to the Chairs office and they basically said, word by word, "Finished or not your collection has to be done by next Thursday," and that was seven days. At that time I had two looks done and had to do four looks in a week. That was because we were chosen to kinda be sponsored by SCAD to do a shoot for the LVMH competition and it was a great learning experience. We got to work with SCAD's team to put a shoot together. It was like a week of hell, but I had the help of my friends and my support system, the sewing techs and I am so grateful for that because I couldn't have done it without them. And we did it, ten minutes before the shoot we were pressing up hems and going so it happened. I don't know how, but it did.
What has been your biggest struggle while working on your collection?
I think pattern making was the hardest part because I am really picky about my silhouettes and proportion and I know what something is going to look like. Realistically we only have two days per garment to pattern and make it. Getting the shapes that I wanted required a lot of building with tulle and understructure that I've never done before. I didn't have any blocks to start with so it was just like let's make something totally new that I don't know what I am doing so yeah it was interesting.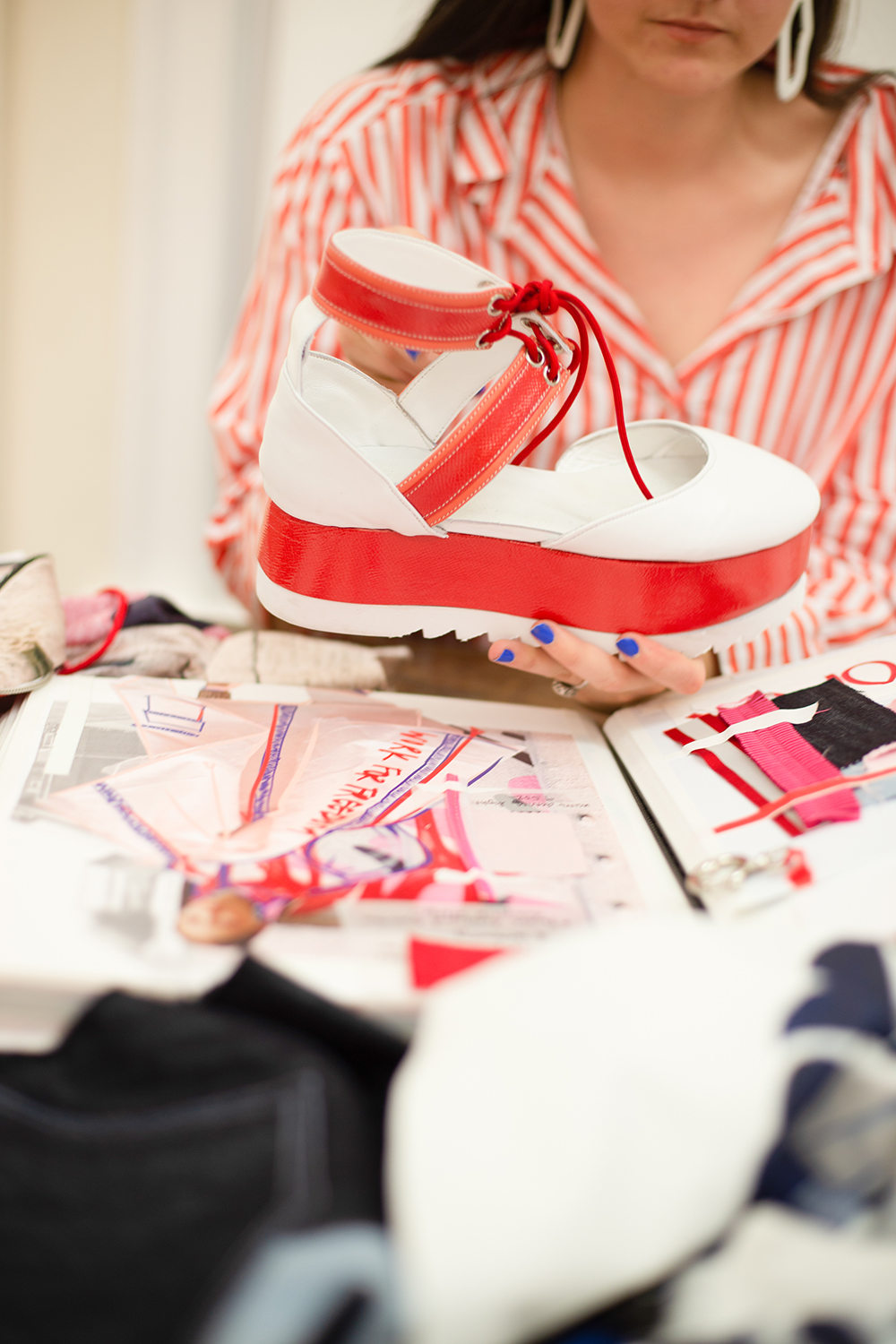 What's your evolution been since freshman year within your style, aesthetics, and design?
Well, it's funny because in New York, when I was there by myself, I was very lonely for a long time. I think that's misleading about that city. Anyways, I think being alone made me realize who I am and what I want to look like and what I want to dress people like and made me realize what was missing in the world, essentially to fill a gap. And before I had kind of been looking to other SCAD students' work and was like oh what do I like about that; that's cool; that's interesting and I never had my own voice so I would always do something that I felt it was pretty and neutral, so I was safe. And this year I really had the balls to just go for something completely new, you know.
Did you collaborate with any other artists?
So I have a full accessory line, three bags, and two pairs of shoes. The coolest part of this process is that I had ten collaborators and that was my intention going into senior [collection]. So, I found people, my friends essentially, that I knew they were good at certain things and that would really elevate my collection and my vision and I wanted to be solely responsible for all the designing, the prints, and the colors, but I knew I needed someone from fibers to execute and offer better suggestions. Everyone had different talents to offer through different mediums and we just played. It was just plain canvas and do whatever you want and it was so fun.
What would you have done differently during senior year?
I would have tried to start earlier whatever I could. It was always a time issue. Because I did a ton of competition throughout the year too and it was just so many, so many, so many all-nighters that it got to really really wearing down on me. So I wish I could have a home studio or something where I could work late at night, when the building closed or over winter break. It's really just time like I wish I just had more time– more time to make fifteen or thirty looks, but like six is fine.
What would you have liked to have known before entering senior year?
I would say my best advice to anyone going into senior is that SCAD makes decisions for SCAD, not for you. They want the best for you, no doubt, but SCAD is going to put an image forward that they want everyone else to see and sometimes things don't go the right way or the way you expect and you really have to be strong in who you are and believe in yourself because you don't always get the validation. So, I have, I definitely feel grateful and feel SCAD gave me tons of opportunities, but like there's plenty of amazing people that will do amazing things in the industry. So, I just feel like you have to believe in your eye and that is the best thing I would tell myself going into it. So stay true, you know.
Written by Laura Ramirez
Photos by Liam Graham Haehnle