Alton Lane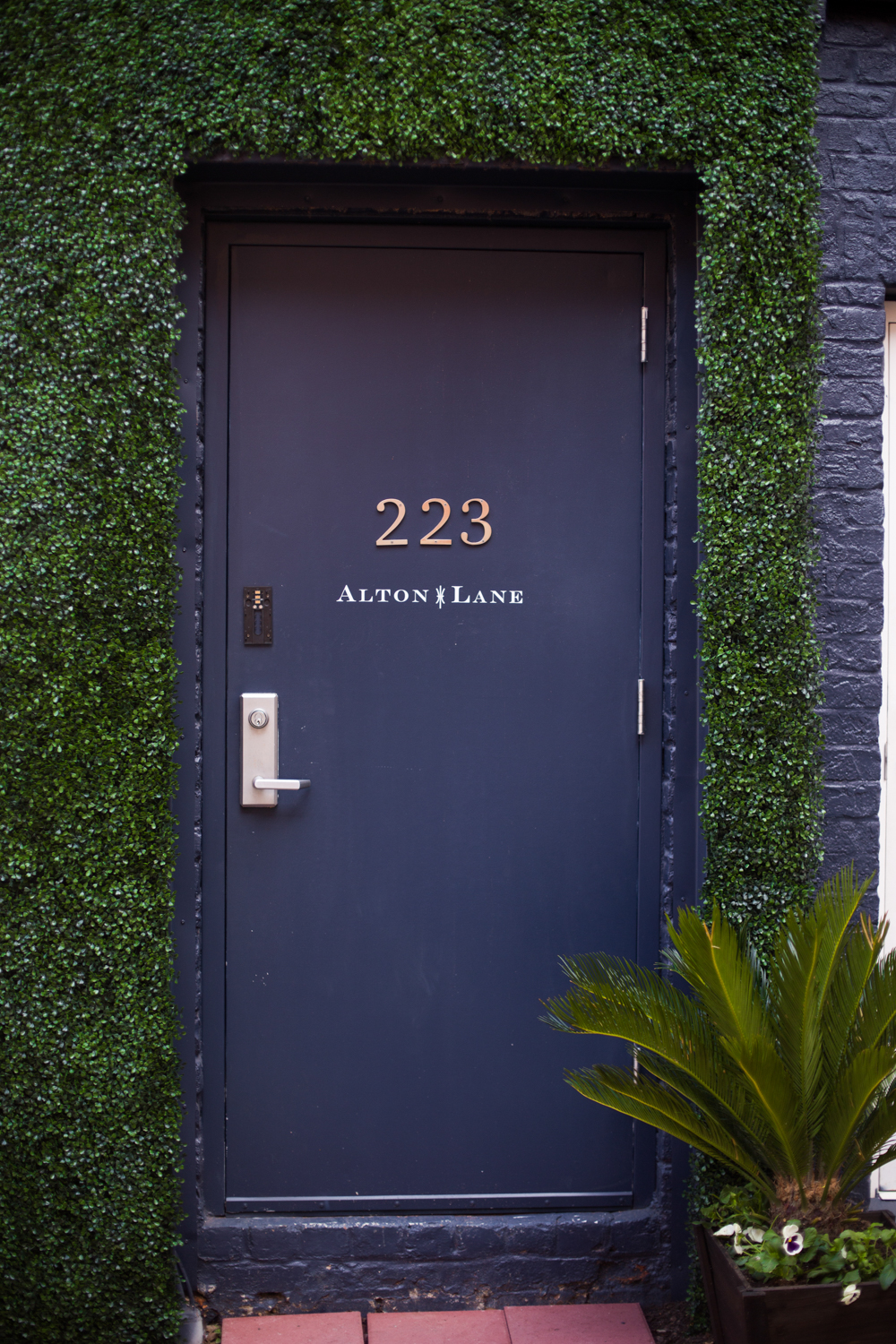 is a men's custom suit shop inspired by Savile Row, the treasured bespoke tailor shop in London. Founders Colin Hunter and Peyton Jenkins set out to create an affordable, customer-driven destination for men's suiting, a foundation which grounds the entire shopping experience.
The Savannah showroom's entrance is found in the alley behind Urban Outfitters on Broughton Street; you'll notice it for the blue bricks and green plants contrasting the beige and white surroundings. Inside, you'll simultaneously feel transported to a sophisticated man cave and christened as a member of a secret nordic society.
To show how simple and effortless getting your own custom suit is, The Manor staff brought along model Carlo Pardo to go through a proper appointment at Alton Lane. In just 15 steps, a modestly priced and perfectly fit suit is built and ready to be sent off for production.
The showroom host will give you a full tour of the loft and pour some bourbon. You'll definitely want to come back and play poker at the backroom table.
The host will bring out the books of dress shirt swatches. Start flipping through the cottons and linens, narrowing down your options based on what your pattern and color preferences are.
Now they'll help you create a profile on an iPad. Here, all your measurements will be stored, along with your wishlist and shopping cart. Once you have a profile, you can sign in online to look at your sizing and shop.
It's time to start building your garments, starting with the shirt. The first part is the collar; you'll be able to choose from Full Spread, Medium Spread, Straight Point, and Button Down. You'll also choose the cuff style at this time. There are three cuts, Barrel, Mitered, and Square. Each of those is available in French, 1 Button, and 2 Button closures.
Like pleats? Then put one in the center, or a pair on the side of your shoulders! Pleats not your thing? Opt out then! You will also be able to choose whether or not to have a front pocket.
 The host will now show you the inside of a shirt and you can decide whether or not to have a complement fabric. If you do, you'll choose a fabric for the cuffs, collar, or both. If you are getting a white shirt, navy is recommended to prevent yellowing.
The final step for your dress shirt is to decide if you want a monogram. There are two different fonts and over 40 thread colors. You can also choose where you want it located, from gussets, cuffs, placket, collar, or pocket.
Suit time! Back to the swatch books, where you'll select the material you want the suit to be made from. There is an impressively large range of fabric choices at a range of price points, starting at $595. All the customizations are included in the price of suit, excluding patterned suit linings. The host will talk you through recommended fabrics, super numbers, and any questions you have about what works best for you. A suit needs an interior piping finish, and you'll be able to select one from a range of solid colors.
A suit's purpose comes down to the style of lapel, which is why it's the next step. Alton Lane sells Shawl, Peak, and Notched cuts. You'll also make your pick of a button and how many you want for the front of the suit jacket. On the back, there is a choice for center, side, or no vent.
The host will show you different options you can choose for the front pockets: Standard, Hacking, Patch, and for the classiest of guys, a Ticket pocket!
Alton Lane offers an option for the sleeves' last buttonhole to be a custom thread color. You could match it to your piping, lining, or make it real funky. At this point, you'll need to decide if you want a monogram on the jacket or not.
Moving onto the pant, you'll decide if you want pleats or a flat front. You will also choose whether or not the pant hem should have a cuff.  
Steps 13 and 14 are best described as "Measure twice, cut once." All Alton Lane showrooms have a body scanner called SizStream that pins 300 measurements. SizStream looks for prominent shoulders, calves, and anything else that would require adjusting to make your suit fit perfectly.
This step is a second measure, when the host takes down your measurements by hand and cross-checks them with SizStream. You'll put on a sample shirt and suit, pinned to how you want the garments to fit, providing you the best idea possible for how it'll look once it's back from the mill. At this time you will also be measured for an overcoat, in case you should ever be so lucky to need one!
The final step at Alton Lane is to either go ahead and order your new suit and shirt on the spot, or go home to mull things over. A suit takes 4-6 weeks to make, and after it arrives you have 30 days to get complimentary tailoring to make sure it fits exactly the way you want it to.
Written by Sabrina Batiz
Photography by Liam Graham
Modeled by Carlo Pardo