Just like Sex and the City protagonist Carrie Bradshaw, Caroline Vazzana is a proud Manhattan native. She also records her fashion risks, triumphs, and challenges on her blog Making It in Manhattan, and is familiar with the classic "Hangisi" shoe designed by Manolo Blahnik.

Being no stranger to SCAD, Vazzana raved about her experience at FASH WKND 2018 and came back this year for the reception commemorating the newest "Cinematic Couture" exhibition that focuses on the art of costume design through the lens of film and popular culture. It was a night filled with beautiful costumes from iconic films such as "Downton Abbey," "Evita" and "Pride & Prejudice," along with accessories designed by SCAD students.

"Fashion is art," Vazzana said once we started talking about her time at the exhibit. "To see it right in front of you— the art of fashion, these amazing, intricate costumes from movies we've seen and loved— and being able to take photos and see it right in front of you; it was just so beautifully done." She was so amazed by the student work and the ambiance that she even hyped up the exhibit on her Instagram story and expressed that the entire reception was nothing short of "insane!". "It was so beautifully set up and curated. It's literally a must-see."

We both agreed that costume is its own realm within fashion. Within the fast-paced and competitive fashion industry, costume is the area in which characters are created, fantasies are lived, and norms are broken.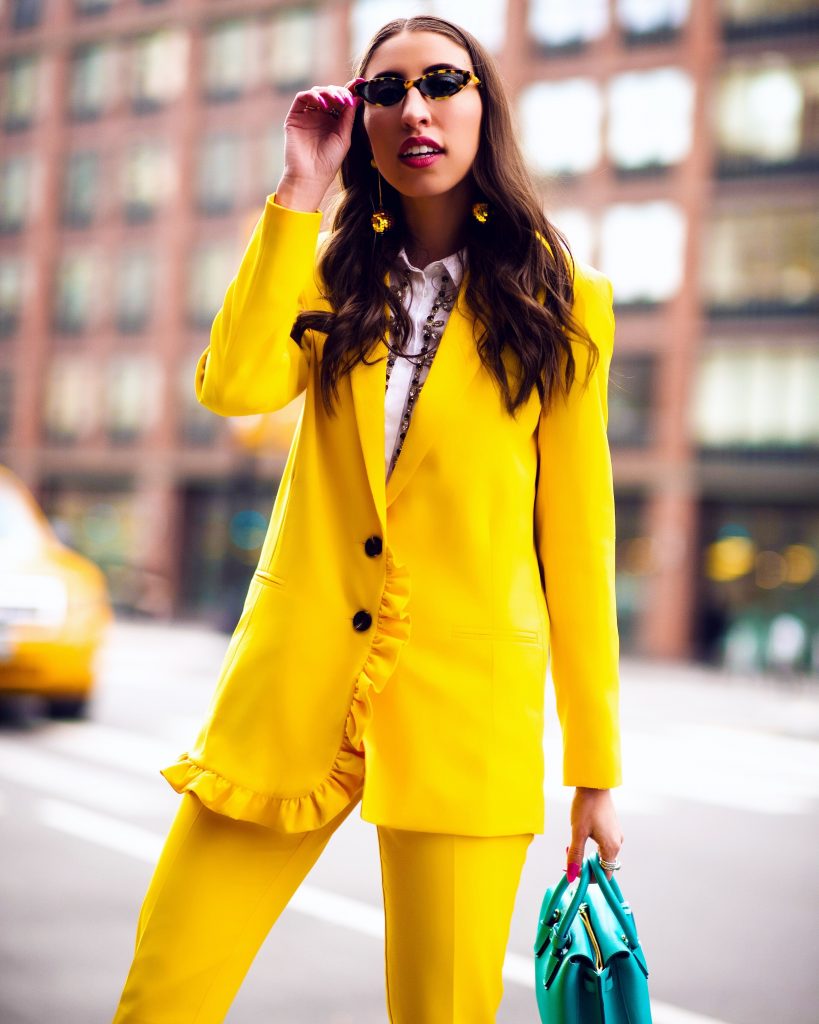 I had a sewing machine and I thought I was the next Coco Chanel or Diane von Furstenberg. I took one sewing class at my college and hated it."
Vazzana's first visit to SCAD was FASH WKND in May, the highlight of the school year for fashion students, industry professionals, and professors. It is the prime time for eccentric streetwear looks and remarkable student collections that Vazzana compared to the ever-infamous Fashion Week. "Just seeing the excitement of the students and these head-to-toe streetwear looks, I was like, 'Oh my God!'."

"They shut down the whole street and it's so nice because this is their moment that they've been waiting for. This is your moment and it's your time to be a part of a bigger industry, and it's so nice that SCAD brings us down so that we're able to experience it because it's something that I'll never forget."

Similarly, one of Vazzana's first events at her alma mater freshman year was a student-run fashion show. Just like SCAD students, she got "super dressed up and went all out" and, by the time she was a junior, started heading up the same event until her senior year. This just goes to show that if you're passionate about events that relate to your major, it reflects your passion and seriousness about the industry.

Being a designer is truly a skill, one that Vazzana acknowledged was a bit of a challenge. In her book "Making It in Manhattan," she shares her journey at Albright College and her hopes of becoming a fashion designer before discovering her love for fashion marketing, as well as tips and tricks for the industry.

"When Project Runway came out, every kid with a pair of scissors thought they were a fashion designer," she stated. I'm sure many of us share flashbacks of cutting up blankets and old clothes, only to create our rendition of a Franken-masterpiece. "I had a sewing machine and I thought I was the next Coco Chanel or Diane von Furstenberg. I took one sewing class at my college and hated it."

It's been a topic of conversation amongst fashion magazines and blogs alike of the relevance of a fashion degree within the industry. With the help of social media and the determination of Millennials/Gen Z-ers, working in fashion without credentials isn't as inaccessible as it once was. Along with the rise of success stories involving editors of magazines, fashion designers and stylists who only obtained a high school diploma, there's been questioning of the importance of a degree at all.


"I think it prepares you for the real world," Vazzana said when asked about take on fashion education. "Especially at SCAD, you have professors that treat it like the real world and I sat in on one of the classes in Savannah and the professor had the students go out in the market and visit businesses and I feel like getting that real hands-on experience is beneficial. It also lets you know 'Is this for me? Is this what I really want?' rather than studying something else. We also learn the history of fashion, what came before us and what's to come. With how rapidly the industry is changing, I think studying beforehand is so important so that when you are in the industry you know how to present yourself, you know how to dress, you know how to talk, what to say and what not to say, and overall helps you become a more well-rounded person."

At some point, we all have to submit a resumé when applying for jobs or internships. Same thing with a portfolio, but that doesn't mean you have to be Picasso and have books upon books of drawings. However, having some proof of your abilities is icing on the cake when going in for an interview. Vazzana added, "I think they [a resumé and portfolio] can work hand in hand, when you're fresh out of college and going to an interview, bringing a portfolio wouldn't hurt. It also depends on what you're applying to. For example, say someone is applying for a social media manager job, they're going to want to see the experience of projects of social media, your social media, or maybe you're running social media for another brand. You can put all of that in a portfolio and it'll add to reasons why they should love you and why they should hire you."

Recently, SCAD has added 3 new majors, one of which is Social Strategy and Management. Social media is the modern day form of a newspaper with a faster reach, speedier results, and where comics are replaced with viral memes and videos. It is more than just a quick fix solution to boredom and a pastime, but an increasingly booming business that has been the advertising tactic of companies for the past couple of years and a source of income for many influencers.

As an influencer and blogger herself, Vazzana utilizes social media daily and thinks that "it's such a great major and I'm so happy SCAD is incorporating it. I think that more colleges should really, really have a social media major, not only if you're looking to become an influencer or a blogger, but because every single company has a social media manager. Vogue, Teen Vogue, Marie Claire, DVF, Marc Jacobs and Chanel all have someone who is their social media manager. So, even if you don't want to become an influencer, there are still so many jobs."

This is a skillset that can also apply to any industry including sports, food, television, etc., in order to increase sales, readers, or simply boost brand awareness. "SCAD is one of the front-runners and it's so important. I think in the beginning a lot of people were thinking it [social media] was going to die out, but it's not a phase. It's the future and it's only getting stronger."

Since social media and being an influencer is a big part of Vazzana's life, it only felt fitting to inquire about how much of her success she can credit to the business. "It's such a weird world. Social media has given me so much. It's helped me grow an entire brand and to connect with people I've never met— but we have a common interest— from all over the globe. My career would not have existed 10 years ago. This wasn't a thing and I wouldn't credit all my success to social media since there's so much more that goes on than posting a picture, but the platforms themselves have given me so much creative freedom, and so much of my career, and so much fulfillment, joy, and fun."

Buy what you like. Shop what you gravitate towards. Don't think 'Everyone has these boots, now I have to buy them.' Why? Why do you want to look like everyone else? That's no fun."
"When people come to my page, I want them to feel happy. I hope my colorful page will make people happy. I don't want anyone coming to my page and feeling sad and bad about themselves." Although we can get lost in the world of editing and filtering our pictures to death, Vazzana has other things to show for. She mentioned that if Instagram were to crash today, all of the beautiful pictures long gone, her book is tangible proof of her hard work and passion for the industry that she is in. "Transcend this digital world," she stated.

To wrap up our interview, it wouldn't be right if we didn't talk about fashion.
One thing Vazzana is known for is her colorful ensembles. If you peruse her Instagram, you will not see her wearing black. Black is a classic but also is a very safe color. Most of us consider the neutrals as black, white, grey. As for Vazzana, red is her neutral. That was her response to the hardest question: "If there was only one color you could wear for the rest of your life, what would it be and why?" She mentions, "Red is a power color. It's a color that says, 'Hello, I'm here' when you walk into a room. I'll wear red and pink, red and purple, and even red with blue."

"My whole outlook, though is 'Well, what's next?', 'What's going to be hot 6 months from now that I can wear now?'. Buy what you like. Shop what you gravitate towards. Don't think 'Everyone has these boots, now I have to buy them.' Why? Why do you want to look like everyone else? That's no fun. We're all individual and unique for a reason, so I think embracing that and being different and not trying to conform is one of the biggest things I hold on to because you don't want to walk into a room wearing the same thing as someone else. Shop what you love then everything you own will be timeless."

Overall, everything that Vazzana preaches stays true to her personal brand. Stay true to who you are and find that thing that makes you unique. Why? Because everyone else is taken and being like everyone else is boring. When you find your uniqueness, market it, and then find a way to capitalize on it. Whether that's becoming an influencer, a quirky dresser or a brutally honest journalist. Find your signature and make your mark.

Written by Morgan Daniel